Michele Serros to speak at Ventura College
By Gazette Staff Writer — Thursday, October 1st, 2009
Well Known Chicana Poet and Novelist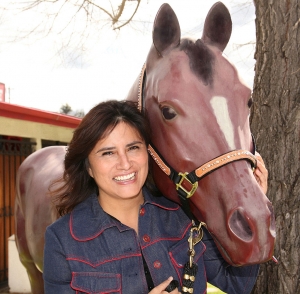 VENTURA, CA. - Renowned Chicana writer Michele Serros has produced several outstanding works of literature and poetry. Her most popular are Chicana Falsa, Honey Blonde Chica, and How to be a Chicana Role Model. Her latest work is a young adult novel, Scandalosa. Ms. Serros will speak at Ventura College on writing and culture on Wednesday, October 14 from 7 pm to 8 pm in Guthrie Hall. Admission and parking are free. Attendees must park in student parking.
Named by Newsweek as "one of the top young women to watch for in the new century," Serros has been a featured contributor for the Los Angeles Times' children's fiction section and a commentator for National Public Radio (Morning Edition, Weekend All Things Considered, Anthem, Along for the Ride, Latino USA). In addition to being an award-winning poet, Michele has read her poems to stadium crowds of 25,000+ for Lollapalooza, recorded Selected Stories from Chicana Falsa for Mercury Records, and was selected by the Poetry Society of America to have her poetry placed on MTA buses throughout Los Angeles County.
Originally from Oxnard, Michele was a community college student, having attended both Ventura College and Santa Monica City College. She was still a student at SMCC when her first book of poetry and short stories, Chicana Falsa and other stories of Death, Identity and Oxnard, was published. When the original publisher of Chicana Falsa went out of business, Michele continued to sell copies from her garage. In 1998, Riverhead Books reissued Chicana Falsa and as well as Serros' collection of fiction, How to be a Chicana Role Model . The latter instantly became a Los Angeles Times Best Seller and both publications are currently used as required reading in U.S. high schools and universities. In 2002, Michele wrote for the ABC television sitcom, The George Lopez Show. "An opportunity," she says, "that hopefully with my contribution opens the door for a wider representation of Latinos in the mass media."
Visit her at www.muchamichele.com. Visit Evie at www.myspace.com/riochica805
For more information, please contact Professor Mayo de la Rocha, History Department Chair, at 805-654-6400, ext. 3123.
Wednesday, October 14, 2009 - 7:00 - 8:00 p.m., Guthrie Hall, Free.