Mary Kolada Scott's "Between The Lines: Paintings, Prints And Poems" At The Buenaventura Gallery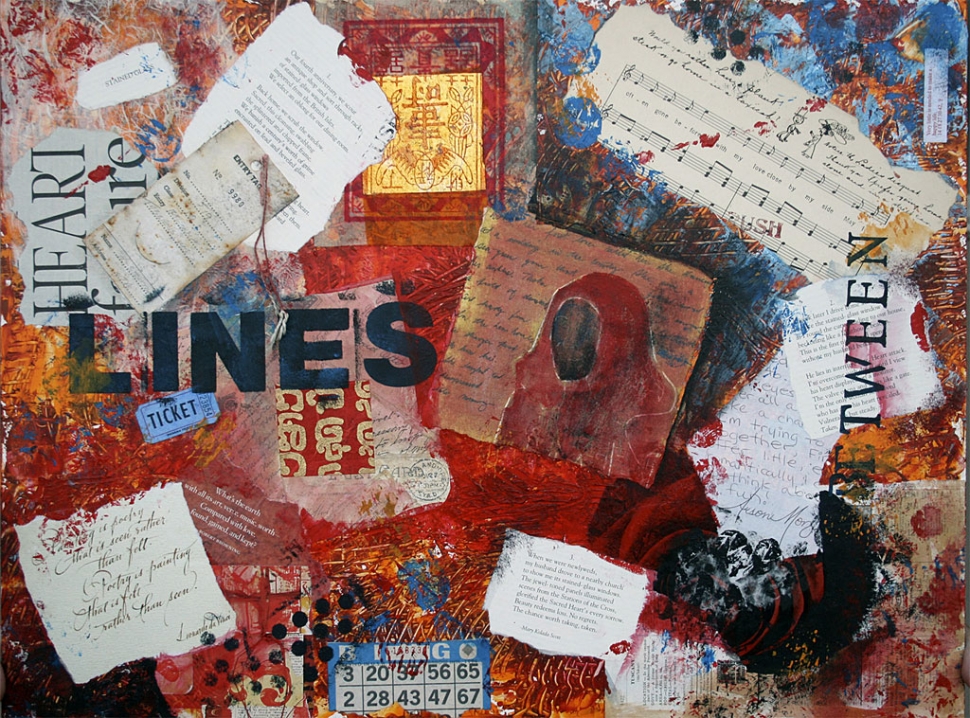 "Between the Lines", mixed media by Mary Kolada Scott
By Gazette Staff Writer — Monday, March 30th, 2009
"Between the Lines: Paintings, Prints and Poems," a solo show by Ventura artist and writer Mary Kolada Scott, will run April 28 through May 23 at the Buenaventura Gallery in Ventura. The exhibit will feature paintings, collages, linocuts, etchings and poetry broadsides. A reception for the artist will be on Saturday, May 2 from 4 – 7 pm. A special preview of the exhibit will be at the Buenaventura Gallery during the City of Ventura's Spring Artwalk on April 25 & 26. In addition, the artist will be present during Ventura's First Friday Gallery Crawl on Friday, May 1.
Scott had wanted to be an artist since kindergarten and envisioned her framed paintings hung on the wall. In junior high school, the art classes were full, so a counselor enrolled her in creative writing instead. When the teacher got her first poem published, Scott pursued the language arts instead.
She continued to publish her poetry and majored in journalism and creative writing in college. Scott wrote a popular weekly column about poetry for four years in the Ventura County Star, and her poems have been published locally and nationally in literary magazines and books. A partial list includes the periodicals Calyx, Rhino, The Ledge, and Her Mark 2009 (published by Woman Made Gallery in Chicago, Ill.), and recent books "The Art of Bicycling" and "Proposing on the Brooklyn Bridge."
After her son and stepsons were grown, Scott rekindled her passion for art. She took watercolor classes and became interested in printmaking. Her father was a printer with his own shop, so Scott believes printing ink is in her blood. Included in the exhibit will be a collection of her poems printed as broadsides in classic letterpress (broadsides are single sheets of paper printed on one side for display).
Her art has been exhibited locally at Buenaventura Gallery, Artists Union Gallery, Red Brick Gallery, Camarillo Art Center, Doyon Gallery, Zander Gallery, Thousand Oaks Community Gallery, E.P. Foster Library and Community Memorial Hospital.
Over the past few years, Scott focused on art but continued the poetry and is now finding ways to mesh both visual and language arts. Some of her poems incorporate paintings or linocuts, and others are collaged. Some subjects are treated as poems, paintings and linocuts, presenting three different mediums and interpretations.
"I like to magnify the ordinary and capture everyday images of grace," she said. "I'm drawn to simple things: persimmons in a blue bowl or the charming, small houses that dot this vicinity. I'm branching out into figure and portraiture as well."
The Buenaventura Gallery is located at 700 E Santa Clara St. in downtown Ventura. Hours are Tues – Friday from noon – 5 pm and Saturday from 11 am to 5 pm. For more information, visit their website at www.BuenaventuraGallery.org. Buenaventura Art Association is celebrating 55 years of great art!