Machine Age Art: The Artwork of Wendell Dowling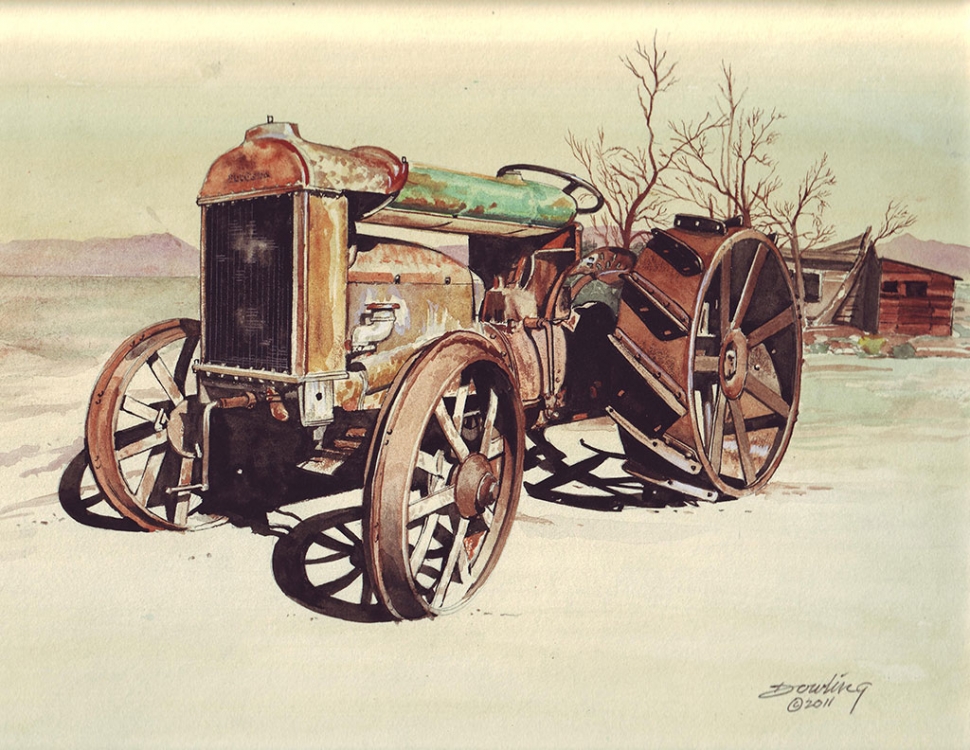 Wendell Dowling
By Gazette Staff Writer — Monday, July 13th, 2015
Opening Reception, Friday, July 17 from 5 to 7 pm.
Wendell Dowling is a local artist with deep roots in Santa Paula. His artistic talents have led him into a wide variety of artistic pursuits from working as a technical illustrator for an engineering firm to a freelance artist creating illustrations for numerous books and magazines. He created a mural on the Ventura County Agriculture Building (at 815 Santa Barbara Street in Santa Paula) depicting the many modes of transportation that helped move Santa Paula into the 20th Century. A selection of his drawings and paintings, representing more than 30 years of his creativity, will be on view at the Ag Museum.
Twenty-three works, mostly drawn from the artist's collection, depict the history and lifestyle of Santa Paula, boasting whimsical, interesting titles such as "Fences Make Good Neighbors", "Running Board Rendezvous" and "Grandma's Punkin." According to the Ag Museum's curator Eric Howes, "These delightful oils and watercolors provide the perfect complement to our current exhibitions on Tractors and Aviation; these beautiful works extol the virtues of hard work and the natural beauty of this rich region."
WENDELL DOWLING BIO
Mr. Dowling graduated from Santa Paula High in 1960 with plans to become an architect, soon realizing that he'd be drawing square shapes for the foreseeable future. He then became a commercial artist for an ad agency, a freelance artist and sometime muralist.
He retired in 2014 after forty years of drawing and designing for a living. He continues his art in retirement, "for fun." He donates his time to the Aviation Museum of Santa Paula, where he serves on the board and does promotional flyers and ads, as well as occasional design work. He's drawn cars for the Santa Paula Cruise Night tee shirts for the past 17 years. He dabbles in animation, drawing Tin Town 'Toons for the Aviation Museum newsletter.