Lois Freeman-Fox's Paintings and Drawings at the Buenaventura Gallery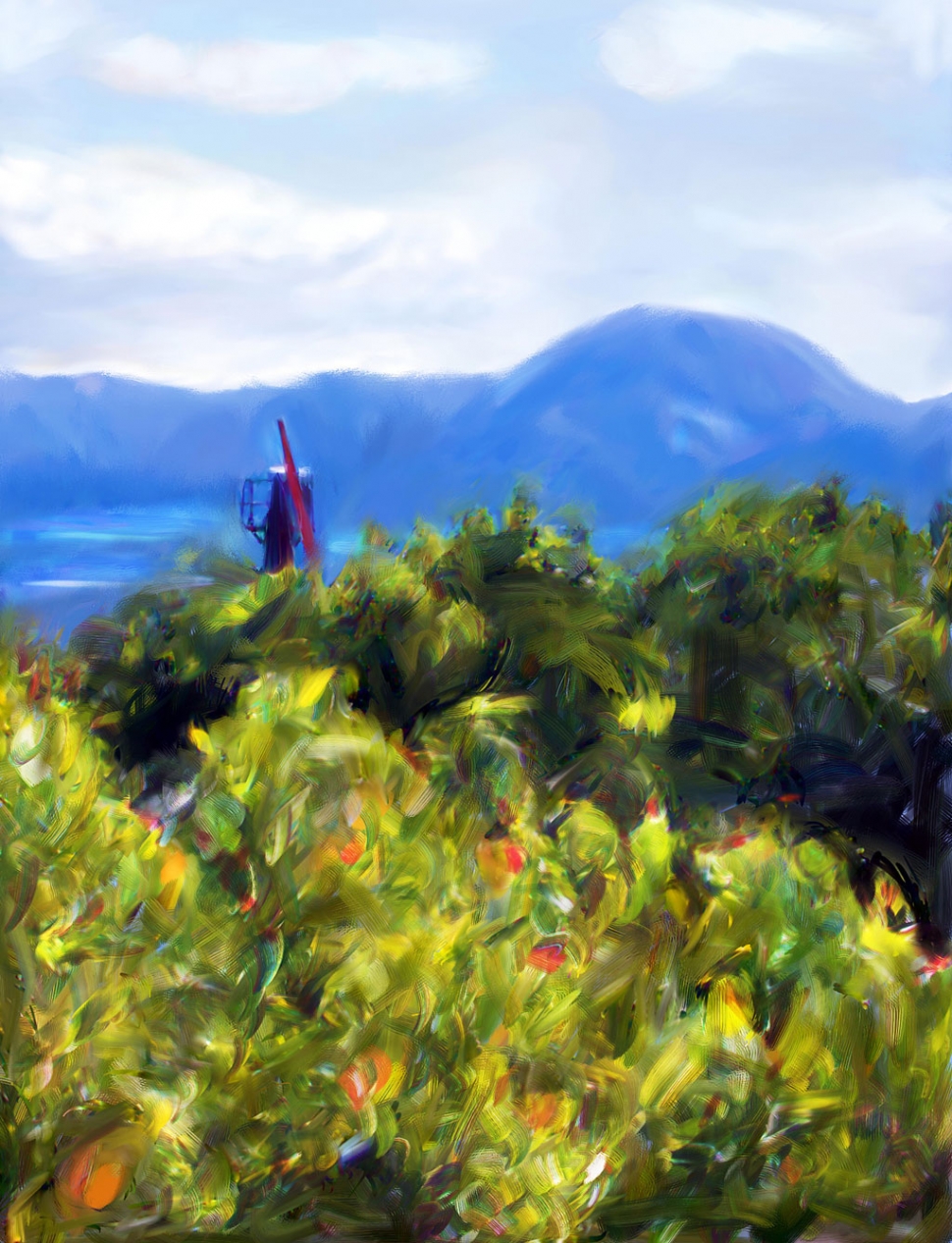 landscape, digital painting by Lois Freeman-Fox
By Gazette Staff Writer — Wednesday, May 27th, 2009
Celebrated Ventura County artist Lois Freeman-Fox's exhibit of digital paintings and drawings runs from May 26th through June 20th at the Buenaventura Gallery. The words "digital paintings" are two words that intuitively seem as if they don't belong together. However, Freeman-Fox, an Emmy-awards winning film editor (who was one of the first in the industry to edit films digitally) proves herself at the forefront again with digital paintings that are not only expressive, but tactile as well.
"Historically, artists traditionally incorporate the latest technological advances or ideas into their artwork," says Freeman-Fox. "The Renaissance introduced perspective; paint in tubes made art created by Impressionists more portable; and Pointillism encompassed scientific discoveries of the time relating to optical effects and the perception of color." My work simply is incorporating the computer to create digital paintings.
"I paint traditional subject matter, portraits and landscapes with modern tools while exploring the art of the masters creating dynamic tension between the old and the new" says Freeman-Fox.
"The pieces in my show are drawn from both my family environment and my real environment," says Freeman-Fox.
Vintage portraits of family members are vividly brought to life in a colorful celebration of the artist's past, while the real environment Freeman-Fox calls home, the inspiring vistas of Ventura County's glorious landscapes, serves as a natural backdrop of beauty as seen through this talented artist's eyes.
Lois Freeman-Fox received a BFA from Cornell University and an MA in Sculpture from UC Berkeley. As a sculptor she worked in many media including welded steel, wood, marble and fiberglass and exhibited environmental installations at San Jose State University, Sacramento State College and the San Francisco Art Institute. After graduating from UC Berkeley, she worked as a Museum Preparator and Coordinator of Special Events at the University Art Museum in Berkeley organizing Women's Work, a festival of feminist art, music and poetry and specializing in exhibits of performance artists. As Director of the IC Gallery at UC Davis she organized exhibitions of San Francisco performance artists and became interested in video production and photography for documentation.
Freeman-Fox moved to NY to pursue a career in video production, supporting herself as a photographer while studying film at NYU. She exhibited photographic collages and books at the Franklin Furnace in 1976 when she began her apprenticeship as a feature film editor, working as an assistant sound editor on Annie Hall and Carrie and as an apprentice film editor on Hair which brought her to Los Angeles in 1978. She continued to make sculpture in her Venice studio but as her film editing career accelerated with films Teen Wolf, K-9, Turner and Hooch, Air America and winning an Emmy for And the Band Played On, Art took a back burner.
The death of her mother jolted Freeman-Fox into reconsidering her life.
The opportunity to work at Disney Animation on Fantasia 2000 provided the catalyst for change. Development art covered the walls; all of the directors were artists; the animators were actors with a pencil. The studio provided anyone interested with a box lunch, a nude or costumed model and great teachers like Glenn Vilppu, Steve Huston and Walt Staunchfield. They taught Renaissance drawing, drawing from the inside-out, a rigorous study that had fallen out of favor in art schools during the 1960s . This was the beginning of a return to her artistic roots.
Freeman-Fox taught editing at USC while editing "You Know My Name" for TNT and upon completion of post production on "Osmosis Jones" for Warner Bros. took a full time position at Brooks Institute in 2003 where she continues to teach film editing..
Freeman-Fox, always interested in video was an early proponent of non-linear computer systems for editing film in the early 80's and 90's therefore it was a natural transition to explore digital technology when her interest turned to 2 dimensional painting. The emergence of Corel Painter as one of her principal tools began 10 years ago at a UC Santa Barbara course with Jeremy Sutton and allows her to integrate traditional techniques with modern technology.
"I found that when I went back to Art after 30 years working as a film editor I was most interested in figurative art. Painter enables me to combine my love of photography with the expressive qualities of paint." She continues to grapple with the problems of a 3 dimensional world within the confines of 2 dimensions, studying drawing with Glenn Vilppu at the American Animation Institute.
This new work from 2008-2009 explores the tension between modern tools and the techniques of the masters. The portraits in this series began as a means of telling stories using old family photographs, painting with images as textures, brushes and backgrounds. The landscapes are inspired by the agricultural beauty of the Santa Clara River Valley and are created using a combination of photography, collage, digital paint and acrylics.
She lives in Fillmore with her husband, guitarist and lutenist, Stuart Fox.
The Buenaventura Gallery is located at 700 E Santa Clara St. in downtown Ventura. Hours are Tues – Friday from noon – 5 pm and Saturday from 11 am to 5 pm. For more information, visit their website at www.BuenaventuraGallery.org. Buenaventura Art Association is celebrating 55 years of great art!