Linda Taylor's "Poetic Prints" At Buenaventura Gallery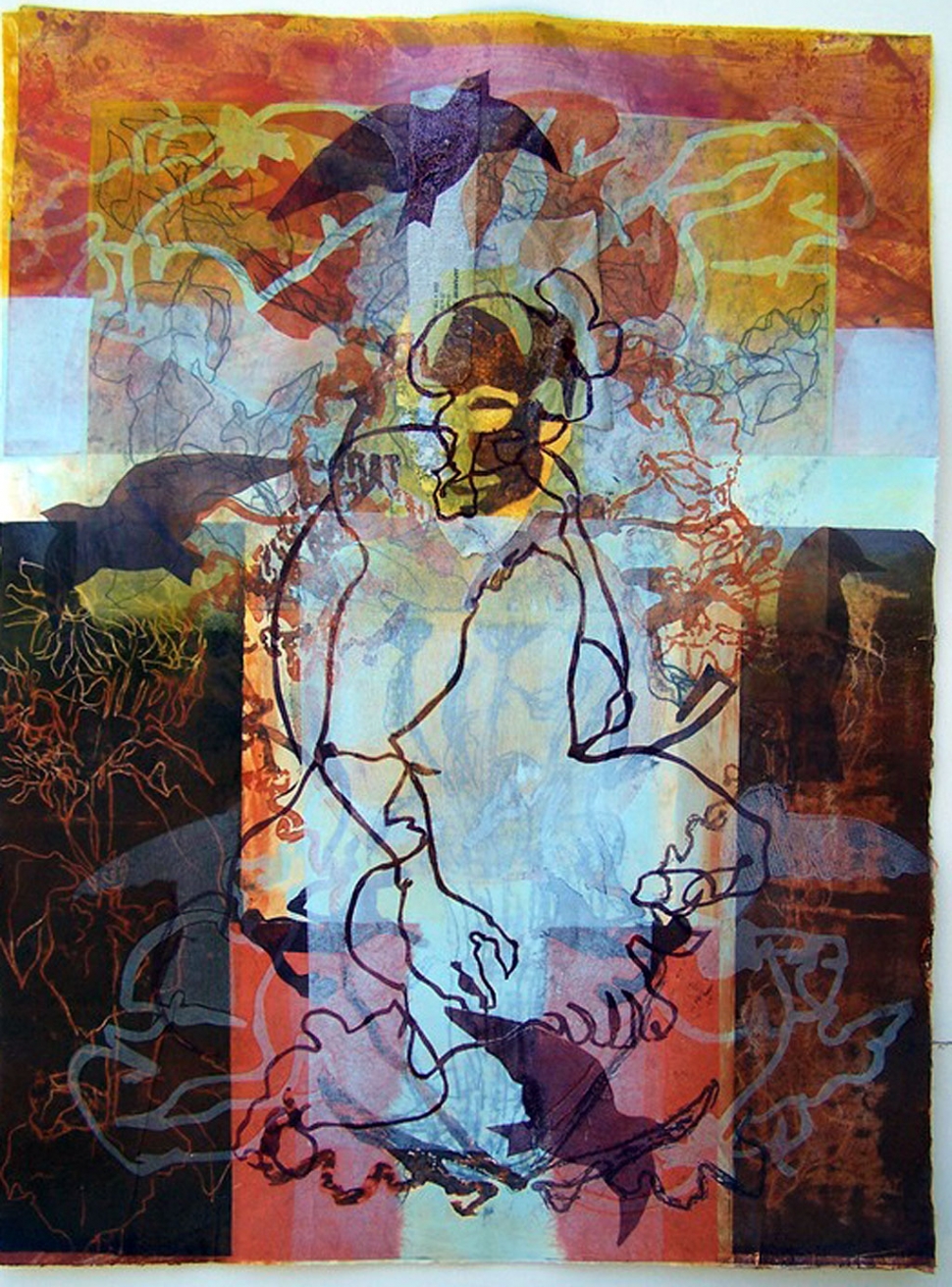 "Birdwatchers" 22" x 30", monotype with chine colle.
By Gazette Staff Writer — Wednesday, November 26th, 2008
Linda Taylor's solo exhibition, "Poetic Prints" will be at the Buenaventura Gallery from Dec. 9 – Jan. 3, 2009 with an artist reception on Saturday, Dec. 13 from 4 – 7 pm. "Poetic Prints" are original and unique prints created by Taylor and inspired by poetry. Each image uses a variety of printmaking processes, some utilizing multiple processes to create a single image. "Poetic Prints" is a result from Taylor's belief that poetry and the creation of prints allow interpretation by the viewer (or reader) not negating, but assisting the original inspiration of the artists or poet.
Taylor's journey as a printmaker is not a short one: it is a life-long passion that she pursues with enthusiasm and creativity. "The beauty of the handmade papers and the intensity of the printing inks are intoxicating," says Taylor. "As a printmaker, I am fascinated with the various ways printmaking allows the artist to discover details of the physicality of materials. It is a process of thought balanced with action – of construction and destruction. Printmaking leads to a variety of explorations."
Taylor noted that sometimes there can be some confusion as to what constitutes an original print. An original print is the direct result of an action created by the artist – whether it's a drawing, carving, etching onto a plate that is then run through the press. A print that you can purchase at most retail stores is basically a photograph of an original piece of work created by an artist – the artist didn't have any direct involvement or physical action to create that print.
According to Taylor, the print artist cultivates an inquiring open mind to utilize images and ideas as tools. Printmaking has rules, but rules beg to be broken – and those broken rules can lead to marvelous results!
Taylor discovered the printmaking process at San Diego State University and decided to pursue that creative process indefinitely. She began her career as a high school art teacher and returned to get her MFA from UCSB in printmaking and drawing. In 1977, Taylor taught briefly at Ventura College, initiating the stone lithography program there and eventually was hired to teach at Nordhoff High School where she remained until she retired in 2004.
Since retirement, Taylor has established an open-access print studio called "Spotted Dog Studio" at her home in Ojai. She works in all print processes – her favorite is monotype.
Taylor is an Ojai Studio Artist and was an Artist-In-Residence for the Museum of Ventura County. Her prints and drawings are included in many private and public collections across the United States.
The Buenaventura Gallery is located at 700 E Santa Clara St. in downtown Ventura. Hours are Tues – Friday from noon – 5 pm and Saturday from 11 am to 5 pm. For more information, visit their website at www.BuenaventuraGallery.org.