Life-Size Turtle Sculpture On Preview Exhibit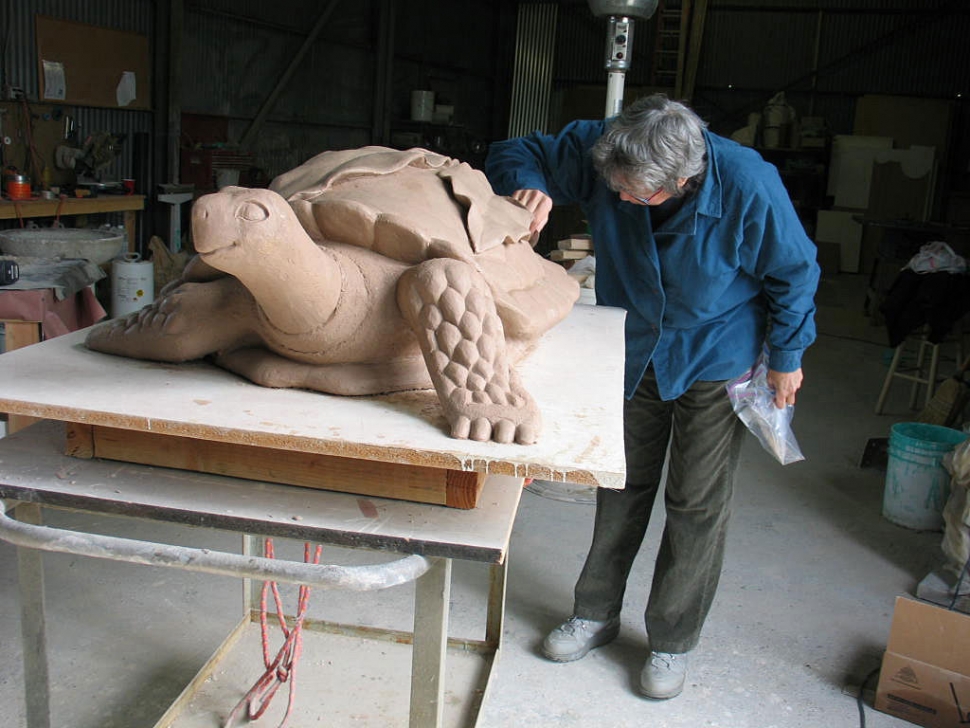 Toth checking clay model for turtle sculpture.
By Gazette Staff Writer — Tuesday, October 20th, 2009
A life-size bronze turtle by Ojai sculptor Myra Toth, slated for installation in the Museum of Ventura County's planned Children's Garden, is on preview exhibit Nov 13 through November 29, at the Museum's temporary site at 89 S. California Street in downtown Ventura.
A gift to the museum and the children of Ventura County by Howard Boroughs, the commissioned sculpture was inspired by his interest in the creation stories of Northwest Coastal American Indian culture, which tell of their people coming forth as children from a giant clamshell. Toth's sculpture uses the turtle, seen in many cultures as a symbol of good luck, long life, and wisdom, as the mother from whom life emerges. She fashioned each child in the sculpture to represent the various positive qualities of human character. The exhibition will include pictures and explanations about how the piece was conceived, then created in clay and later cast in bronze.
When the Museum's second phase of construction is completed in 2011, the sculpture will become part of their new Children's Garden, where youngsters will be able to climb and sit on the turtle.
Toth's pieces have been exhibited in Chicago and throughout California, including at the Museum of Ventura County, and they are in many private collections. She teaches the luster glaze workshops at the Beatrice Wood Center for the Arts, and has taught ceramics at Ventura College since 1976. Go to www.pyramidstudio.com for more information about Toth, or to reach her.
Museum of Ventura County's location during renovation is 89 S. California Street, in downtown Ventura. The museum there is open Tuesday through Sunday, 11 a.m. to 6 p.m. Go to http://www.venturamuseum.org.or call (805) 653-0323.