Libbey Bowl: Preserving The Legacy

Libbey Bowl rendering.
By Gazette Staff Writer — Wednesday, June 3rd, 2009
Sunday Gathering at the Ojai Valley Museum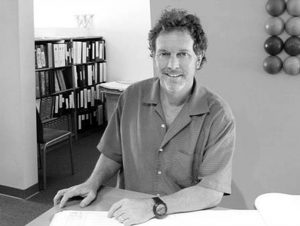 Architect David Bury.
On Sunday, June 14th the Ojai Valley Museum will offer the first public presentation of final design drawings for the Libbey Bowl reconstruction by Ojai architect David Bury. The event, organized in collaboration with the 63rd Ojai Music Festival, takes place from 1:00 to 3:00 p.m. at the museum. Reservations are suggested, as space is limited. Please call (805) 640-1390. The cost for this event is $6 for museum members or $8 for non-members.
Mr. Bury will present renderings of the proposed new design, share historic photos, and offer a question and answer session regarding this important community project. The rebuilding is designed with sensitivity for the Bowl's natural surroundings, its symbolism of the Ojai creative spirit and the unique qualities of the venue's events and gatherings.
Built by esteemed architects Austin Pierpont and Roy Wilson in 1957, the Libbey Bowl has been a central gathering place for community celebrations and cultural events ever since. Thousands come to experience events such as the Ojai Music Festival, Ojai Storytelling Festival, Mexican Fiesta, the Independence Day Celebration and other events. Attendees of the 50 plus events that take place each year contribute to the vitality of the Ojai economy.
With the aging facility beyond minor structural repairs and upgrades, the City of Ojai has concluded that it must be rebuilt. The new design will meet current codes and performance requirements, yet retains the Libbey Bowl's historical character. The plans call for new and improved seating and a realignment of the Bowl for a better visual and audio experience. This beautiful renewed venue will be cherished for generations to come.
Be sure to attend this informational gathering to learn first hand about plans to rebuild Libbey Bowl. For additional information go to: http://www.libbeybowl.com/