Laudine Borges at Discovery Gallery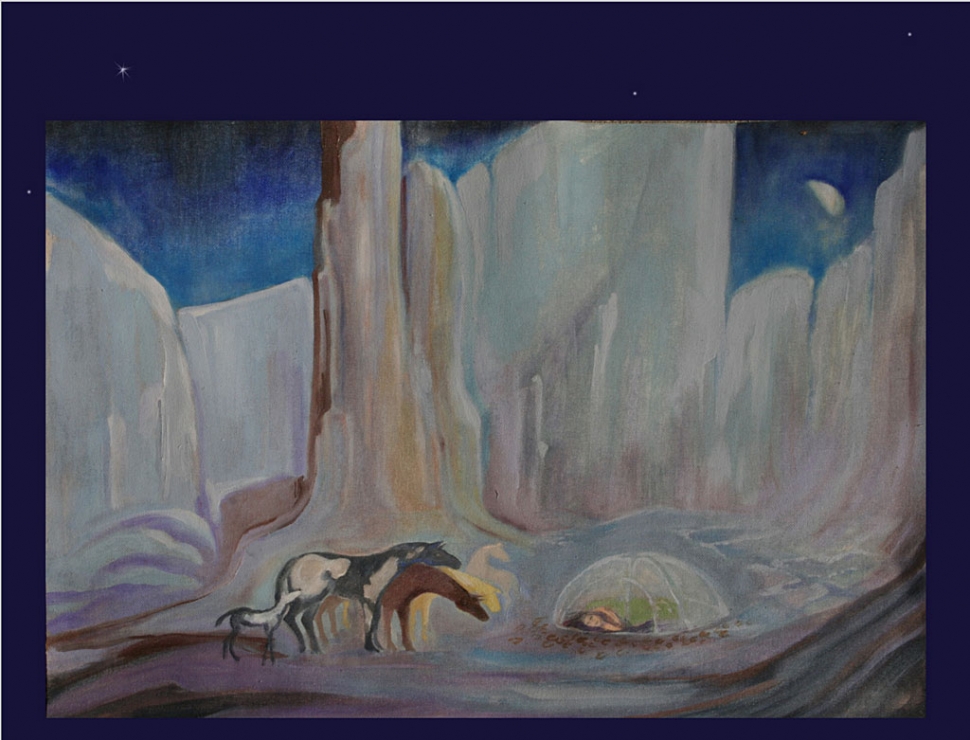 "Night Visit" by Laudine Borges, oil on canvas.
By Gazette Staff Writer — Wednesday, March 18th, 2009
Art as Adventure and Healer Paintings
Laudine Borges exhibition of original oil paintings will be at the Discovery Gallery from Thursday April 2 to April 29, 2009. There is an opening reception on Friday, April 3 from 5 – 8 pm. for First Friday's Ventura Gallery Crawl. Borges will also be part of the City of Ventura's Spring Artwalk on April 25 and 26. Meet the Artist on Saturday, April 25 from 2 - 4pm and 6 - 8pm and Sunday, April 26 from 12-2pm.
Profound connections with nature's power and beauty are beating in the hearts of Borges canvases. Art as Adventure and Healer has been brought to the viewer from a wilder place. Transported from the magnificent and ever awe inspiring outdoors, the images Borges chooses to paint have a tangible spirituality. Experiencing one of her views or visions is a lesson or an invitation to learn a little about these powerfully inspirational places. When we are among our daily grind of highways and coffee breaks, Borges teaches us to keep these grand and sacred places close by or to stay connected.
Traveling, teaching and discovering new artistic and creative expressions are common threads through-out Borges' career. Borges grew up in the San Joaquine Valley on a ranch. She attended rodeos with her father, a professional cowboy, and gained an early admiration for horses and the ways of the native peoples and their respect and connection to the earth. Later in life, Borges developed and implemented multicultural arts programs for the native tribes of Madera, Fresno and Mono Counties, eventually empowering them to take over these programs and keep the arts and crafts alive among the native peoples.
Having corralled years of experimenting in various forms of creative passons, from traveling musician to cutting gem stones and basket weaving, Borges has honed in on oil painting in the last few years. Having painted in oils since she was younger, she believes painting to be one of the highest art forms and enjoys the struggles and gratification her images bring when painted. Whether it's the call of the wild or the call of the creative, Borges unstoppable inspiration and close connection to Nature comes through in her paintings.
Borges has been in many art shows in Mammoth, Santa Barbara, and Ventura. This is Borges' first solo exhibition with the Buenaventura Art Association.
The Discovery Gallery is located at the Ventura Visitor's Bureau, 101 S. California St in downtown Ventura. Hours are Monday through Friday from 8:30 am to 5 pm; Saturday 9:00 am to 5:00 pm and Sunday from 10:00 am to 5:00 pm. For more information, call the Buenaventura Art Association at 805-648-1235 or visit their website at www.BuenaventuraGallery.org. The Discovery Gallery is a Buenaventura Art Association artspace – celebrating 55 years.