Larissa Strauss Exhibits "Enchanted Loom" At The Buenaventura Gallery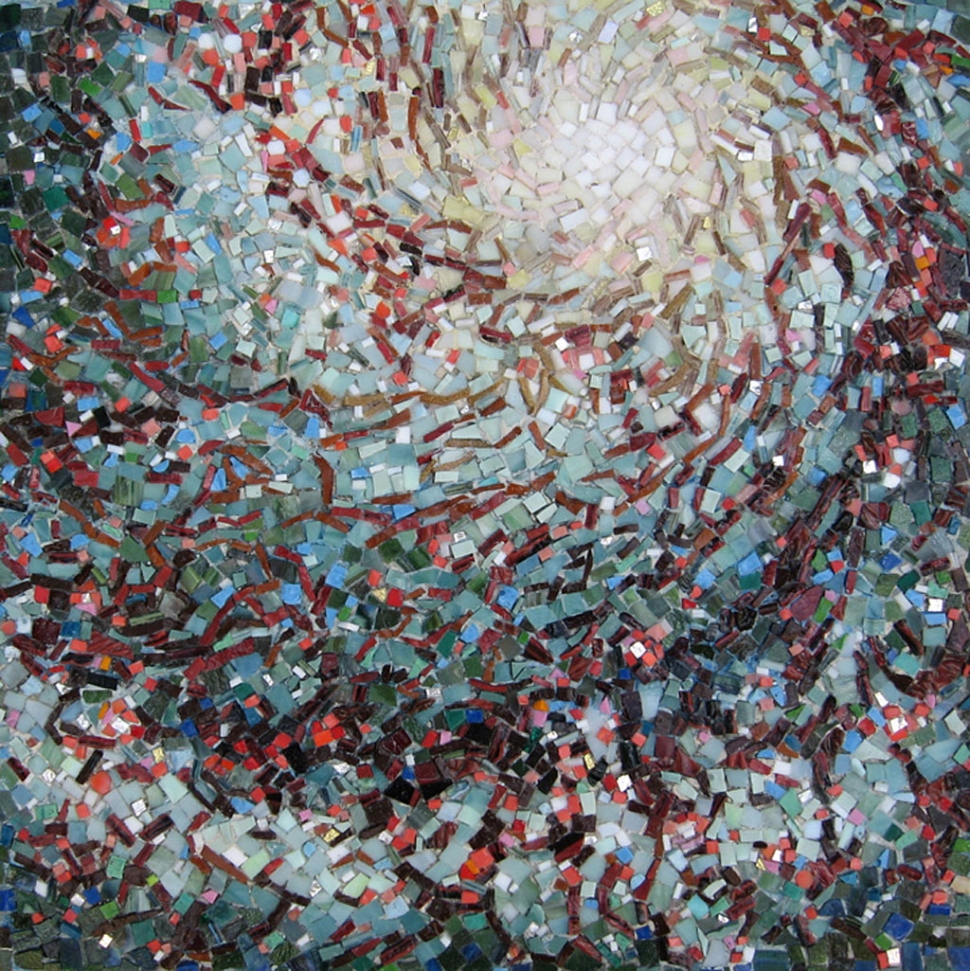 "Section of M51 with Progenitor Star", glass mosaic by Larissa Strauss.
By Anonymous — Tuesday, December 1st, 2009
Enchanted Loom is the most recent collection from artist Larisa Strauss. Her mosaics and glaze painting will be on exhibit from Tuesday, December 8 to Saturday, January 2, 2010 at the Buenaventura Gallery. Opening reception is Saturday December 12, from 4 – 7 pm.
A bold move to go where this woman has not gone before, Strauss look towards the stars for inspiration. Her show will draw you into the mystifying beauty of Strauss's talent and the mesmerizing subject matter she has chosen to spread her horizons with. No project too small, Strauss's name is found in the corner of many public art pieces around town. A few examples include Marina Park entryway mural and most recently the History of Ventura County mural at the Museum of Ventura County. Strauss again holds her own with her dazzling mosaics and layered glaze paintings paying reverence to images from astounding astronomers and NASA photographs.
The English neurophysiologist, Sir Charles Scott Sherrington, referred to the human interpretation of the cosmos as an enchanted loom, "where millions of flashing shuttles weave a dissolving pattern, always a meaningful pattern though never an abiding one; a shifting harmony of subpatterns." Insight from a timeless justification of what we see when the high powered lenses turns toward the skies, Strauss explains, "My show is an exploration of images taken from the farthest reaches of the universe, down to the minutest molecular structures of the body."
A native of Santa Barbara, Strauss moved to Ventura at an early age, and then left home to complete her education at University of California, Davis in 1993. For the last ten years, she has been focusing her time on mosaics and is largely self-taught. She began painting only a year ago when making cartoons for the museum project.
The star studded new path Strauss has taken is sure to inspire a bit of contemplation on what is out there and how incredibly it translates to the beauty we have down here.
The Buenaventura Art Gallery is located at 700 E. Santa Clara Street, Ventura, CA 93001. Hours are Tues – Friday from noon – 5 pm and Saturday from 11 am to 5 pm. Please call (805)648-1235 or visit www.buenaventuragallery.org.