Judith Crowe's "A Crowe's Eye View II"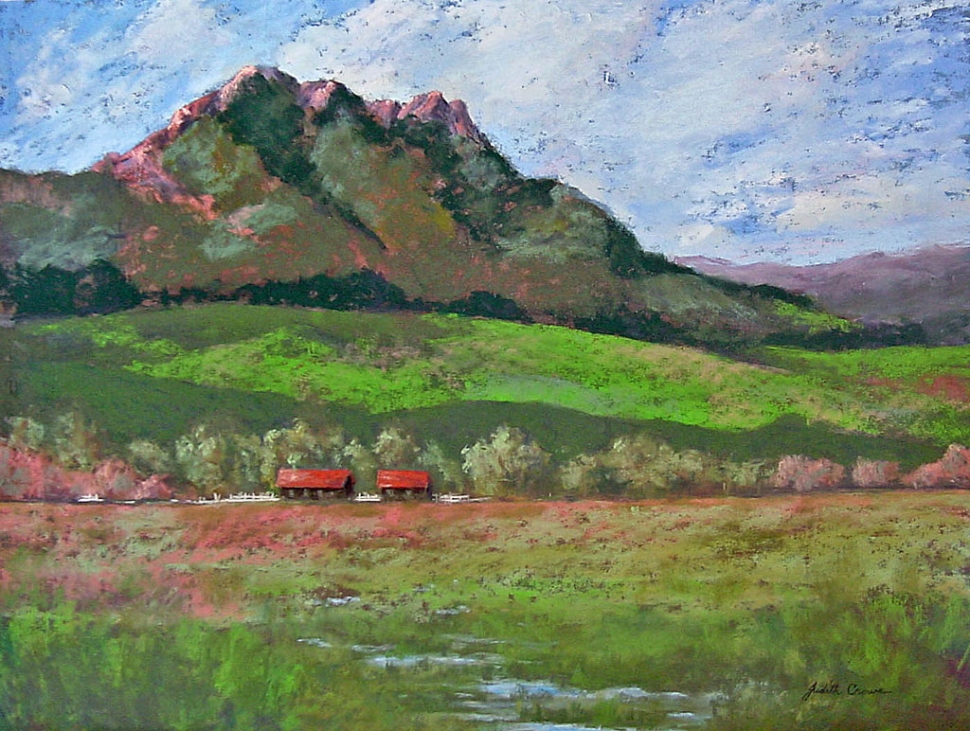 "Hollister Peak #8", pastel by Judith Crowe.
By Gazette Staff Writer — Wednesday, February 18th, 2009
At The Buenaventura Gallery
Judith Crowe's A Crowe's Eye View II pastel paintings will be at the Buenaventura Gallery from March 3 – March 28 with an opening reception during First Friday Gallery Crawl on Friday, March 6 from 5 – 8 pm. In addition, Crowe will also do a painting demonstration on Saturday, March 28 from 11 – 2 pm at the Buenaventura Gallery.
"A Crowe's Eye View II" are pastel paintings of her favorite landscapes in California and abroad. Crowe's representational landscape paintings are often described as peaceful, tranquil and serene. Says Crowe: "Henry Ward Beecher (1813-1887) stated that every artist dips his brush in his own soul, and paints his own nature into his pictures. I guess my nature is calm and relaxed – even my favorite perfume is described as a "calm" scent!"
Judith Crowe took her first art lessons at age five. Her uncle and aunt, both artists, sent her to a teacher at that age. With the help of a very supportive family, she continued to work and experiment with art during her school years. During a career in education in education and raising a family, she continued to experiment with a variety of drawing and painting media, including oil, watercolor, colored pencil and pastels.
At this time, she is most excited about painting with pastels. She has studied this medium for several years and continues to work each week with a group of other pastel artists at Bert Collins' studio in Ojai. She works very quickly in this medium, usually completing a painting in one or two sittings, then putting it aside to "rest" before making final changes.
A resident of Thousand Oaks and Grover Beach, CA, Dr. Crowe is an award-winning artist who has exhibited work regularly in local shows. She has shown work at galleries in Thousand Oaks, Ventura, New Orleans and New Hampshire, and is currently represented by Gallery at Marina Square in Morro Bay. Her paintings hang in a number of private and corporate collections.
The Buenaventura Gallery is located at 700 E Santa Clara St. in downtown Ventura. Hours are Tues – Friday from noon – 5 pm and Saturday from 11 am to 5 pm. For more information, visit their website at www.BuenaventuraGallery.org.