Inés Monguió's "Telling Stories" At The Buenaventura Gallery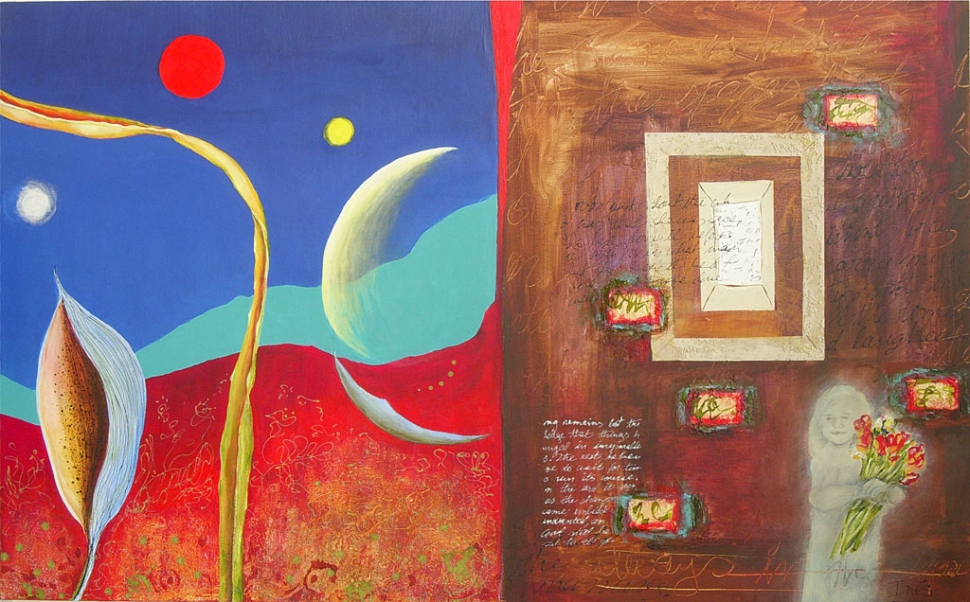 "I Only Want What I Ain't Got", acrylic, collage, charcoal, alcohol inks on canvas, 30" x 48", but Inés Monguiό.
By Gazette Staff Writer — Wednesday, July 22nd, 2009
"Telling Stories," a solo exhibit by Inés Monguiό will be at the Buenaventura Gallery from July 21 – August 15, 2009. A reception for the artist will be held on Saturday, July 25 from 4 – 7 pm.
Each of Monguiό's images is a celebration of the human experience: relationships, loss, change, struggles and victories are all depicted on canvas and paper. Her medium ranges from acrylic and mixed media to monotype, monoprints with chine collé elements. Monguiό is adept at weaving her well-balanced abstract and figurative imagery into stories that are part of mankind's universal mythology.
Monguiό was born in Southern Spain. Says Monguiό , "Making marks was an urgent need for me as a child, almost physical. I remember going to my father's study for the white thick paper he kept there and shouting 'Papa! I need to paint!'"
As a young person, she explored a variety of art forms and surprised herself and others by choosing a career in behavioral science. Earning her Ph.d, her busy practice in Neuropsychology kept her absorbed for years until the need to "make her marks" proved to be undeniable.
She exhibited her first painting in 2000 and has been very active exhibiting as well as curating exhibits. She's exhibiting locally as well as Cal Poly Pomona, Tustin, and internationally. She won First Place in the International Printmaking competition held at Ventura College in 2006. She curated the 1st and 2nd biannual Book Art Show at the Artist Union Gallery in Ventura. In June of 2009, she participated in a panel of three artists at the Museum of Ventura County.
The Buenaventura Gallery is located at 700 E Santa Clara St. in downtown Ventura. Hours are Tues – Friday from noon – 5 pm and Saturday from 11 am to 5 pm. For more information, visit their website at www.BuenaventuraGallery.org. Buenaventura Art Association is celebrating 55 years of great art!