Humane Society has new vehicle to transport rescued animals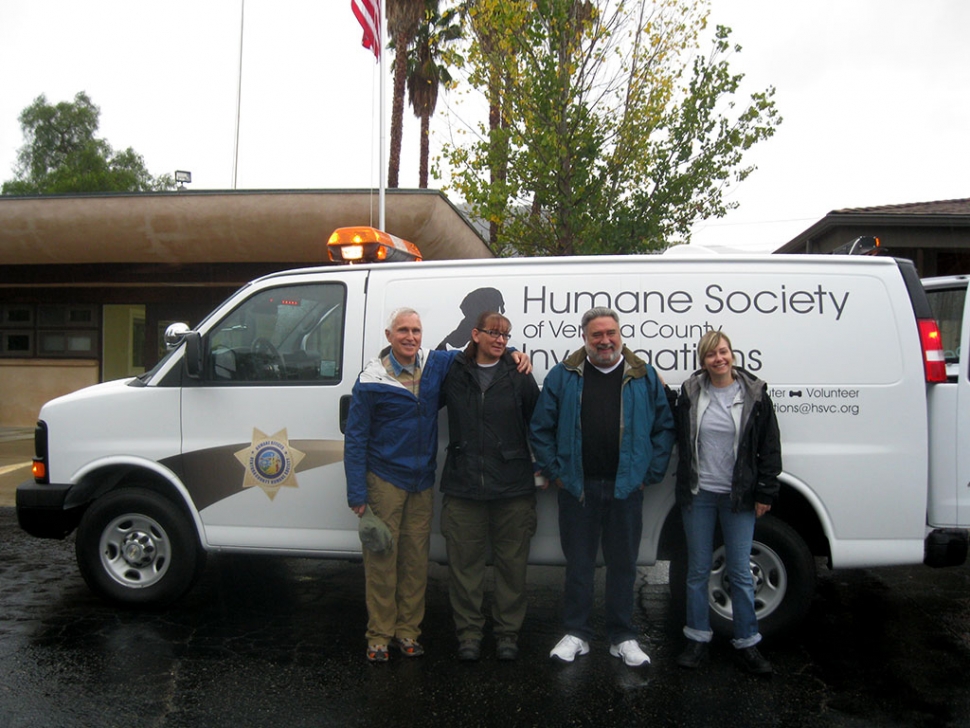 Posing in front of the Humane Society of Ventura County's new investigations van are, from left: Bill Brothers, who converted the van; Humane officer Alina Hoffmann; Jeff Hoffman, director of Investigations for HSVC and Tracy Vail, preliminary investigator for HSVC.
By Gazette Staff Writer — Monday, December 8th, 2014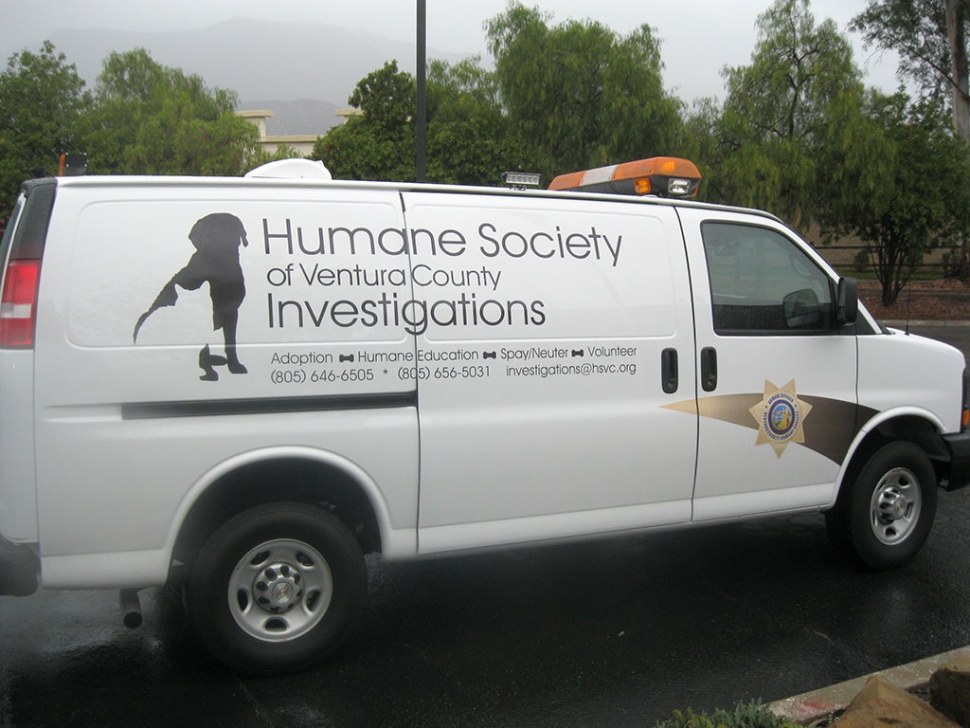 The Humane Society of Ventura County's new investigations van is designed to provide maximum safety and comfort for rescued animals.
Humane Society of Ventura County's Board of Directors has surprised the Humane Society officers and staff with an early holiday gift that will help the animals throughout the county. They announced the addition of a new, specially-equipped investigations vehicle, a Chevrolet Cargo van, purchased from Paradise Chevrolet in Ventura.
The van was converted for investigations of animals that have been neglected and abused. Ojai resident Bill Brothers, owner of Humane Services International, specializes in converting all types of vehicles for use by animal welfare agencies to benefit their animal protection work. HSI has been up-fitting vehicles for animal care and control agencies for over 25 years.
The new vehicle will be used by Humane Society officers in their work to investigate possible cases of cruelty as well as the rescue of animals during disasters. It is designed to provide maximum safety and comfort by providing individual housing units for safety and to reduce disease transmission. The van is completely climate-controlled with individual air ducts into each cage. It also features emergency safety lighting as well as "scene lights" for night rescues.
HSVC Director of Investigations Jeff Hoffman realized the nonprofit's aging fleet needed to be upgraded and board members agreed. Hoffman contacted Scott Luttenberger, Ojai resident and fleet manager at Paradise Chevrolet, who has adopted from the HSVC and offered to provide favorable pricing for the vehicle.
Hoffman and the board wanted a new look to their vehicles to best represent the Society. They turned to Heather Balaam, who worked at the HSVC for many years and who now specializes in graphic design.
Jolene Hoffman, shelter director of the Humane Society, was thrilled by the new, upgraded vehicle. "We're really excited about what this vehicle will do for our investigations division and the animals our officers protect," she said. "It's a huge step forward for us."
Jeff Hoffman stressed that having the right equipment can reduce costs to the Humane Society as well as provide a more humane experience for the animals. "For example, the new vehicle can be completely disinfected quickly and easily after potentially sick animals are transported," he said.
Funds for this vehicle have been raised in part through HSVC's vehicle donation program. Jeff Kroll has been instrumental in helping HSVC for 10 years with donations of cars, trucks, recreational vehicles, boats and motorcycles. To donate a vehicle, call Jeff Kroll at (805) 640-8128 or 890-1486, or visit www.hsvc.org.