Human connection with the earth and a journey into a fantasy world are themes in CI's November art shows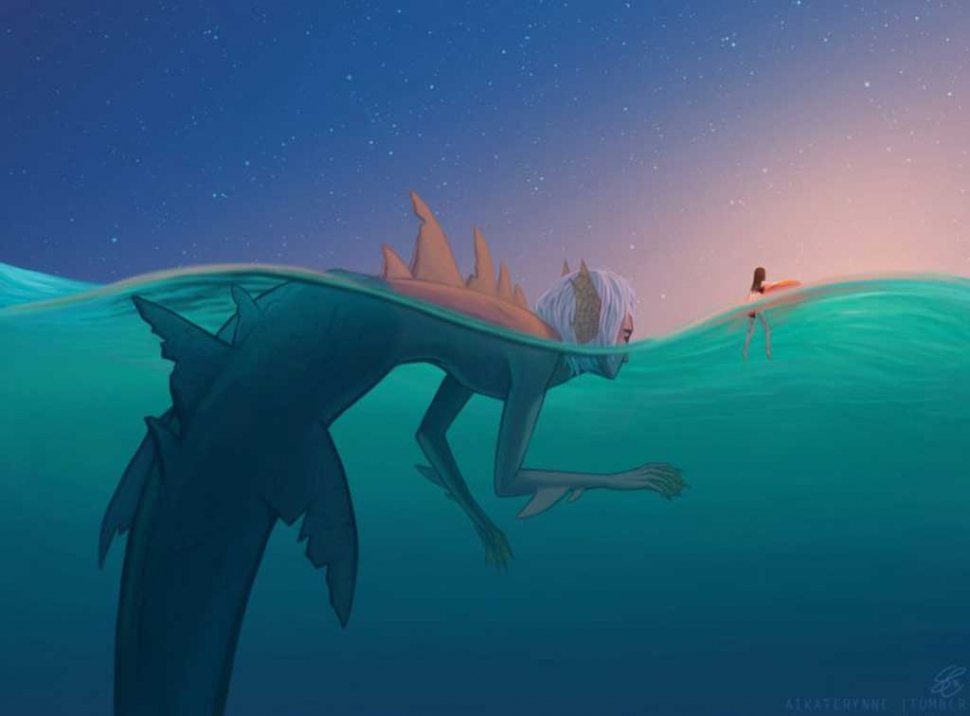 By Gazette Staff Writer — Monday, October 31st, 2016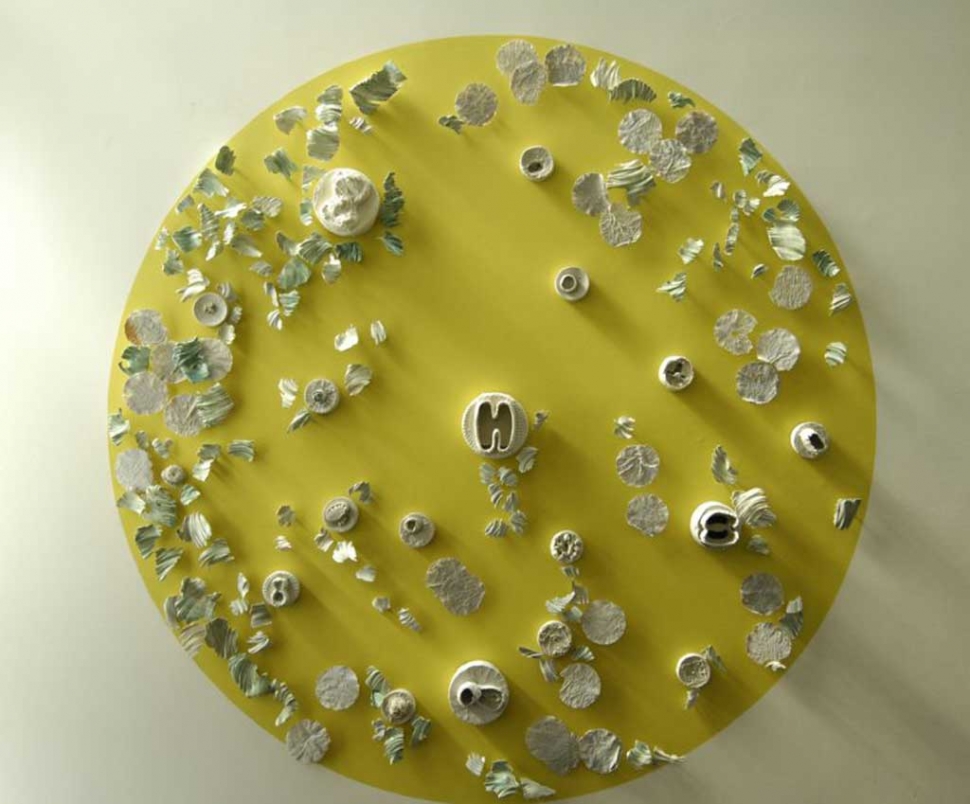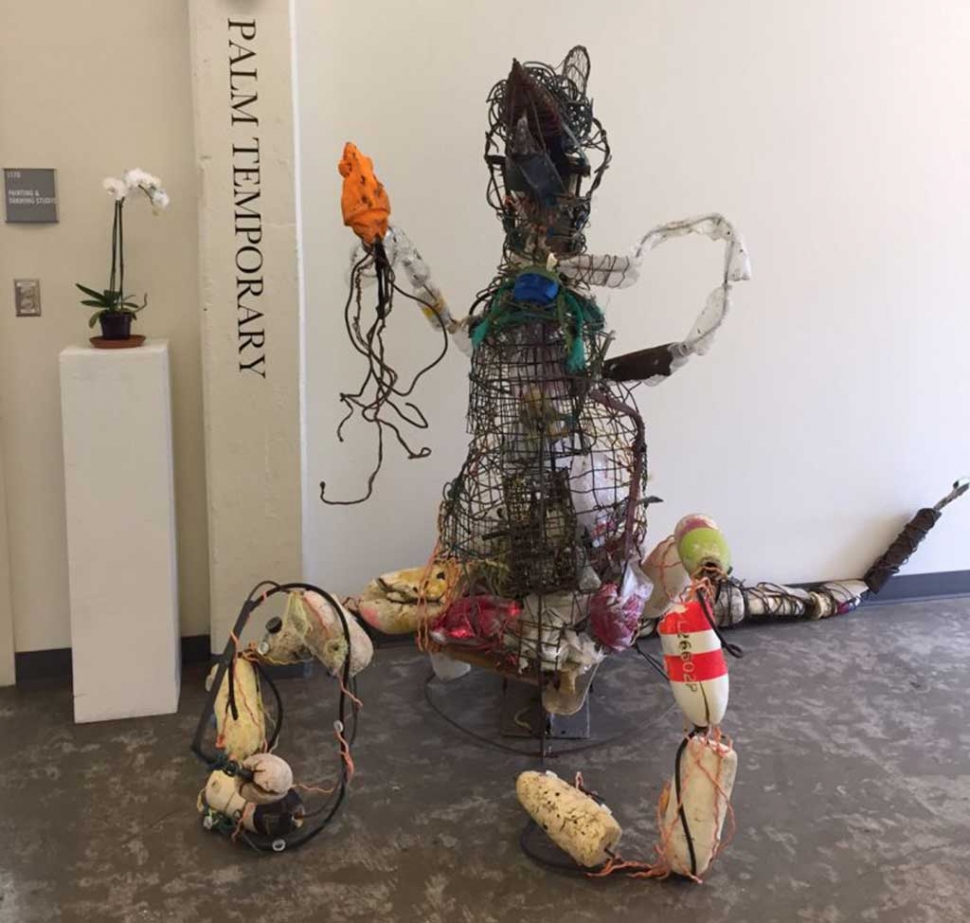 CSU Channel Islands (CI)'s November art shows in Napa Gallery take visitors from the realities of human impact on the Santa Rosa Island to a make-believe world with monsters, demons, mortals and gods.
The primary show, "Fluid Entropy" by Janet Neuwalder, is somewhere in between the natural world and the cosmos with wall installations assembled from hundreds of fragments that seem to float on the wall.
"Fluid Entropy" opens with two other exhibits from Oct. 31 through Dec. 9 with an opening scheduled in Napa Gallery from 6 to 8 p.m. on Thursday, Nov. 10.
The other two exhibits are: "Tales of Prima: Strange Creatures and Mysterious Landscapes" by Art senior Stephanie Canlas, and "The Human Impact on Santa Rosa Island (Part Two)" by more than 20 sculpture and art students who visited Santa Rosa Island to do artistic research.
"Entropy" will be in the Napa Gallery, "Santa Rosa" is on display in the CI Palm Temporary gallery and "Prima" will be on the Grad Wall, all located within Napa Hall on the CI campus.
Neuwalder, who is an art instructor at California Lutheran University, is a sculptor and installation artist who works in mixed media, clay and ceramic processes. She uses natural and manufactured materials such as papers, fibers and books, "the residue topography of human existence," she says, and coats them with liquid clay.
"Clay is an ancient material and seems inexhaustible in its ability to express a sense of timelessness, endurance and expressive meaning," she said.
"The Human Impact on Santa Rosa" is a group project organized by Art Lecturer Christophe Bourely and Professor of Art Matt Furmanski.
In spring of 2016, Furmanski and Bourely took more than 20 art students to Santa Rosa Island to see what impact human contact has had on the land.
"We talked about the importance of open space as inspiration to artists, we talked about and studied environmental art and art that conveys a message of some kind," Furmanski said. "The approach was to allow the students to encounter nature and open space and open themselves to the inspiration of it all. To study how we as humans affect our surroundings and are affected by them."
Part I of the project was two dimensional – photographs and paintings. Part II incorporates sculpture.
Students used a variety of marine detritus to assemble sculptures, including lobster traps, fishing gear, balloons, floats and buoys and all manner of plastics—especially non-biodegradable bottles.
The Grad Wall exhibit is a voyage into Canlas' imagination with a series of digital paintings that invite guests into a fantasy world called Prima.
"There lives an endless sea of stories, teeming with fantastical creatures, celestial kingdoms, and lush, vivid landscapes," Canlas said.
Tales of Prima will be a website dedicated to Canlas' characters and their world, a project that Canlas has been working on for the past few years. Included on the website will be stories, details, diagrams and information about the species, languages and cultures of Prima.
Limited parking is available on campus with the purchase of a $6 daily permit; follow signs to the parking permit dispensers. Free parking is available at the Camarillo Metrolink Station/Lewis Road with bus service to and from the campus. Riders should board the CI Vista Bus to the campus; the cash-only fare is $1.25 each way. Buses arrive and depart from the Camarillo Metrolink Station every 30 minutes from 7 a.m. to 10 p.m. Monday through Friday. For exact times, check the schedule at www.goventura.org.
About California State University Channel Islands
CSU Channel Islands (CI) is the only four-year, public university in Ventura County and is known for its interdisciplinary, multicultural and international perspectives, and its emphasis on experiential and service learning. CI's strong academic programs focus on business, sciences, liberal studies, teaching credentials, and innovative master's degrees. Students benefit from individual attention, up-to-date technology, and classroom instruction augmented by outstanding faculty research. CI has been designated by the U.S. Department of Education as a Hispanic-Serving Institution and is committed to serving students of all backgrounds from the region and beyond. Connect with and learn more about CI by visiting CI's Social Media.