Honor Your Loved Ones During Museum's Annual Exhibition Of Altars of Memory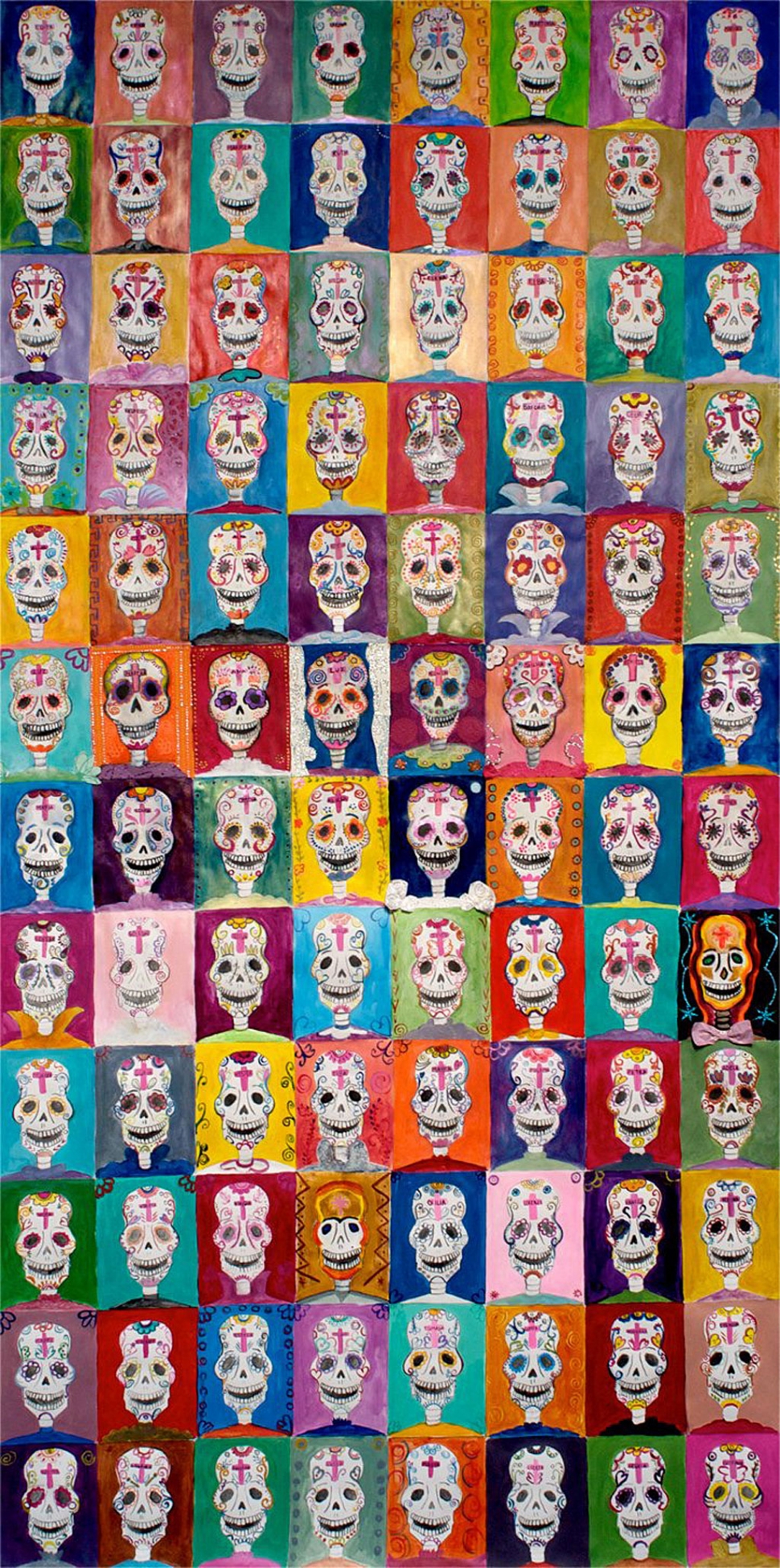 By Gazette Staff Writer — Monday, October 5th, 2009
Altars of Memory, created by local community groups, schools and artists, celebrate the lives of the departed October 27 through November 6 at the Museum of Ventura County.
Visitors to the museum during October are also invited to honor a loved one by inscribing a paper memorial butterfly, available for free in the Museum Store. Visitors' butterflies will be included in a group installation display. During the museum's 9th Annual free Day of the Dead ( Día de los Muertos) Community Celebration on Sunday, November 1 from 11:00 a.m. to 3:00 p.m., there will be a butterfly making area and those participants can also add their winged creations to the display.
The exhibition includes: Masks to Wear While Playing Hide & Seek With Death, by third grade students at Sheridan Way Elementary School in Ventura; an altar in remembrance of extinct animals, by the Boys and Girls Club of Greater Oxnard and Port Hueneme; an altar honoring las muertas de Juarez (The Dead Women of Juaréz), by Maribel Hernandez in collaboration with Adriana M. Mendoza; Ofrenda Para Los Seres Queridos de Mi Alma, by professional altar maker Ofelia Esparza; an altar honoring fallen soldiers; an altar in memory of family advocate Mary Sullivan, by friend Beverlee Park-Sherbo; an altar for Adriane Miller, created by her mother, Museum Docent Alice Braun.
Ofrendas not only honor the dead but traditionally provide some of their favorite things to enjoy when they return to visit one day a year. Day of the Dead is celebrated in parts of Mexico, Central America and the United States, and today is popular with Latinos and non-Latinos as well. The tradition has its origins in both Spanish religious and Mayan and Aztec spiritual beliefs.
The Museum of Ventura County, 89 S California Street in Ventura, is open free 11:00 a.m. – 6:00 p.m. Tuesday through Sunday. Go to www.venturamuseum.org or call (805) 653-0323.
FOR MORE DETAILS & CONTACT INFORMATION ABOUT SPECIFIC ALTARS, PLEASE SEE BELOW.
Descriptions, Contacts for Altars of Memory
Honoring Animals That We Have Lost From Extinction
Altar Makers: Boys & Girls Club of Greater Oxnard and Port Hueneme
Children who participate in the after school art program at the Boys and Girls Club will create miniature dioramas depicting animals that are no longer on the earth. The students have been researching animals that went from endangered to extinct and how destruction of habitat is the single greatest cause of extinction. The altar will show their deep respect for Mother Earth, "Madre Tierra", and the students hope to inspire visitors to be caretakers of the planet.
Contact Person: Jackie Villanueva, Art Director, 754-8092
Masks to Wear While Playing Hide & Seek With Death
Altar Makers: Third Grade Students in Renee Sutton's class at Sheridan Way Elementary School in Ventura
Local artist Maribel Hernandez is working with a group of students from Sheridan Way Elementary School in Ventura to create art masks that will be included on an altar representing the school. Ms. Hernandez is teaching the students about the tradition of mask making in Mexico and the use of masks in the celebrations of the Days of the Dead.
Each student will make a papier maché mask that would be their disguise on the Day of the Dead.
Contact Person: Susan Eberhart, Sheridan Way School Principal (805) 641-5491
Ofrenda Para Los Seres Queridos de Mi Alma
Altar Maker: Ofelia Esparza
Statement of Ofelia Esparza:
"I build altars to pay homage to my loved ones – to those who have left an important imprint in my life and in the lives of others. It is a reverent way, not only to keep alive the memory of those who are no longer with us, but it is a way to pass on to the next generations, the knowledge of our connection to their existence. What greater tribute to those we love and what greater hope for us: that is to be remembered and to be cherished even beyond Death. Thus, we are given the hope that we shall not suffer the most dreadful death of all: To Be Forgotten."
From Artist's Biography:
Ofelia Esparza is an artist and an educator, who was born and still resides in East LA. A graduate of East Los Angeles College and California State University Los Angeles, she is a retired teacher from the Los Angeles School District. She recounts that honoring her cultural heritage and family traditions have long been a driving force in her lifestyle, in her teaching, and in all her creative endeavors. Although Ofelia is widely known for the more than 29 years of Day of the Dead Altar installations at Self Help Graphics & Art, she has also created a large body of work in printmaking there. Ofelia's work reflects her spirituality and the honor she holds for her Mexican indigena heritage, especially rooted in the Mayan culture. She credits her mother as the greatest influence in Ofelia's appreciation for the spiritual beauty of the natural world, and in the dignity of the people around her. This is what inspires not only her ofrendas, but all of her artwork, in all its diversity. Her prints and paintings are in several private and institutional collections. Ofelia's work has been exhibited throughout Southern California and has been shown at several national and international museums and galleries including Self Help Graphics and the Oakland Museum of California.
Contact Person: Ofelia Esparza (323) 266-2198
Altar Dedicated to the Female Homicides in Ciudad Juárez
Altar Makers: Maribel Hernandez in collaboration with Adriana M. Mendoza
Statement of Maribel Hernandez:
This altar is dedicated to las muertas de Juarez (The Dead Women of Juaréz). Hundreds of women have died violently since 1993 in the northern Mexican city of Ciudad Juárez Chihuahua. The centerpiece of the altar is an original painting by the altar makers.
The victims of these crimes have been primarily young women between the ages of twelve and twenty-two. Many were students and factory workers. Many were newcomers to Ciudad Juarez who had migrated from other areas of Mexico. The victims were generally reported missing by their families. Days or months later their bodies were found dumped in vacant lots or in the desert. In most of the cases there were signs of sexual violence, torture, and mutilation.
From Artist's Biography
Maribel Hernandez was born in Michoacan, Mexico. At an early age she demonstrated irrepressible creative passion. By age four, her favorite rainy-day activity was to make spiral and doll-shaped variations of hop-scotch designs. By age 8, the young visionary was captivated for hours by watching waves of bird migration patterns in the sky. She received her first colored pencil set from her grandmother as a souvenir from her journey to "El Norte" (the States). This watered in the young artist a love for vibrant color in her creative expressions. However, these expressions did not land on canvas or an official sketchbook until after Maribel arrived in California.
Maribel's continued use of vibrant color distinguishes her current style. Her work ranges from design (graphic, interior, and fashion accessories), photography, ceramics, and painting. In constant pursuit of color and diverse media, Maribel's work speaks of her passion for life, with its various rhythms and emotional landscapes. Maribel is a resident artist of the Bell Arts Factory in Ventura California.
Contact Person: Maribel Hernandez (805) 824-2420
Altar in Honor of Fallen Soldiers
Altar Maker: Anonymous
Each of the past 8 years there has been an altar honoring soldiers who have been killed in the current conflicts in Iraq and Afghanistan. This year's altar will include paper poppies that will bear the names of individual soldiers. Visitors will be asked to choose one of the poppies to take home. The poppies will then spread throughout the community and will act as a catalyst for families to remember those who have died in service of our country. The poppy has been used as the flower of remembrance for soldiers since WWI.
Contact Person: Wendy VanHorn, Director of Education (805) 641-1876 ext. 300
Altar for Family Advocate Mary Sullivan
Altar Maker: Beverlee-Park Sherbo
Statement by Beverlee Park-Sherbo:
Mary Sullivan was the oldest of 10 children born to an Irish Catholic family who settled in Ventura in the 1950s. She was the big sister of her family and for more than 30 years she was a leading attorney family advocate in the Ventura family and juvenile courts and in the Ventura County community.
Anyone that ever met Mary knew she was much more than an attorney. She was the caregiver of so many individuals and families in Ventura. She cared about everyone and she gave to everyone, especially the women and children who could not speak up for themselves. Every day she stood up in court or somewhere in our community and asked those with power to help those who were powerless. She would ask them to help these families care for themselves and their children and to help them stay together as a family.
Mary was only 59 years when her heart that she had given to us so freely gave out. She was the most loving friend and supportive colleague I could have ever wished for. I am so grateful to have been part of her life.
I am hopeful that her ofrenda at the museum will entice Mary to visit us and receive the many thank you notes from all the people she cared for during her beautiful life.
Everyone is invited to visit Mary's ofrenda at the museum and please leave a note of thanks to this incredible woman.
Contact Person: Beverlee Park-Sherbo (805) 646-3182
Remembering Adriane Miller
Altar Maker: Alice Braun
Museum Docent Alice Braun will erect an altar in memory of her daughter Adriane Miller, who was killed in a car accident.
Contact Person: Alice Braun (805) 649-8646
Butterfly Memorial: A Community Altar
Museum Visitors are invited to make a paper butterfly and dedicate it to a departed friend or family member. All the butterflies created by visitors during the months of September and October will be included in a group installation. There will be a butterfly making area at the Day of the Dead Community Event on November 1st and visitors that day can also add their butterflies to the display.
Contact Person: Wendy VanHorn, Director of Education (805) 641-1876 ext. 300