Holiday Ornaments, Small Images And "Anoxia: A Fetish Retrospective" By Bryson Gerard At The Harbor Village Gallery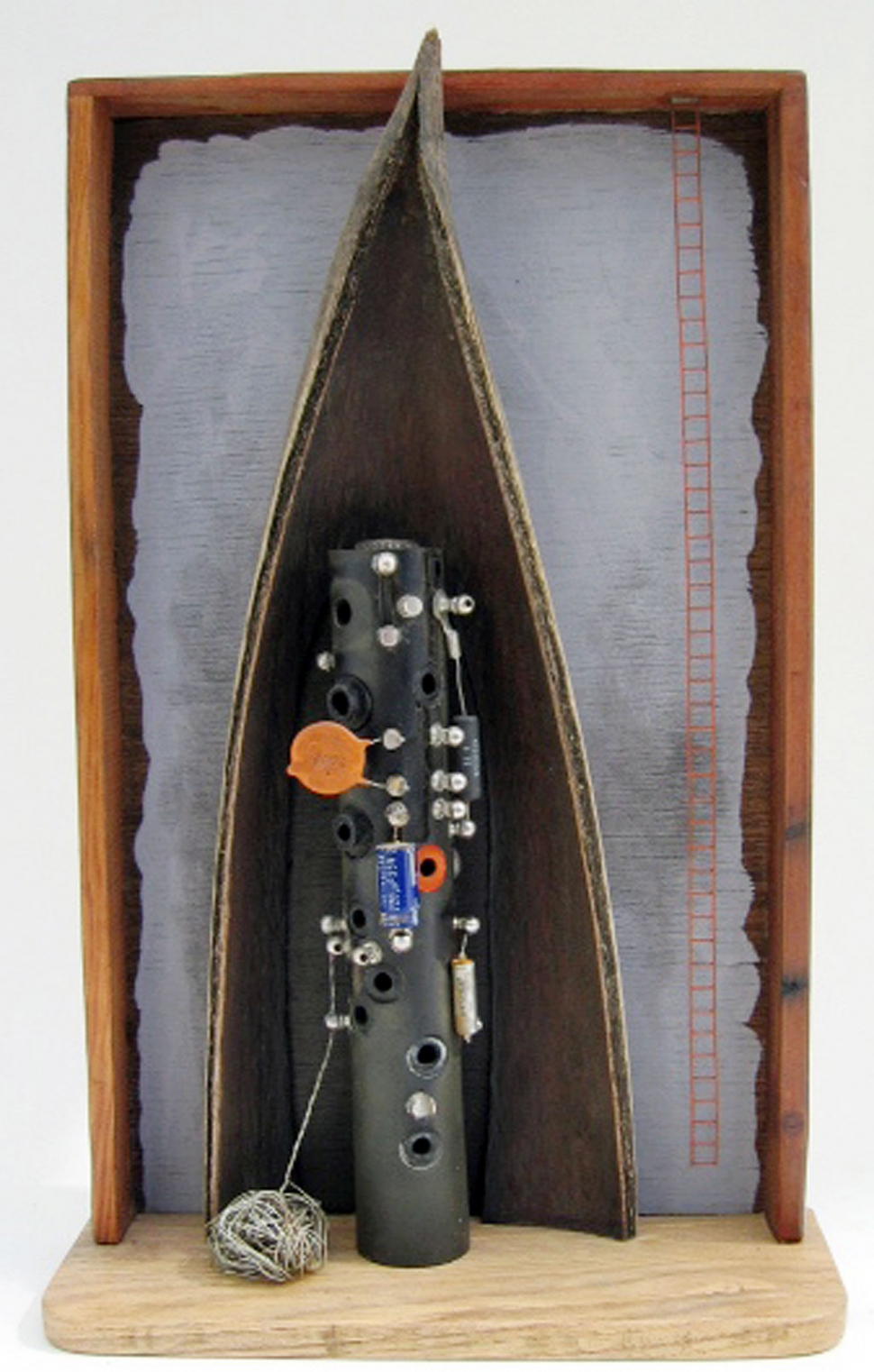 "Naranja Clara" by Pete Gerard.
By Gazette Staff Writer — Wednesday, November 19th, 2008
Bryson Gerard's ceramic art and assemblages come together in a sculptural exhibition "Anoxia: A Fetish Retrospective" at the Harbor Village Gallery from November 19 through December 15, 2008 with an artist reception on Friday, November 21, 2008 from 5 – 8pm. In addition, an ornament competition (with the proceeds benefitting Food Share) and a small images exhibit are also at the Harbor Village Gallery.
Gerard quotes playwright Thornton Wilder in his biography: "style is but the faintly contemptible vessel in which the bitter liquid is recommended to the world." The styles of Gerard's ceramic creations do fluctuate slightly in size, shape, color and function. From angled vases tinged in earthen glazes to small "medicine pots" who just might be vessels holding the bitter liquid being quenched by this world's vanity or on the other hand could be filled with life's sweet secrets. Beyond ceramics, Gerard's skillfully crafted assemblages also suggest an element of holding more then the eye can see. The wit, craftsmanship and muses Gerard combines in all of his works captivate and some even flirt with the indulgence of functionality.
Gerard began his higher education in the Fine Arts at Pasadena City College and Cal State Long Beach. He achieved his Masters at Cal State Los Angeles after ceramics and photography independent study for a year in Japan. Gerard spent close to 30 years in the working with special effects, miniatures and props in Hollywood, leaving when technology evolved and computer generated imagery took hold. Currently living in Thousand Oaks and member of the Ventura County Potter's Guild, Gerard is enjoying the return to creating original art, "forever on the look out for the best way to squeeze out the beauty of the moment."
The Harbor Village Gallery is located at 1591 Spinnaker Dr. in the Ventura Harbor Village next to the Main Lawn. Open everyday except Tuesday from 12 to 5 pm. For more information, call the gallery at 805-644-2750 or visit their either website at www.harborvillagegallery.com or www.buenaventuragallery.org