Hiking artist brings back unique views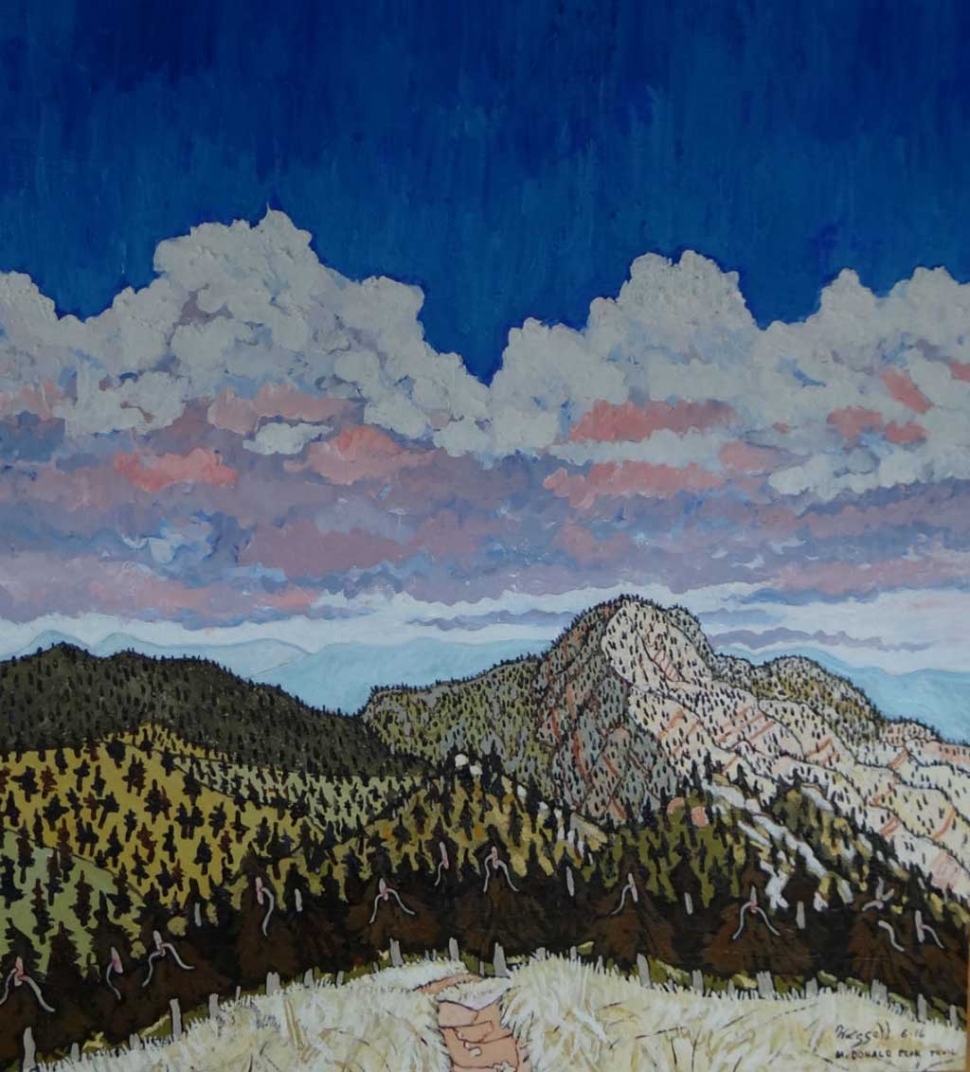 By Anonymous — Thursday, August 11th, 2016
Robert Wassell has been pursuing rare vantage points in the Los Padres National Forest for more than three decades. On a sketchbook carried in his backpack, he captures views few other hikers reach, brings them home to Ventura, and creates paintings to give everyone a window to that world.
His new body of work will comprise an Aug. 23-Sept. 17 solo exhibition at the Buenaventura Gallery in downtown Ventura titled The Penumbra of the Forest.
"I'm an expressive representational painter trying to capture the elusive penumbra of our local forest," said Wassell, whose show will include several Channel Islands scenes. Many of the new pieces also feature expansive skies.
Penumbra, in astronomy, is the partially lighted area surrounding the complete shadow of an eclipse, but it also is more generally defined as a shadowy, indefinite area, he said, "something you know is there but can't quite see … the essence of the forest, a presence you feel when alone in nature.
"I'm using the word because I want people to look it up and argue about it; I want them to remember," he said.
The show will include about 30 oil-on-canvas paintings, from 11 by 18 inches up to 35 by 39 inches, said Wassell, who will be at the gallery for an opening reception from 5-7 p.m. Aug. 27.
"My art has always been my No. 1 priority throughout my whole adult life," he said.
Born in Pennsylvania in 1951, Wassell took private art lessons in his teens "from a great watercolor painter, the late Alice Welsh Jenkins, in Kingston, Pa.," studied fine arts at Wilkes College in Wilkes-Barre, then earned a Bachelor of Fine Arts degree in 1975 at the Maryland Institute of Art in Baltimore.
"When I moved here in 1985, I took a ride up into the forest at Rose Valley. Someone put a glossy pamphlet under my windshield wiper, Keep the Sespe Wild, and I had an epiphany: I wanted to explore and capture the Los Padres Forest in my art."
Since then, he has made almost weekly forays into the forest and, "Some of these works are the result of 18- and 21-hour hikes. I had a foot injury last year, and have worked back to six-hour hikes," Wassell said, but he still has "a long way to go to get back to where I was physically.
"I mostly hike alone. My longest day hike was 21 hours, and in 2015 I did a two-day hike down into the Sespe Gorge and made 28 drawings on the trip. I have painted six paintings from the 28 drawings so far," he said. "A typical hike is five drawings, and some I will paint almost immediately, and others not for years."
Wassell has developed and refined a singular painting style in his 30-plus years of traversing the Los Padres and has produced hundreds of artworks, many of which can be viewed on his website, www.wassellart.com.
Buenaventura Gallery, at 700 E. Santa Clara St., is open 11 a.m. to 5 p.m. Tuesdays through Saturdays. For more about the nonprofit Buenaventura Art Association and its programs, visit www.buenaventuragallery.org or call 648-1235 during gallery hours.