Heritage Valley Art Growers….Where Creativity Blooms
By Anonymous — Wednesday, June 1st, 2016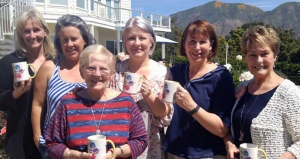 Heritage Valley Art Growers (l-r) Lolita Wyche-Bowman, Deborah Galarza, Laura Cunz, Carole Cately, Colette Swan, and Wana Klasen.
A group of Fillmore Artists who meet to paint under tutelage of Wana Klasen will be presenting their first Group Art Show from June 4, 2016 through July 30, 2016 at the Blanchard Community Library located at 119 North Eighth Street in Santa Paula.
The art is original, colorful, eclectic work completed in a variety of media including water color, mixed media, pastel, and graphite, and with varying subject matter. The artists are also offering gallery quality giclee' prints and note cards!
Showing work in this exhibit are artists, Carole Cately, Laura Cunz, Deborah Manning-Galarza, Colette Swan, Lolita Wyche-Bowman, and Wana Klasen.
A "Meet the Artists" Reception is planned for Thursday, June 16, 2016 from 5-7pm.