Helle Sharling-Todd Exhibits "Figures Andd Spaces" At The Buenaventura Gallery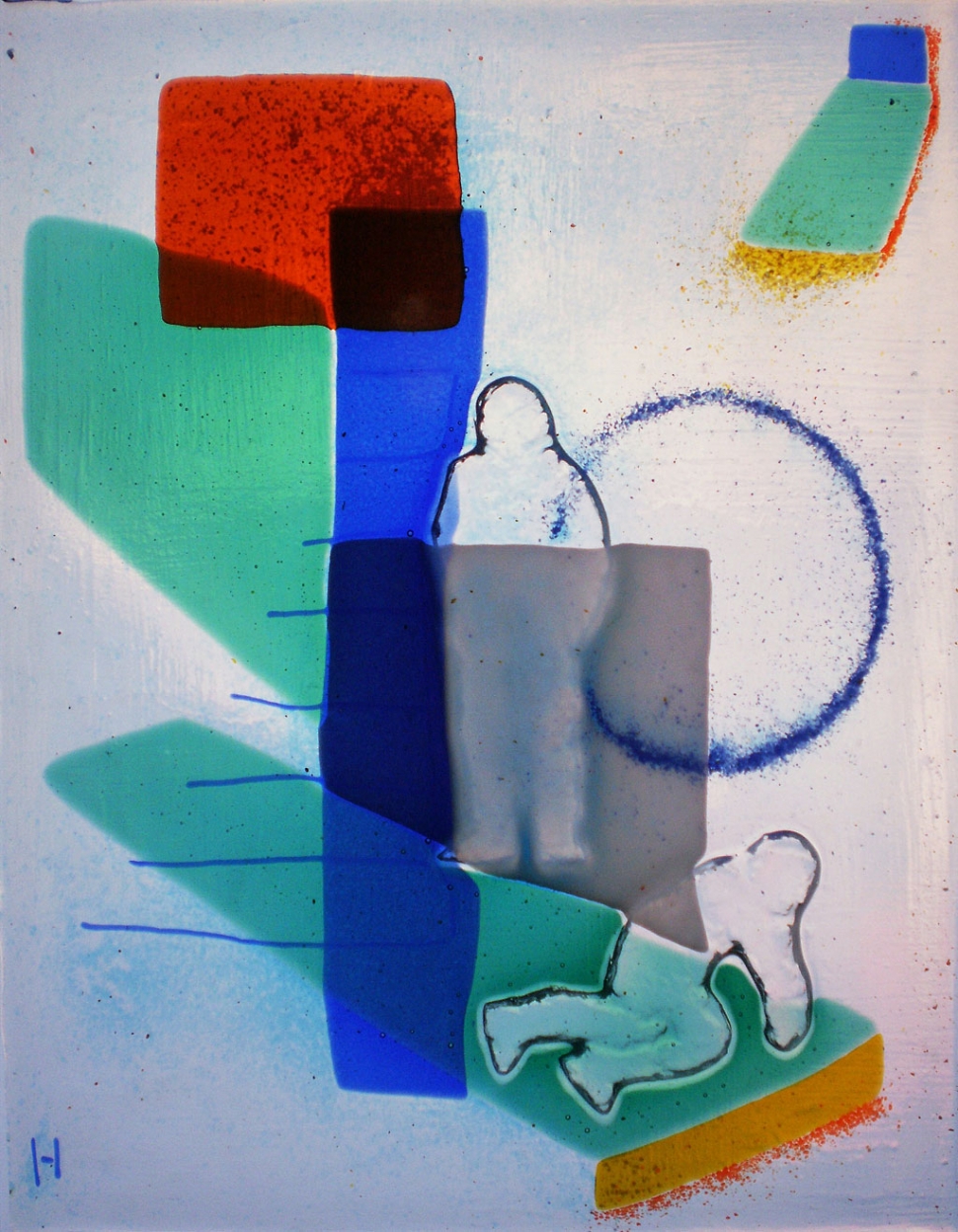 "Stage One", glass by Helle Sharling-Todd
By Anonymous — Wednesday, February 17th, 2010
Figures and Spaces an exhibit of fused glass and steel by Helle Sharling-Todd will be at the Buenaventura Gallery from Tuesday, March 2 to Saturday, March 27, 2010. Opening reception is on Saturday, March 6, from 4 – 7 pm.
Figures and Spaces is a collection of episodes, as Sharling-Todd titles them, depicting moments of human interaction. Her inspiration comes from observing people and the drama they create among themselves, simply by being alive. "To observe humans and their activities never ceases to amaze me, and to create little dramas between a group of figures is fascinating," explains Sharling-Todd. By isolating the activity of a single individual, the fallen figure or the helping hand, Sharling-Todd's linear compositions tell a story of expression and relationship. The colorful frozen narratives portrayed in glass and steel have a historical quality to them, like a psychological thesis. The theories and results of these "episodes" have been visually preserved for posterity.
Sharling- Todd is widely traveled and has studied mosaics and stained glass throughout the world. A graduate of Bauhaus School of Architecture and Design in Krefeld, Germany and the University of Aarhus, Denmark. Sharling-Todd also studied mosaics at Art Academy in Ravenna, Italy and the Mexican mural movement at the National School of Art in Mexico City.
Sharling-Todd has created well over fifty public art projects around the world and locally, including the gateways at Ventura Avenue, the tile mural at the Senior Center, the Wright Library garden mosaic, and the mosaic "Water Lines" that run throughout the Port Hueneme library. Serving on the board for the International Contemporary Association of Mosaic Artists, Sharling-Todd has spoken and shown her work in Japan, Brazil, Egypt, Turkey, and Germany.
The Buenaventura Art Gallery is located at 700 E. Santa Clara Street, Ventura, CA 93001. Hours are Tues – Friday from noon – 5 pm and Saturday from 11 am to 5 pm. Please call (805)648-1235 or visit www.buenaventuragallery.org.