Gov. Schwarzenegger Issues Statement on Death of Robert Graham
By Gazette Staff Writer — Thursday, January 1st, 2009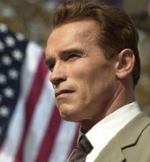 Arnold Schwarzenegger
California State Governor
Governor Arnold Schwarzenegger today issued the following statement regarding the death of Robert Graham:
"Maria and I were deeply saddened to learn of the death of Robert Graham. Robert was an amazing sculptor who forever shaped the presence of sculpture art throughout California and the world. His work was truly influential and he will forever remain an icon in this state. Our thoughts and prayers are with Robert's wife Anjelica and his entire family during this difficult time."
Graham was inducted into The California Museum's California Hall of Fame on December 15. Graham's work has been the subject of over eighty solo exhibitions and three retrospective exhibitions in the United States, Europe, Japan and Mexico, and is included in many national and international museum collections. He also designed the "Spirit of California" medal for the California Hall of Fame, the Los Angeles Memorial Coliseum Gates and the Franklin Delano Roosevelt Memorial in Washington D.C.