French film concludes first CLU series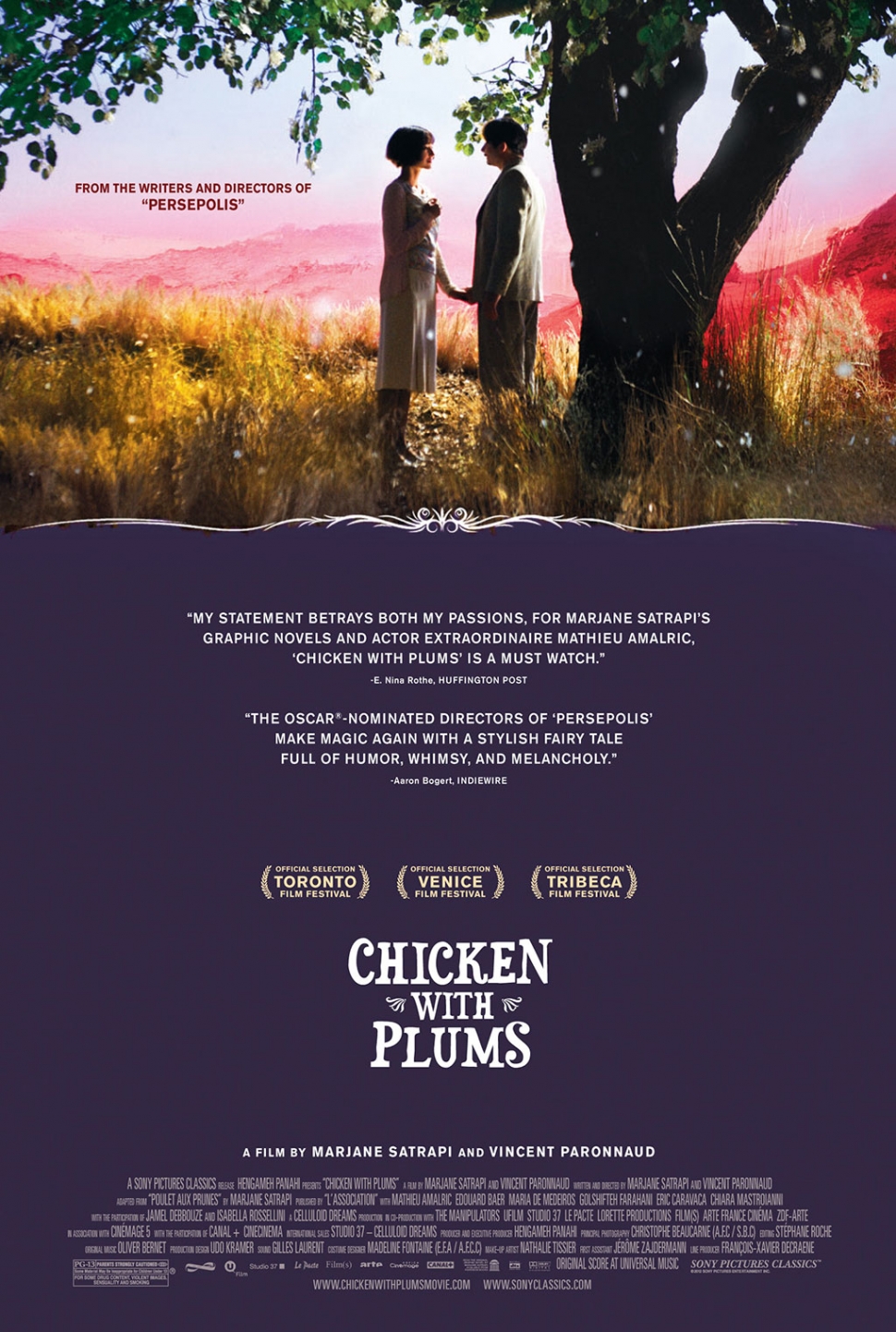 Poster for "Chicken with Plums"
By Gazette Staff Writer — Tuesday, April 15th, 2014
'Chicken with Plums' tells story of violinist in Tehran
THOUSAND OAKS, Calif. – April 14, 2014) The first season of California Lutheran University's International Film Series will conclude with a free screening of the French film "Chicken with Plums" on April 30 at Muvico Thousand Oaks 14.
"Chicken with Plums," a 2011 film starring Mathieu Amalric, will be shown at 7 p.m.
Set in Tehran in 1958, the film tells the story of a famous musician whose prized violin has been ruined. Since the instrument broke, Nasser Ali Khan, one of the most renowned musicians of his day, has lost all taste for life. Finding no instrument worthy of replacing it, he decides to confine himself to bed to await death. He plunges into deep reveries that take him back to his youth and even to a conversation with Azraël, the Angel of Death, who reveals the future of his children. As pieces of the puzzle come together, the secret of his life comes to light: a wonderful story of love that inspired his genius and his music.
Written and directed by Marjane Satrapi and Vincent Paronnaud, the film explores the complexities of the world and the mysteries of the human soul. Like real life, the film jumps from dramatic to comic to heartbreaking. What interests the viewer is not whether Nasser will die nor how, but why. It is rated PG-13.
"Chicken with Plums" won the Dublin Film Critics Special Jury Prize and was nominated for Best Film at the Ghent International Film Festival. Satrapi and Paronnaud previously worked together on the 2007 animated film "Persepolis," which was based on Satrapi's graphic novel about growing up in Iran during the Islamic revolution. "Persepolis" won numerous awards including the Cannes Film Festival Jury Prize and César Awards for Best Adapted Screenplay and Best First Film. It was nominated for an Oscar for Best Animated Feature Film and for a British Academy of Film and Television Arts award for Best Animated Film.
Known for his roles in "The Diving Bell and the Butterfly," "Munich" and the 2008 James Bond film "Quantum of Solace," Amalric is currently appearing in "The Grand Budapest Hotel." He is the winner of multiple awards including three Césars, a Lumière and an Étoile d'or.
CLU's Department of Languages and Cultures is sponsoring the event with a grant from the CLU Community Leaders Association. Inspired by the six-year success of the university's French Film Festival, faculty members replaced the event with the international festival this year.
Muvico is located at 166 W. Hillcrest Drive.
For more information, contact Karen Renick at renick@callutheran.edu or 805-493-3434.