Free concert to feature Hispanic music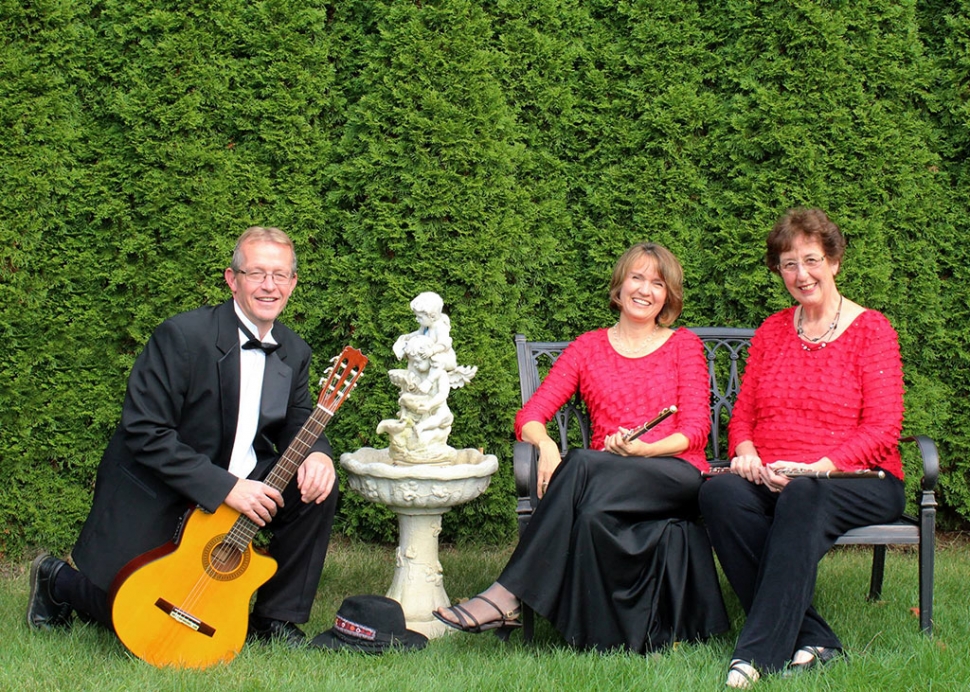 Camerata Amistad. (l-r) P. Brent Register, Cathy Collinge Herrera and Diane Gold Toulson.
By Gazette Staff Writer — Wednesday, January 14th, 2015
Camerata Amistad to perform Feb. 4 at Cal Lutheran
THOUSAND OAKS, CA - A chamber ensemble will perform music with a Hispanic influence at 6 p.m. Wednesday, Feb. 4, at California Lutheran University.
Camerata Amistad will present the free concert in Samuelson Chapel on the Thousand Oaks campus as part of the university's Artists and Speakers Series.
The versatile chamber ensemble of orchestral musicians performs a wide variety of chamber music but is particularly dedicated to of art, folk and popular-culture music from the Hispanic world. Ensemble members Cathy Collinge Herrera, P. Brent Register and Diane Gold Toulson share their love for this music with a wide range of audiences in both the United States and Latin America. They have been featured at music festivals, conferences, artist series and U.S. Embassy-sponsored events and are sought-after guest artists for university programs.
While a Fulbright scholar to Peru, Collinge Herrera was principal flutist with the Orquesta Sinfonica Nacional for two years and she founded of the Festivales Internacionales de Flautistas. As an artistic ambassador for the U.S. Embassy, she has performed as concerto soloist recitalist and master class clinician in Central and South America. She has also performed throughout the United States, Canada, Australia and England. She teaches at Juniata College in Huntingdon, Pennsylvania.
Register is a professor of music at Clarion University of Pennsylvania and has served as assistant director of the Clarion University Honors Program, for which he was named a National Honors Fellow. He has received awards for musical direction from the American Theatre Festival Competition and a performance at the Kennedy Center in Washington, D.C. He has performed both nationally and internationally, including solo performances in New York City, Boston, Oslo and Milan.
Toulson has enjoyed an extensive career as soloist, chamber musician and orchestral flutist. Concert appearances in the U.S. include Carnegie Recital Hall, the Lincoln Center Library and Avery Fisher Hall in New York and the National Gallery and Smithsonian Institute in Washington, D.C. Internationally she has performed and taught master classes in the Netherlands, Spain and Argentina. She teaches at The Music Academy in State College, Pennsylvania.
Register, as composer, is collaborating with fellow Camerata Amistad members on recording and publishing their musical arrangements and compositions.
The Artists and Speakers Series, the Languages and Cultures Department and Multicultural Programs & International Student Services are sponsoring the concert. The chapel is located at 165 Chapel Lane. For more information, contact Eva L. Ramirez at 805-493-3349 or eramirez@callutheran.edu.