Frances Elson's "Fusion: The Art And Craft Of Warm Glass" At The Buenaventura Gallery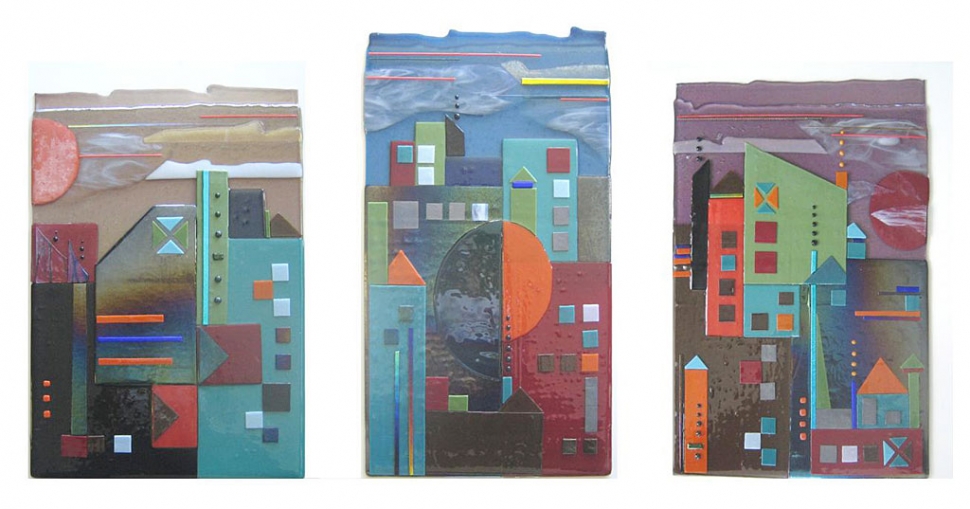 "Cityscape Triptych", fused glass by Frances Elson
By Gazette Staff Writer — Wednesday, June 17th, 2009
"Fusion: The Art and Craft of Warm Glass," a solo exhibit by Frances Elson will be at the Buenaventura Gallery from June 23 through July 18, 2009. A reception for the artist will be held on Saturday, June 27 from 4 – 7 pm.
Elson has always loved any art form involving glass and has been working with glass for five years. Elson has fabricated plenty of tableware, tiles and gift items, but for her first solo exhibit at the Buenaventura Gallery, she is utilizing her skills to create sculptures and two-dimensional scenic work as well. Her Cityscape Triptych has recognizable forms, yet Elson playfully verges on abstract with shapes and color. Elson calls her work "a world of color and design: solid and fluid," and Cityscape Triptych defines her statement.
Elson has her Masters Degree in Social Work and worked as a clinical therapist. After a move to California, she taught Social Work at UCSB extension while doing clinical work.
She had always had in interest in architecture and design and decided to pursue interior design. In 1975, she opened her own design studio and became a professional member of the American Society of Interior Designers.
A move to Somis led Elson to pursue glass art. As Elson notes, "Twenty-five years in the profession of interior design has afforded me exposure to many fine art disciplines and to countless beautiful examples of the blending of fine art with excellent craftsmanship."
The Buenaventura Gallery is located at 700 E Santa Clara St. in downtown Ventura. Hours are Tues – Friday from noon – 5 pm and Saturday from 11 am to 5 pm. For more information, visit their website at www.BuenaventuraGallery.org. Buenaventura Art Association is celebrating 55 years of great art!