Founder's kin to discuss Solvang history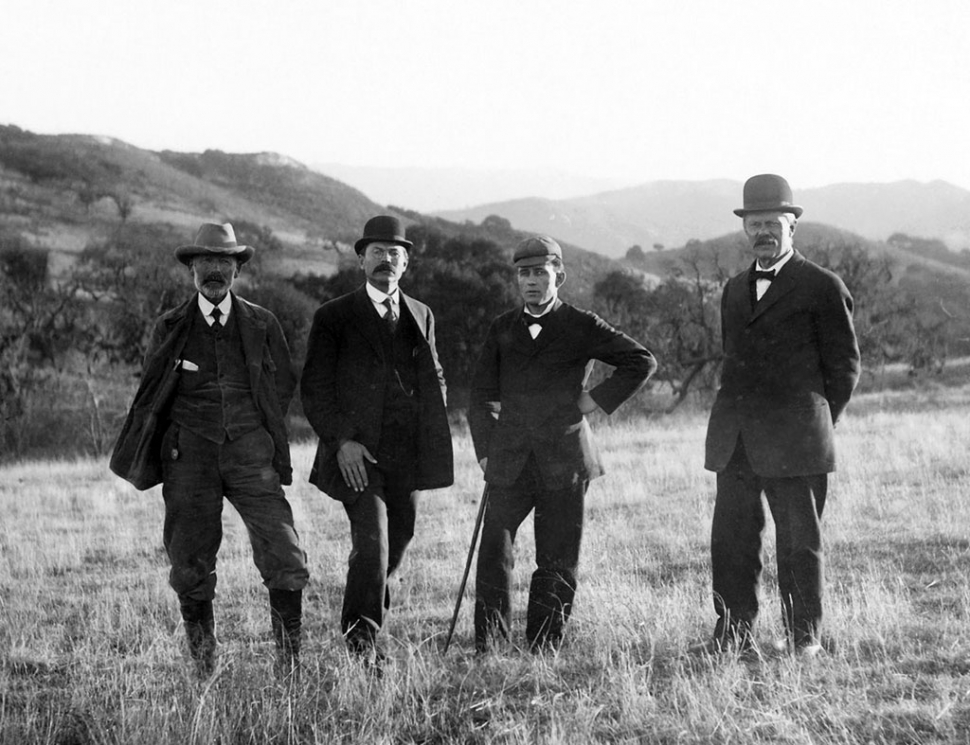 Solvang's Founders. The Rev. J.M. Gregersen (far right) stands with (left to right) land agent Mads Frese and fellow founders P.P. Hornsyld and the Rev. Benedict Nordentoft. Courtesy of Elverhoj Museum of History and Art.
By Gazette Staff Writer — Tuesday, October 14th, 2014
Free presentation slated for Nov. 1 at Cal Lutheran
THOUSAND OAKS, CA - The grandson of one of the founders of Solvang will talk about the 103-year-old town's history at 7:30 p.m. Saturday, Nov. 1, at California Lutheran University.
Erik Gregersen, a board member of the Elverhoj Museum of History and Art in Solvang, will give an illustrated presentation titled "Danish Colony in California: Solvang 1911-2014" in the Roth Nelson Room on the Thousand Oaks campus.
The Danish-American colony of Solvang began as the dream of Danish immigrants and educators. Followers of a folk school movement in Denmark, the Rev. J.M. Gregersen, the Rev. Benedict Nordentoft and professor P.P. Hornsyld wanted to buy a large tract of land on the West Coast, subdivide it to start a town for Danish immigrants, and use the profits to build a Danish-style folk school.
After an extensive search, the founders purchased 9,000 acres in the Santa Ynez Valley, part of an original Mexican land grant. It was an ideal location with fertile land, a flowing river, oak-dotted hills and a mild climate, and the men gave it the Danish name for "sunny field" upon its founding in 1911.
The folk school opened in November 1911. The young Danish-American adults who attended took English- and Danish-language classes in addition to courses ranging from folk dancing to bookkeeping. In 1914, the school moved to a new three-story building on a hill overlooking town and became Atterdag College, which means "there'll be another day."
The settlers strove to preserve their culture while assimilating into the West. Almost all of the early buildings were designed in the western or mission styles. Solvang grew quickly and prospered as Danish entrepreneurs supplied the growing community with goods and services.
In 1947, the Saturday Evening Post magazine published a story and photos about Solvang that prompted a stream of tourists to begin arriving. Residents decided the town's look should better reflect Danish culture, and they began constructing windmills and new buildings, renovating old structures, and renaming streets. Wild, open rangeland with grazing cattle and sheep gave way to dairies, dry farming and irrigated fields. Today it is home to vast vineyards and horse ranches.
The Roth Nelson Room is located at 3391 Mountclef Boulevard.
The Scandinavian American Cultural and Historical Foundation and Cal Lutheran's History Department are sponsoring the free event as part of the Scandinavian Lecture Series. For more information, contact Howard Rockstad at 805-497-3717.