First Friday Ventura Gallery Crawl Opening and Happenings for September 5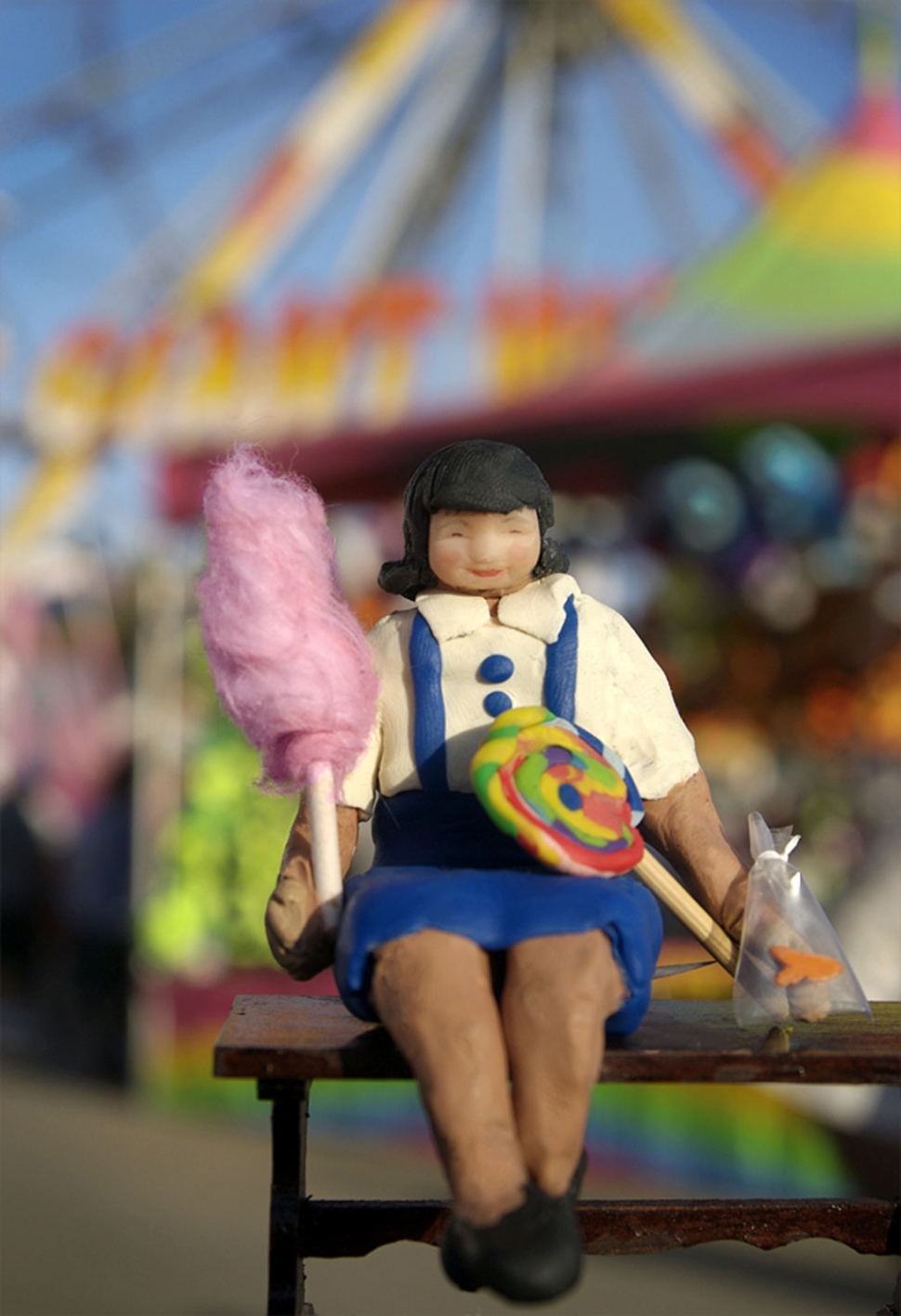 "Charlotte at the Fair" by Sarah Willey, 643 Project Space.
By Gazette Staff Writer — Tuesday, September 9th, 2008
First Fridays Ventura continues with a variety of exhibits and receptions for the public to attend. Every participating gallery/studio will have yellow balloons out front – so follow the balloons for an art-filled evening. New locations! In addition, many galleries will be participating in a drawing to win a credit at one of the galleries! Have your "First Friday Passport" stamped by 5 locations and be entered to win!
643 Project Space – A new body of work by Ventura Fine Art Photographer Sarah Willey. Known for her vivid color chromogenic prints of Ventura at dusk, this will be Willey's first time introducing portraits of her hand-sculpted clay figures "The Clayborns" alongside a presentation of her stop-motion animation vignettes. A reception will be held on Friday, September 5, 2008 from 6:00-9:00 pm. The show is free and open to the public. Gallery hours are Saturdays 1-3pm or by appointment. 643 Project Space 643 N. Ventura Ventura. www.643ProjectSpace.com. To schedule an appointment: info@643projectspace.com or Monica Furmanski at 310-592-9127
Art Gallery of Grace – Mixed Media artist Lee Hodges studio and gallery. Refreshments provided during First Friday Gallery Crawl. Art Gallery of Grace. 1560 E Main St., Ventura, CA 805.302.3167 www.LeeHodgesArt.com
Artists Union - "The Art of the Book" Curator: Ines Monguio. September 5th through October 12th. Opening Reception, September 6th, 6 to 9 pm. An exhibit featuring contemporary, traditional and unusual book art. This includes any three dimensional artwork that uses any book format (from tablets to codex) or a book as the base for the artwork. Two-dimensional artwork should include text as an integral part of its' composition. Artists Union 330 South California Street Plaza. Ventura 805.643.3012 www.VenturaArtistsUnion.org
Bell Arts Factory –Join us for the next First Friday, September 5, at Bell Arts Factory as we celebrate the historical 87th annual "Foster Day," honoring Eugene Preston Foster and his wife, Orpha Woods Foster. In September 1921 the Ventura Free Press wrote, "We are here…to pay tribute to Mr. and Mrs. Foster…their names will never be forgotten in this county." Our Tool Room Gallery exhibition, "Fragile Sands" will feature art and photography highlighting Ventura's Hobo Jungle, which contains plantings by Mr. Foster. Participating artists Phil Foster Ranger, Jr., Bob Eckel and Sarah Kalvin will share scenes of this Ventura landmark. Artist reception will be 5 - 10 p.m. Cynthia Thompson, from the San Buenaventura Conservancy, will be speaking at 6:30 p.m. about Mr. and Mrs. Foster and their contributions and influences on our city. Dottie Wheeler will be joining us in a special tribute appearance in full period costume as Mrs. Foster. Did you know that Mr. Foster planted the two star pines at Mission San Buenaventura, financed and established Camp Comfort and Seaside Park, and built the first passable road along the ocean to Santa Barbara? Come learn about two of Ventura's most influential and generous pioneer citizens, and enjoy the wonderful art that honors them Bell Arts Factory 432 N. Ventura Ave. Ventura 805.258.1160 www.BellArtsFactory.com
Buenaventura Gallery – "Up, Down & All Around", is photographer Gail Lansbury's unique black-and-white photographic reflections: a vertical-horizontal vision of the world depicted through her camera lens. The exhibit runs from August 19 – Sept 13, 2008. The artist will be present during First Friday Gallery Crawl. Lansbury's hands-on construction and building background has clarified a linear vision of light and shadow, enabling her to experience the freedom of movement and curves not only through her eye, but also in her relationship with the camera. Buenaventura Gallery 700 E. Santa Clara St., Ventura 805.648.1235 www.BuenaventuraGallery.org
Discovery Gallery – Merilee Allen's exhibit, Prime Chroma will be at the Discovery Gallery from, September 4 to October 1, 2008 with an opening reception on Friday, September 5 from 5 – 7 pm. for First Friday's Ventura. Inspired by life, Allen's creations, whether they are oil, acrylic or mixed media are born from the muses which surround us everyday. t is the artist who stops to see the obvious delineation of a tree and it's shadow or the interaction of light and space which help to define the two. Allen chooses assorted or multiple mediums to portray her images, a reminder of the diversity in nature as well as in our own personal experiences. Discovery Gallery (inside the Ventura Visitors Bureau) 101 S. California St., Ventura. 805.648.1235 www.BuenaventuraGallery.org
Fox Fine Jewelry - Mark Thompson and Patricia Kuebler exhibit From Mountains to Sea from July 17 through Sept. 8, 2008. Thompson is attracted to classical beauty and literally falls in love with the person or place that he is painting. Kuebler's work has a delicate blending of colors from her palette -- the viewer is drawn to focal points the artist has subtly created. Fox Fine Jewelry is located at 210 East Main Street, in Historic Downtown Ventura, Across the street from the Mission. (805) 652-1800. Hours are Monday – Thursday, 10:30 – 6p.m., Fridays and Saturdays 10:30 – 10 p.m.
Museum of Ventura County - The four elements of earth, wind, fire and water, found on Day of the Dead (Día de los Muertos) altars (ofrendas) inspire the artwork in Between Heaven and Earth. In this artists' invitational exhibition, contemporary Día de los Muertos artwork is paired with traditional ofrendas. The new works, created specifically for the exhibition, interpret the elements found on Day of the Dead (Día de los Muertos) altars (ofrendas). Artists include Dianne Bennett of Ojai, Erika Carter of Santa Barbara, Emilia Garcia of Los Angeles (formerly of Piru), Maribel Hernandez of Ventura, Brecia Kralovic-Logan of Santa Barbara, Leslie McQuaide of Ventura, Luke Matjas of Pasadena (Assistant Professor at CSU Channel Islands), Alicia Morris Soto of Ventura, Keith Puccinelli of Ventura, Dave Rivas of Ventura, Teal Rowe of Ojai, Susan Seaberry of Oxnard, Manuel Unzueta of Santa Barbara, and Andrea Vargas-Mendoza of Santa Paula. Museum of Ventura County. 89 S. California St. 805.653.0323 www.VenturaMuseum.org
Red Brick Gallery - Our show for the next event is Tropical Tango through Sep 22. Tropical Tango is a series of works by local artists whose creations dance between subjects of land and sea incorporating a variety of things tropical both big and small. One aspect features fish depicted in glass, photography, paintings, mosaics and tapestry. The other aspect is scenes from the shore created in photography, painting and mixed media. Featured artists include Dan and Sue Harding, John Sidman, James Keyser, C.Lynn Tegenfeldt, Jim Martin, Linda F. Peterson, Kevin Cory, Jocko McFaddedn and Jennifer Livia. We invite the public to First Fridays Sep. 5th where they can meet the creators, listen to live music by Varon Thomas and take a piece of paradise home with them. Red Brick Gallery 328 E. Main St. Ventura 805-643-6400 www.RedBrickArt.com.
Sea Breeze Gallery - "Can You Read the Fine Print" by the inkspots, of San Buena Ventura, Printmakers & Featured Artists: Karen L. Brown, Ginny Furmanski, Judy Gibbs, Tiger Huang, Elizabeth McConnaughey, Leslie Plimpton, and Chris Provenzano. August 14 through September 20, 2008. Sea Breeze Gallery 255 South Laurel Street , Ventura 805.643.3973. www.SeaBreezeArtGallery.com.
Sylvia White Gallery - – Featuring the work of Robert Rauschenberg and other seclected work from their inventory. Additional artists on view will be Ed Ruscha, John Baldessari, Jasper Johns, Ellsworth Kelly, Richard Diebenkorn, Martin Mull, Squeak Carnwath and William Wegman. This exhibit will run from September 3 - October 11, 2008. Sylvia White Gallery. 1783 E Main St. Ventura, CA 93001 805.643.8300 www.SylviaWhite.com
SPA by Diane Loring, Inc. at the Historic Love House – works by 5 artists. The 5 BAA Members currently exhibiting their artwork at the SPA by Diane Loring, Inc. at the Historic Love House are Erik Reel, Dorothy Hunter, Margy Gates, Jeannine Clesie and Sarah Willey. Spa by Diane Loring, Inc at the Historic Love House is located at119 Figueroa St. in Downtown Ventura.
Under the Sun Cultural Arts Gallery Under the Sun Gallery is dedicated to promoting cultural appreciation by offering the public a variety of fine paintings, international folk-art, world music, ethnic clothing, hand-made jewelry, and culturally diverse books for all ages. We hope to help cultivate public awareness and appreciation of world cultures through the arts by being a venue where people can find unique gifts and become captivated by the beauty of various art forms representing diverse traditions. Bell Arts Factory 432 N. Ventura Ave. Ventura 805.804.6433 www.UndertheSunGallery.comFor more information regarding First Fridays Ventura, visit www.FirstFridaysVentura.com.