First Friday Ventura Gallery Crawl Opening and Happenings for November 7th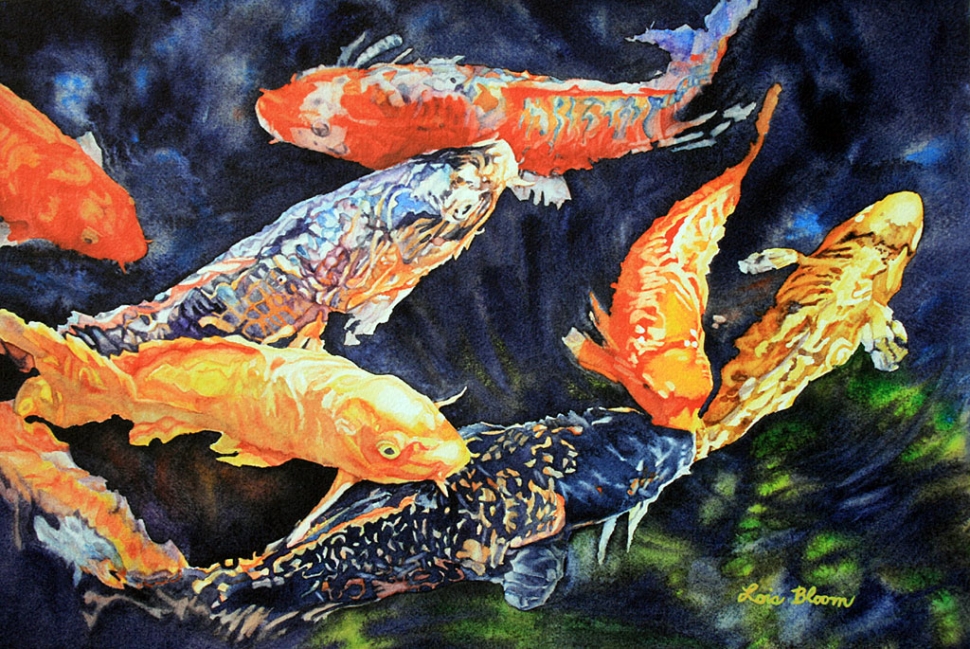 "Koi Feeding Frenzy" by Lois Bloom at Fox Fine Jewelry
By Gazette Staff Writer — Wednesday, October 22nd, 2008
Get "Stamped!" for a chance to win a gift certificate to Gallery of your choice!
First Fridays Ventura continues with a variety of exhibits and receptions for the public to attend. Every participating gallery/studio will have yellow balloons out front – so follow the balloons for an art-filled evening. Get "stamped" from five participating galleries and be entered into a drawing to win a gift certificate to a gallery of your choice!
Bell Arts Factory –Bell Arts Factory - Visit our resident artists in their open studios. Their jewelry, paintings, ceramics, stained glass and other art pieces provide unique gift-giving opportunities.
The Community Room will be exhibiting scenic oil paintings by Hilda Kilpatrick, photography of Ventura by Linda F. Peterson, watercolors by Rex Kochel, and photography by Brooks student Stacy LaMascus.
Our Tool Room Gallery will be transformed by artists Sarah Kalvin and Alicia Morris Soto into a chapel-like setting dedicated to honoring Dia de los Muertos. Sarah will exhibit ceremonial garments from Chiapas, Mexico, along with photos from past celebrations. Alicia will create an "ofrenda" or altar where community members are invited to bring offerings for the souls that have touched their lives. The Gallery will be open 5-9 p.m. October 31 through November 2, and on 1st Friday, November 7th. Bell Arts Factory 432 N. Ventura Ave. Ventura 805.258.1160 www.BellArtsFactory.com
Buenaventura Gallery – "The Human Adventure" is inspired by Jablonski's never-ending fascination with the reactions of people to conditions of life. The facial expression and body language that show these reactions are the subject matter of her exhibit. The exhibit runs through Nov. 9. Closing reception during First Friday Gallery Crawl. Buenaventura Gallery 700 E. Santa Clara St., Ventura 805.648.1235 www.BuenaventuraGallery.org
Discovery Gallery – Ventura County Potters' Guild "Burnt Earth" juried exhibit at the Discovery Gallery from November 7 through December 3, 2008. The juror is Susan Gerrard from The Museum of Ventura County. Opening reception Friday, November 7 from 5 – 7 pm. The Ventura County Potters' Guild was founded in 1957 to promote the art and craft of ceramics in the community and to provide a forum for local potters to share their experiences and knowledge of clay. This knowledge is passed on through guest speaker presentations, member's show and tell, informative newsletter, workshops, shows, sales and a library that features both books and videos. The Guild is comprised of professional and recreational potters and ceramists; instructors from local high schools and colleges; as well as people simply interested in ceramics in and around the Ventura County area. Discovery Gallery (inside the Ventura Visitors Bureau) 101 S. California St., Ventura. 805.648.1235 www.BuenaventuraGallery.org
Fox Fine Jewelry – Dani Willis and Lois Bloom will display their art in Outdoor Inspirations, a show at Fox Fine Jewelry running from November 6 through January 12, 2009. Both watercolor artists, Willis is inspired by nature, and Bloom's collection is of Kauai and Costa Rica. Fox Fine Jewelry, 210 East Main Street, across from the Mission. (805) 652-1800. Mon-Thurs, 10:30 - 6:00; Fri, Sat 10:30 - 10pm. www.foxfinejewelry.com
Museum of Ventura County - The four elements of earth, wind, fire and water, found on Day of the Dead (Día de los Muertos) altars (ofrendas) inspire the artwork in Between Heaven and Earth. In this artists' invitational exhibition, contemporary Día de los Muertos artwork is paired with traditional ofrendas. The new works, created specifically for the exhibition, interpret the elements found on Day of the Dead (Día de los Muertos) altars (ofrendas). Artists include Dianne Bennett of Ojai, Erika Carter of Santa Barbara, Emilia Garcia of Los Angeles (formerly of Piru), Maribel Hernandez of Ventura, Brecia Kralovic-Logan of Santa Barbara, Leslie McQuaide of Ventura, Luke Matjas of Pasadena (Assistant Professor at CSU Channel Islands), Alicia Morris Soto of Ventura, Keith Puccinelli of Ventura, Dave Rivas of Ventura, Teal Rowe of Ojai, Susan Seaberry of Oxnard, Manuel Unzueta of Santa Barbara, and Andrea Vargas-Mendoza of Santa Paula. Museum of Ventura County. 89 S. California St. 805.653.0323 www.VenturaMuseum.org
Red Brick Gallery – "Pacific Shimmer" Nov. 3rd - through Dec. 8th Artist Reception and Artist Demonstrations by Joe Cibere and Michele Peterson Nov. 8th from 6-9pm. Join us to see how the artists create their work, enjoy live music and snacks.
"Pacific Shimmer" explores the relationship light and water has on how we view the environment surrounding us. These relationships are depicted both abstractly and realistically through a variety of 2 and 3-D mediums. Featured Artists include Paintings by Karen Hansen, Darla Warner, Rita Joyce, Shawna Taklander and Joe Cibere Photographs by Jocko McFaddedn, Jim Martin and Dan Harding, Sculpture by Michele Peterson, Anne Marie Simmons and Ceila Hartman. Red Brick Gallery 328 E. Main St. Ventura 805-643-6400 www.RedBrickArt.com.
San Buenaventura Artists' Union ~ The open/juried exhibit reflects all art mediums. Our jurors, Sylvia Raz & sTeVe Knauff and our curator Paul Lindhard have assembled a great exhibit from a great pool of very talented artists: Please join us for The Election Collection ~ Not politics as usual, Reasons to VOTE! The exhibit is focusing on, well, the election, politics and all the reasons why or why not.
This election comes when our country is in a state of crisis. The show hopes to gauge the needs and feelings about the election and the reasons for it. The show will focus on the problems we have now and the importance of change or not to change. The show runs Saturday, October 18th – November 23rd. Our hours are Thursdays & Sundays – noon to 6pm and Fridays & Saturdays – noon to 9pm Buenaventura Artists' Union Gallery, 330 California Street Plaza, Ventura, CA 93001, 805-643-3012 www.venturaartistsunion.org
Sea Breeze Gallery - Fourth annual Dia de los Muertos Juried Art Exhibit. The artwork must have a "Dia de los Muertos" theme. Artists create paintings, sculptures or altars… in remembrance of someone they loved. Dia de los Muertos is the time of year when the veil between the earthly world & the heavenly plane is thinnest & our departed loved ones are able to visit us. This is an event to celebrate their lives. Sea Breeze Gallery 255 South Laurel Street , Ventura 805.643.3973. www.SeaBreezeArtGallery.com.
SPA by Diane Loring, Inc. at the Historic Love House – works by 5 artists through Oct. 26 – Nov. 29 with an artist reception during First Friday from 5 – 7 pm.. The 5 BAA Members currently exhibiting their artwork at the SPA by Diane Loring, Inc. at the Historic Love House are featured artist Pamela Price Klebaum. Evie Cook, Erin Mason, Scott O'Connor and Harvey Steinberg as well as artist-in-residence Dr. Priscilla Partridge de Garcia. Spa by Diane Loring, Inc at the Historic Love House is located at119 Figueroa St. in Downtown Ventura. www.SpaVentura.com.
Didn't see your favorite gallery listed? Visit www.FirstFridaysVentura.com for up-to-date information.