Fifth Annual Ojai International City of Peace-UN Peace Day Community Festival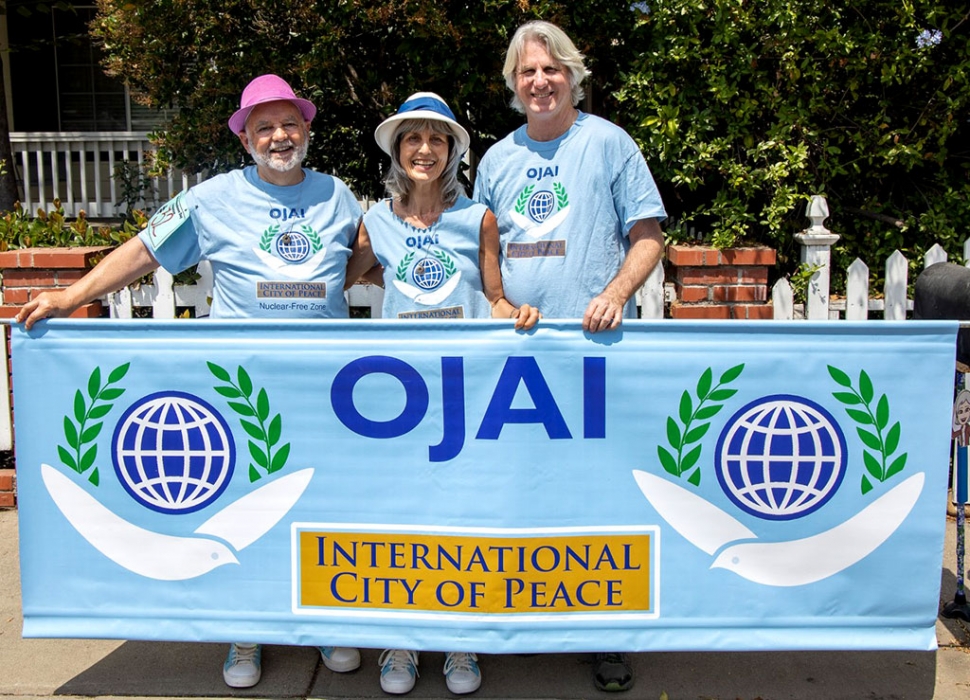 By Anonymous — Wednesday, September 11th, 2019
Writer: Letitia Grimes
Ojai, CA: The Ojai International City of Peace team will present the Fifth Annual United Nations International Day of Peace Festival in Libbey Park on Sunday, September 22, from 11 a.m. to 4 p.m. The free event will be an educational, entertaining and inclusive celebration for all ages.
Through the inspiration of local peace builders, Ojai was designated the 99th United Nations International City of Peace in 2014, and the Ojai City Council officially declared the city's new status in 2015. Currently there are 248 Cities of Peace worldwide, with 25 in the United States. Three of the original peace advocates are guiding the 2019 festival: Brian Berman, Lisa Berman, and Ray Powers.
"Climate Action for Peace" is the theme for the 2019 International Day of Peace. It is an urgent call for action in response to the planet's record temperatures, rising sea levels, the worst flooding ever recorded, and the most severe wildfires in modern history. Recently, the Ojai City Council signed a resolution to join 850 other cities around the world in the Declaration of Climate Emergency. Brian Berman says, "We feel the importance of understanding the connection between peace and our care for the earth and the actions we can take to express both." Powers adds: "In alignment with the festival intention we encourage people to walk or ride their bicycles to the event as this helps reduce our carbon footprint in the community. To reduce the quantity of paper flyers, we invite attendees to bring their smartphones and take photos of any displayed information."
The ICP team has invited organizations, inspiring speakers and artists who are peace builders and sustainability advocates. Themes will include: Educational Foundations of Peace in Schools; Climate Change Action Steps; Creating a Bicycle Friendly City; Transition to Renewable Energy; Protecting Our Public Lands; Holistic Health - Peace Within/Peace Without; and Community Peace Building.
Peace Awards will be presented to individuals or organizations that have done excellent work creating unity and peace. The annual Awakening Peace Prize will be awarded to Dr. Robert Dodge for his outstanding work in nuclear disarmament advocacy. A family practice physician in Ventura, Dodge is the president of Physicians for Social Responsibility - Los Angeles, and co-founder of Citizens for Peaceful Resolutions.
Awaken both inner artist and peace builder in the family-friendly interactive Peace Art Zone. Plan on bringing your lunch - if possible, in zero waste reusable containers - and join the worldwide "Feast for Peace," an annual global event that will take place in multiple countries across six continents.
The fiscal sponsor of the event is local educational non-profit, Awakening Peace 501(C)(3), dedicated to creating events that bring the community together and inspire support for local and world peace initiatives. This includes transitioning towards a green, sustainable and resilient future.
For further information, go to: https://ojaipeace.net