Faculty to perform original composition
By Gazette Staff Writer — Wednesday, September 10th, 2014
Cal Lutheran concert also features rarely heard pieces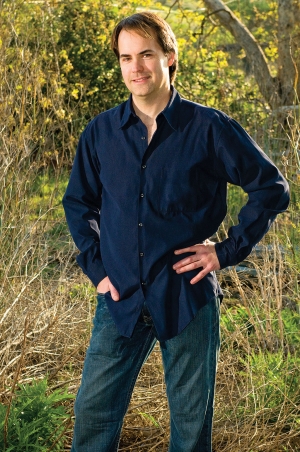 Mark Spraggins
THOUSAND OAKS, CA - California Lutheran University will present a faculty concert featuring an original composition on Friday, Sept. 26.
Members of the Cal Lutheran music faculty will present works for piano and winds, including an original composition by faculty composer Mark Spraggins, at 7:30 p.m. in Samuelson Chapel.
The Faculty Wind Quintet will perform Spraggins' "Sextet" with the Thousand Oaks resident on piano. Spraggins, who has never written for this combination of instruments before, was influenced by mid- to late-20th-century film music in composing it.
Pianist Eric Kinsley and the Faculty Wind Quintet will also play the rarely heard "Sextet" by the late 19th-century composer Ludwig Thuille and Francis Poulenc's popular "Sextour." The quintet features Fred Beerstein on oboe, Daniel Geeting on clarinet, Eric Johnson-Tamai on bassoon and Niccole Modell on flute. Jon Titmus will fill in on French horn.
Spraggins is a professor and chairman of the university's Music Department. He is active as a composer, musician and educator in music technology. His music has been performed throughout the United States and in Norway, Sweden, France and Italy. He is also composes and produces soundtracks, having created music for History Channel and A&E Network programs. Recent projects include the trailer to "Everdawn" and arranging and playing piano on commercial music productions. The director of Cal Lutheran's Music Production program built and maintains multiple state-of-the-art audio workstations for student music production and recording.
Kinsley has been a member of the New York Contemporary Music Band, Pacific Classical Winds and the Manhattan Chamber Orchestra. Beerstein is a member of the Thousand Oaks Philharmonic and New West Symphony and also has performed with the Los Angeles Philharmonic, the Orpheus Chamber Orchestra and the Pacific Symphony Orchestra. Geeting has played on soundtracks for motion pictures and television and has performed extensively as a recitalist. Johnson-Tamai has played with the Los Angeles Philharmonic, California Philharmonic and Cabrillo Music Theatre. Modell performs regularly with the Thousand Oaks Philharmonic, Westlake Village Symphony and Channel Islands Chamber Orchestra. Titmus is a longtime Ventura County resident who has performed in all the area's major music groups.
Donations will be accepted. Samuelson Chapel is located at 165 Chapel Lane on the Thousand Oaks campus. For more information, call the Music Department at 805-493-3306 or visit CalLutheran.edu.