Faculty and students give clarinet concert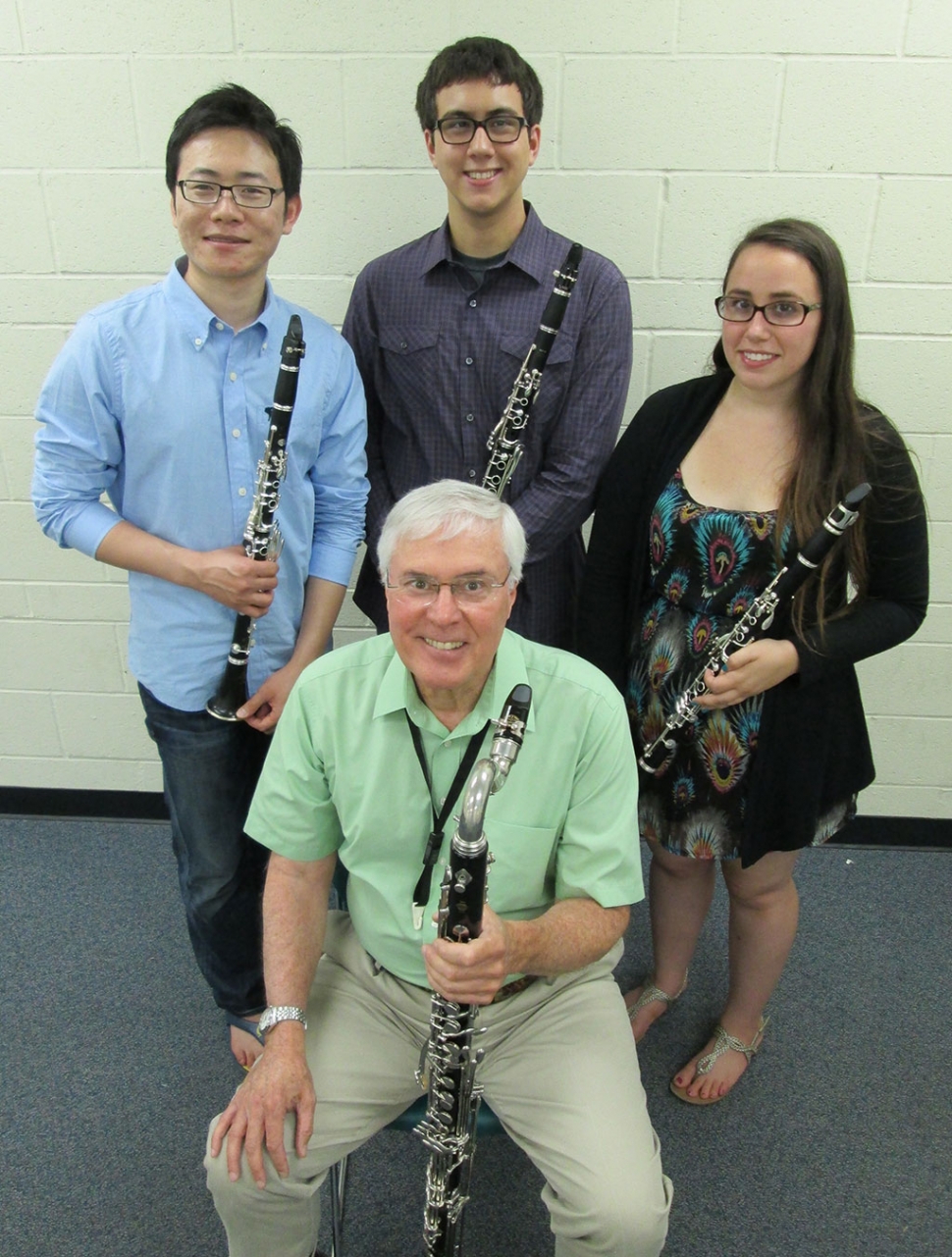 (top)(l-r) Hongsik Park, Hillis Johnson and Alyssa Gogesch, (front) Dan Geeting
By Gazette Staff Writer — Tuesday, September 3rd, 2013
Free event slated Sept. 20 in CLU's Samuelson Chapel
THOUSAND OAKS, CA - California Lutheran University faculty and students will present a clarinet concert at 7:30 p.m. Friday, Sept. 20, in Samuelson Chapel.
Music professor Daniel Geeting will join Graduate School of Education student Alyssa Gogesch of Thousand Oaks, chemistry major Hillis Johnson of Livermore and music and biochemistry major Hongsik Park of Canoga Park in David Kraehenbuehl's "Variations on a Pavane for Krummhorns" by Hermann Schein and Alfred Uhl's "Divertimento." Geeting and faculty pianist Eric Kinsley will perform the "Sonata for Clarinet and Piano" by Arnold Bax and the "Concertino" arranged by Gordon Jacob on themes by Giuseppe Tartini.
Geeting has performed extensively, played on soundtracks for motion pictures and television, and recorded clarinet works of major composers. He joined CLU's music faculty in 1984, and this concert marks the 30th consecutive year that he has performed a clarinet recital concert at the university. Kinsley has performed and lectured in venues including the Getty Center, the Huntington Library and the Dorothy Chandler Pavilion. He performed and recorded at the Discoteca Di Stato in Rome and has broadcast on Public Radio and television.
Donations will be accepted.
Samuelson Chapel is located south of Olsen Road near Campus Drive in Thousand Oaks. Additional parking is available in the lot at the corner of Olsen and Mountclef Boulevard.
For more information, please call the Music Department at (805) 493-3306 or visit http://www.callutheran.edu.