Exhibit features unique images of flowers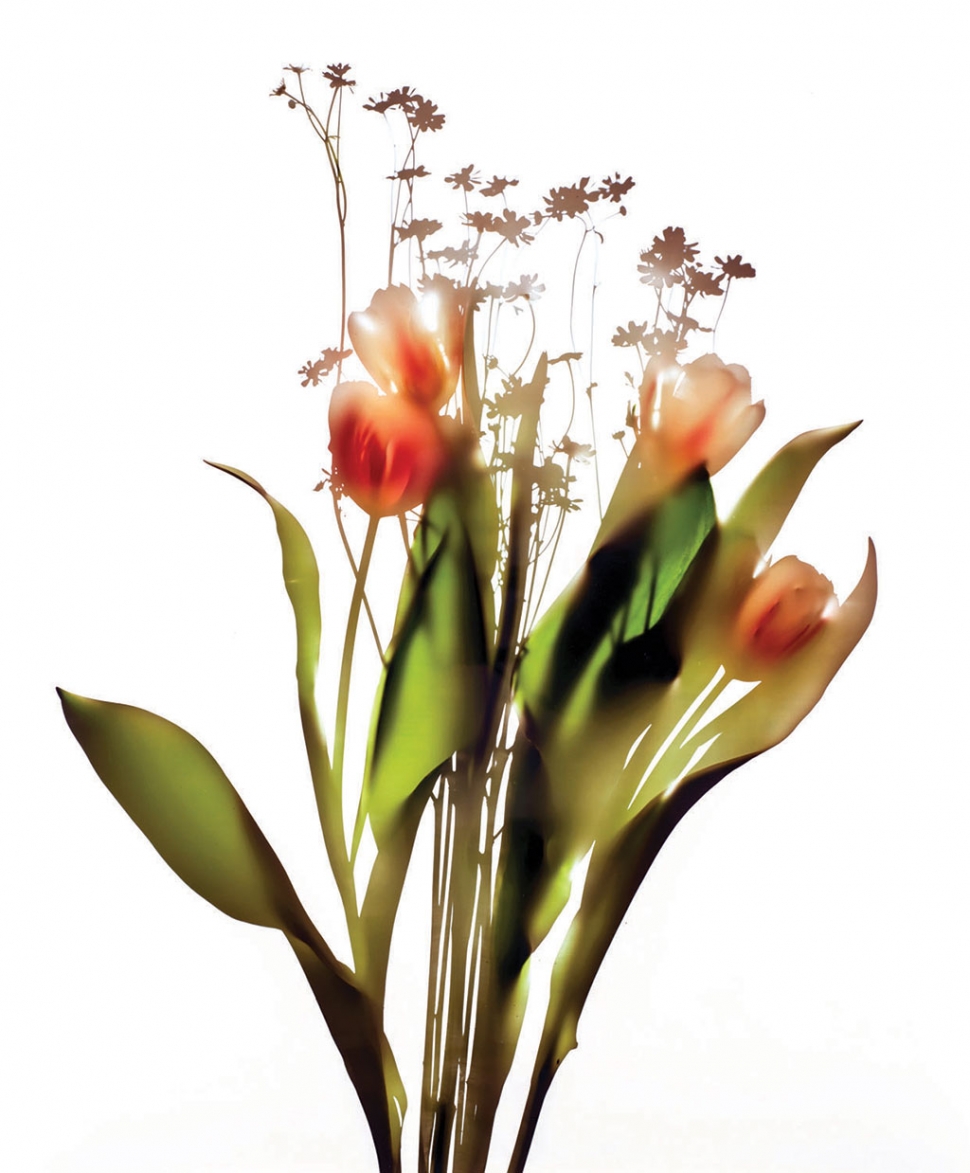 "Tulip Bouquet" by Carol Henry
By Gazette Staff Writer — Monday, February 9th, 2015
Artist creates prints by projecting light on photo paper
THOUSAND OAKS, CA - One-of-a-kind flower images will be on exhibit from Thursday, Feb. 26, through Friday, April 10, at California Lutheran University's Kwan Fong Gallery of Art and Culture.
An opening reception for "ShadowGraphica," which features the works of artist Carol Henry, will be held at 7 p.m. Feb. 28.
Henry is a darkroom artist who creates botanical images without using a camera or film. She has spent three decades making the monoprints in the darkroom by projecting light through the cells of a flower directly onto Cibachrome paper. She calls her darkroom prints "florachromes" and "shadowgraphs."
Because no negative is involved in Henry's photographic process and the flowers can withstand only a single exposure, each image is one-of-a-kind. The Swiss photo paper Cibachrome has been discontinued due to the popularity of digital photography, so Henry's inventory of unexposed paper is diminishing.
In addition to dozens of the unique Cibachrome prints, the exhibit will include 8-by-10-foot digital enlargements that place the viewer within the frame of the art piece, able to roam the colorful forms and explore the translucent work much as an insect might.
Inspired by the floral paintings of Georgia O'Keefe, Henry worked for years to develop a photographic technique that would allow her to explore the internal spirit and essence of flowers. While pursuing a Bachelor of Fine Arts degree in photography and design at Northern Michigan University, Henry discovered the technique one afternoon while she was confined to the college darkroom due to a howling blizzard.
Henry is the photo director at Carmel Visual Arts. She spent more than three years as the fine print specialist for the Ansel Adams Gallery and was a three-year artist in residence at Studio Channel Islands Art Center. She is a charter member of Women in Photography International.
She has been represented in more than 30 galleries and 200 exhibitions. Her work is widely collected both nationally and internationally and is in many permanent and corporate collections.
The gallery is located in the Soiland Humanities Center on the south side of Memorial Parkway on the Thousand Oaks campus. It is open from 8 a.m. to 8 p.m. Monday through Saturday.
Cal Lutheran's Art Department is sponsoring the free exhibition and reception. For more information, call Michael Pearce at 805-444-7716 or visit CalLutheran.edu/kwan_fong.