On Exhibit "End of Bees" at the Ventura College Santa Paula Site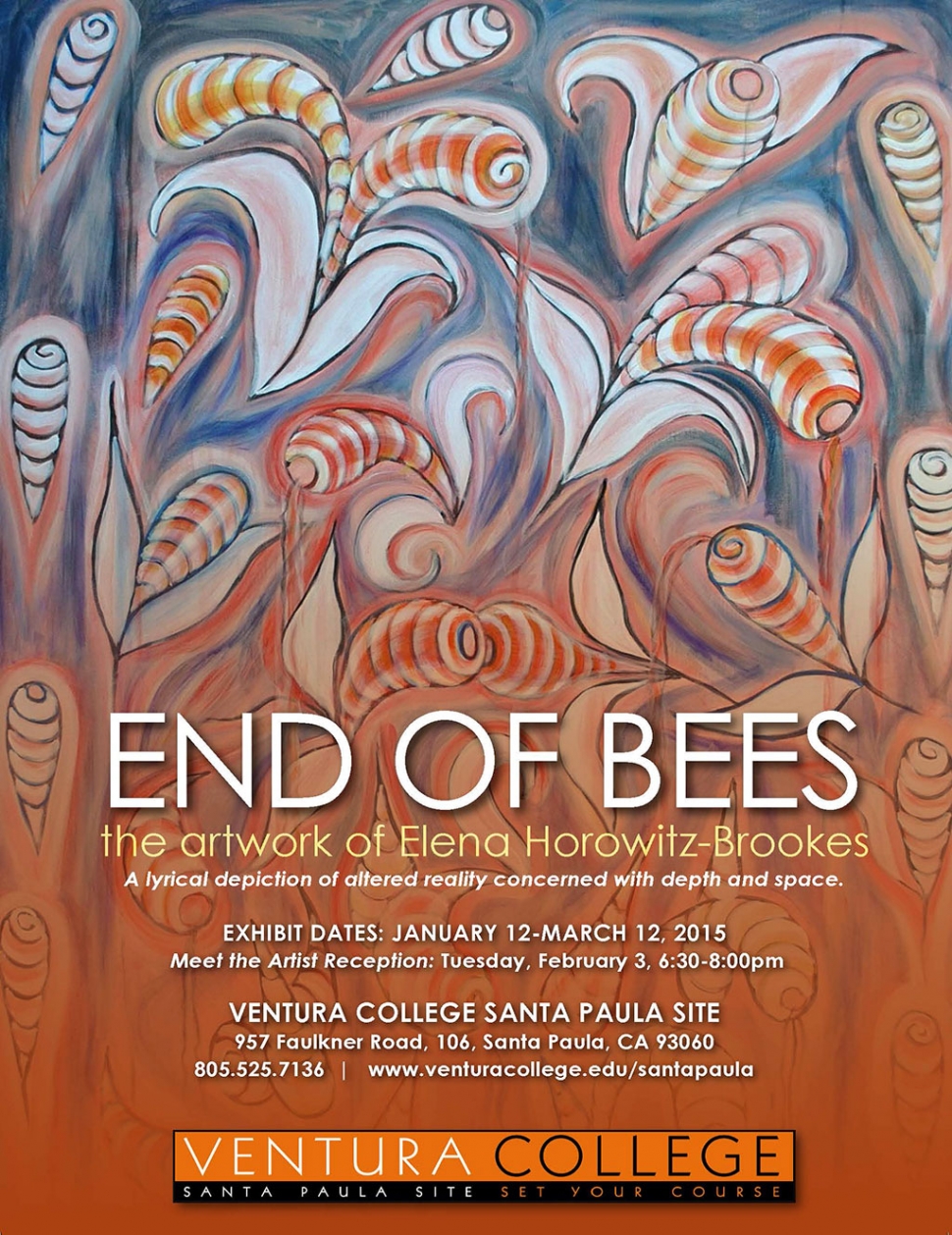 By Gazette Staff Writer — Monday, February 2nd, 2015
SANTA PAULA, CA – "End of Bees," a tantalizing look into a world made of earthly elements.
"End of Bees," the art of Elena Horowitz-Brookes, is the current exhibit at the Ventura College Santa Paula site. A Meet the Artist Reception will take place Tuesday, February 3, 6:30-8:00 PM. The exhibit will run through March 12, 2015.
Elena Horowitz-Brookes' recent series, "End of Bees," is a lyrical depiction of altered reality concerned with depth and space. Defying her own post-apocalyptic world with whimsy, the alluring colors and flower-like shapes are juxtaposed with a sense of anxiety, urgency even. Striped teardrop shapes echo powerless bees—frustrated without their stinging power, as they spit and ooze into the primordial garden. Elena's often complimentary color scheme is tweaked, creating an acidic charge unexpected in the abstracted fields, while hints of feminism dance in egg shapes around her acrylic works on canvas. Elena's work is a tantalizing look into a world made of earthly elements but still not our own. She explores the richness of those elements and creations just beyond our grasp; not in an attempt to define or categorize, but simply to ponder and admire. In this manner, Elena's paintings and works on paper do not force their viewer to believe any which way. Open for interpretation, they are open arms to exploration and expression. www.elenahorowitz-brookes.com
Art Exhibitions at the Ventura College Santa Paula site offers students and members of the community a forum for the presentation, interpretation, and discussion of artworks, from a variety of media within an educational setting. An on-going series of exhibitions by visiting artists encourages individual thinking, develops visual literacy, supports local artists, and inspires a lifelong commitment to the arts. For more information contact (805) 525-7136 or vcsp@vcccd.edu. The Ventura College Santa Paula site is located at 957 Faulkner Road, 106, Santa Paula, CA 93060. Parking and admission are free. Gallery hours are Monday through Thursday, 8:00 a.m. to 8:30 p.m.
Follow the event online: https://www.facebook.com/events/193410630829569
www.venturacollege.edu/santapaula