Emotions: Paintings And Photographs By Erin Mason At The Discovery Gallery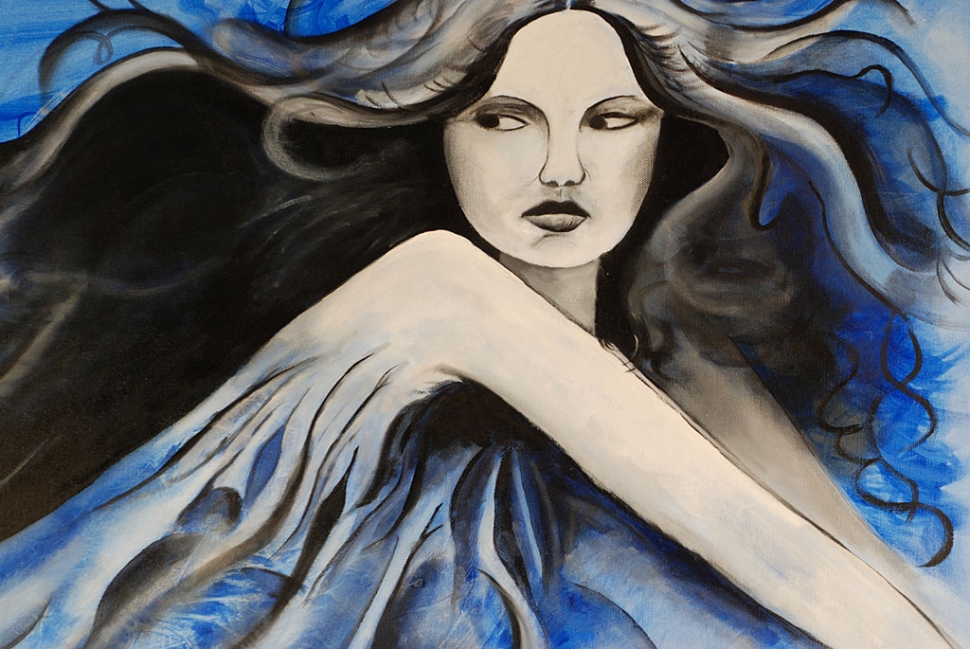 "BLUE"
By Gazette Staff Writer — Tuesday, August 18th, 2009
An exhibit of original oil paintings and photographs by Erin Mason, entitled Emotions, will be at the Discovery Gallery from Friday, September 4 through Wednesday, September 30, 2009. There is an opening reception on Friday, September 4 from 5 – 8 pm. during the First Friday Ventura Gallery Crawl.
Mason's "Emotions" is a conversation with a friend, a therapist, a family member or yourself. A good listener will pause and respond with insight. The viewer turns into an observer of the artist's dialog with herself. This introspective journey of feelings and how they are reflected in a physical way, are conducted in two mediums, oil and photographic print. Each image seems to have one foot in realism and the other in fantasy, between actuality and abstraction. We can't touch, smell or hold an emotion, but the physical ways our bodies show them are recognizable. They are connections we each have with each other, we are sympathetic because we've been there, done that.
Mason's characters and scenes reflect familiar emotions including frustration, surrender and serenity. A fantasy world pixie might have wings, but she has her limits, which hold her down to earth, to reality. The photographs of Arlington Cemetery in Mason's exhibit capture moments of a place so heavy with emotion they will weigh down the viewer with a more sobering style of sympathy.
A student of the arts since high school, Mason, grew up in Tucson, AZ and graduated from the Art Institute of Seattle focusing on photographic styles ranging from traditional portraiture and architecture to commercial photography. During times of –change, be they of travel, work or family, Mason finds herself orbiting back to the healing creative outlets such as photography and painting to re-center and move on. For the past ten years Ventura has been home for Mason, her husband and three boys.
Creating this body of work led Mason to value the connection between those artistic outlets and her own emotions, the birth of her exhibit's title. " When I paint with oil, it takes a long time to dry, " explains Mason, "like emotional healing, when you've been lied to or suffered through an emotional experience, time can change your outlook. If you jump back into either one too soon, then it gets all muddy."
This is Mason's first solo exhibition with the Buenaventura Art Association.
The Discovery Gallery is located at the Ventura Visitor's Bureau, 101 S. California St in downtown Ventura. Hours are Monday through Friday from 8:30 am to 5 pm; Saturday 9:00 am to 5:00 pm and Sunday from 10:00 am to 5:00 pm. Receptions for First Friday are held from 5:00 to 8:00 pm. For more information, call the Buenaventura Art Association at 805-648-1235 or visit their website at www.BuenaventuraGallery.org