Emily Thompson at Discovery Gallery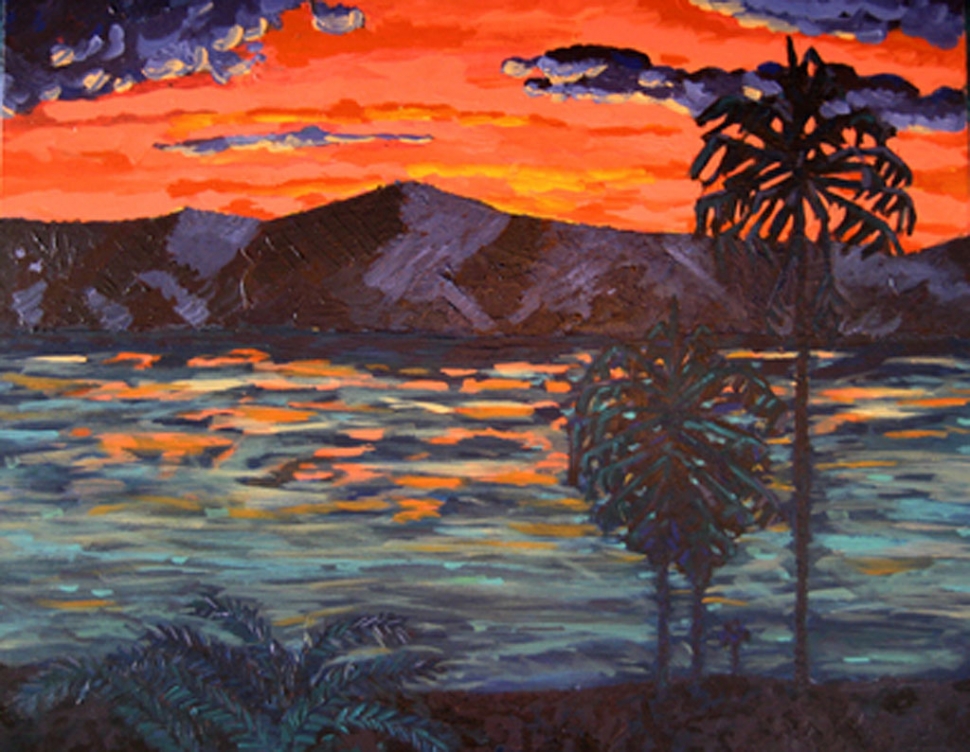 "Purple Mountian Sunset" by Emily Thompson, acrylic on canvas.
By Gazette Staff Writer — Wednesday, March 18th, 2009
"The Sun Sets In The West" paintings and photography
Emily Thompson's exhibition of original acrylic paintings and photographs "The Sun Sets in the West" will be at the Discovery Gallery from Sunday March 15 to Wednesday April 3, 2009. Opening reception is Friday, March 20 from 5 – 7 pm.
Thompson's orange skies, palm trees in silhouette and sunsets reminiscent of a paradise vacation come not from remote or faraway destination resorts, but from her porch or roof. "Tourists spend money to travel here for vacation and see what I see looking out the windows while making dinner," says Thompson, "I'm so lucky to live here. Choosing this subject for a show was easy, the beautiful vistas surrounding where I live are my inspiration."
Moving from Vermont six years ago in January, Thompson first months in Ventura was during the "best sunset time of the year." She took a photograph every night the first few weeks she moved here and the fascination never left. Finding her first job with Island Packers, the concessions to the National Park, which lies on the horizon of many of her photographs, she learned about the area she moved to and connected with the Channel Islands pretty quickly. Then she worked for the Visitors and Convention Bureau and stayed connected with the islands while continuing to talk about them every chance she could. Introducing travelers, adventurers and even neighbors about what lays just a short boat ride from these great surf breaks downtown. A few years of promoting Ventura's New Art City was all it took for Thompson to be reminded of her artistic background! She started teaching children art through the City of Ventura's Cultural Department and now is the Assistant Director of the Buenaventura Art Association.
She studied photography and painting at Wheaton College in Massachusetts and grew up in the northeast, far from the western skies she captures in her images.
This is Thompson's first solo exhibition with the Buenaventura Art Association.
The Discovery Gallery is located at the Ventura Visitor's Bureau, 101 S. California St in downtown Ventura. Hours are Monday through Friday from 8:30 am to 5 pm; Saturday 9:00 am to 5:00 pm and Sunday from 10:00 am to 5:00 pm. For more information, call the Buenaventura Art Association at 805-648-1235 or visit their website at www.BuenaventuraGallery.org