Elise DePuydt Presentation/Book Signing with Guests: Sculptor Ted Gall & Mosaic Artist Merilee Eaton at Ojai Valley Museum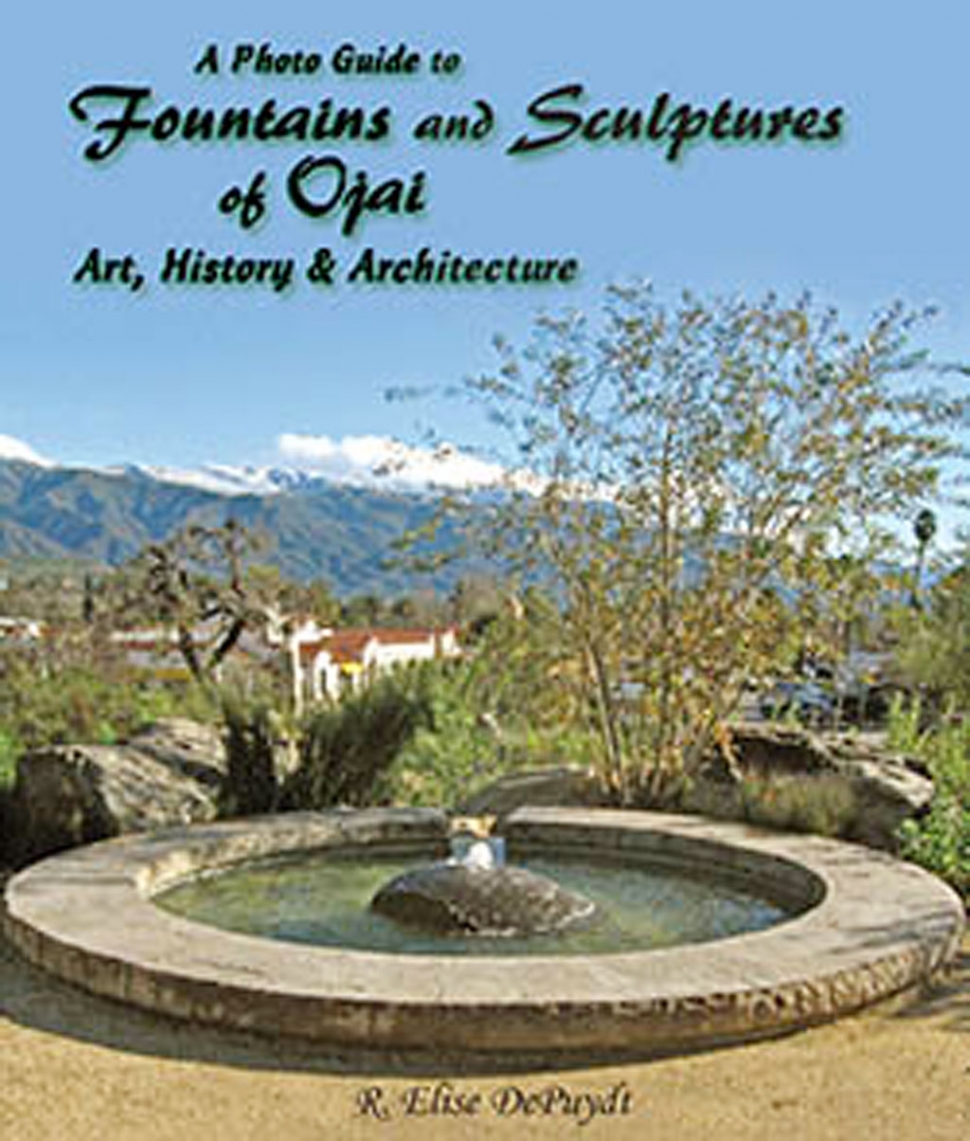 By Gazette Staff Writer — Monday, July 20th, 2009
Sunday Gathering
July 26, 2 – 4 pm
Admission Free
The Ojai Valley Museum's Sunday Gathering on July 26, from 2 – 4 pm, will feature a presentation and book signing with Ojai author Elise DePuydt who has recently launched an Ojai art and history book titled: A Photo Guide to Fountains and Sculpture of Ojai: Art, History & Architecture. The book is a valuable guide to publicly viewable art and historical places of the Ojai Valley. It has over 200 beautiful full-color photos taken by the author and a collection of historical black and white photos.
In 2003 the City of Ojai established the Public Art Program and since then many fountains, sculptures and other artwork have appeared on the local scene. Combined with older pieces, the City has accumulated an impressive array of public art. DePuydt, who has been living in Ojai since 2000, became so inspired about the lovely work appearing in the valley that she felt compelled to create this photography book.
DePuydt has been studying and researching the history of Ojai for well over a year and has included a substantial amount of local history in the book - making it much more than just a photography book. Ojai historians David Mason and Patricia Clark Doerner served as historical editors of the work. DePuydt also took an interest in local architecture and has incorporated fascinating architectural details throughout the guide.
Two Ojai artists whose works appear in her book will join Elise. Renowned sculptor Ted Gall will discuss the creation and production of his horse sculpture, "Freedom Chase," that is located in Rotary Community Park. Merilee Eaton of Whale Rock Ranch in Ojai will describe creating her broken-tile mosaic chair called "Charlotte's Chair" located in the Ojai Library.
Come celebrate the publication of Elise DePuydt's sensational new book at the Ojai Valley Museum's Sunday Gathering on July 26th from 2 – 4 pm. The museum is located at 130 West Ojai Ave., Ojai. The event is free. Locals and visitors alike will find the book fascinating and an attractive addition to their Ojai collection. For additional information call 805-640-1390 or check the museum website at www.ojaivalleymuseum.org