East Meets West: Japanese Inspired from Monet to Van Gogh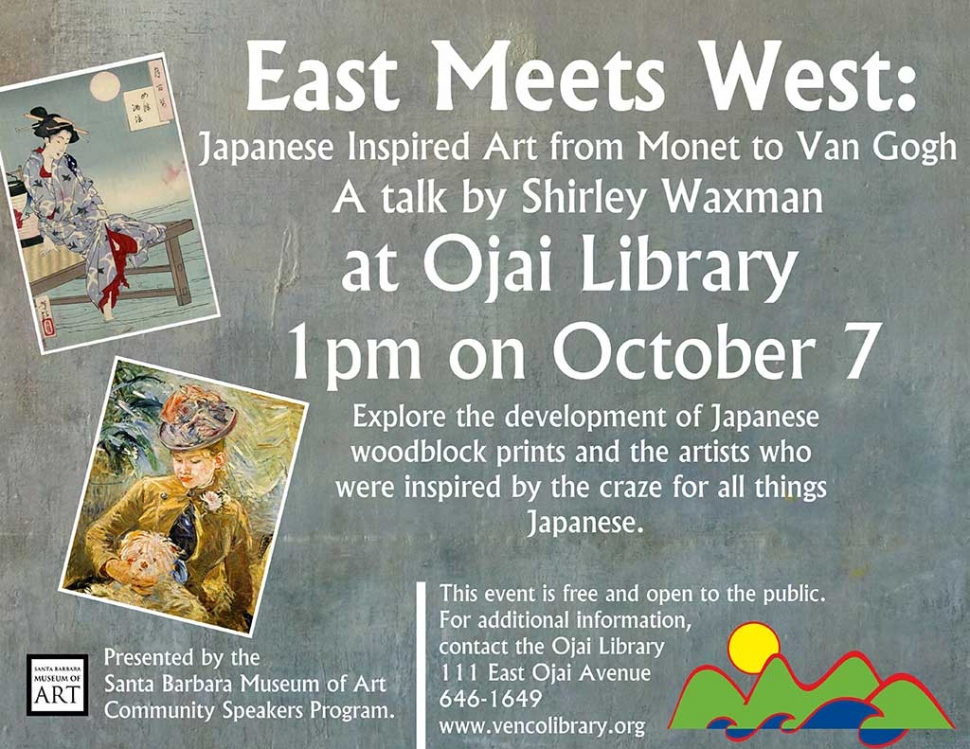 By Gazette Staff Writer — Monday, September 18th, 2017
A talk by Shirley Waxman via the Santa Barbara Museum of Art – at the Ojai Library
Shirley Waxman will visit the Ojai Library at 1 p.m. on Saturday, October 7, to deliver a talk entitled "East Meets West: Japanese Inspired from Monet to Van Gogh." Ms. Waxman comes to us via the Santa Barbara Museum of Art's Community Speakers Program.
When Japanese woodblock prints arrived in Europe they had a profound influence on avant-garde artists of the nineteenth century. Impressionists and post-impressionist artists such as Monet, Mary Cassatt, Degas, Pierre Bonnard, Toulouse-Lautrec, and Vincent van Gogh created art that in composition, color, and imagery, borrowed directly from the Japanese. This talk will explore the development of Japanese woodblock prints and the artists who were inspired by the craze for all things Japanese.
This event is free and open to the public. For additional information, contact Ron Solórzano, Regional Librarian, at (805) 218-9146.
The Ojai Library is located at 111 East Ojai Avenue in Ojai, CA. Hours of service are 10 a.m. to 8 p.m. Monday through Thursday and 12 p.m. to 5 p.m. Friday through Sunday.
Ventura County Library System:
Inspiring our community to explore, discover, and connect.
The Ventura County Library is available 24/7 at www.vencolibrary.org.