Documentary explores meaning of death
By Gazette Staff Writer — Monday, September 29th, 2014
Producer to talk following screening at Cal Lutheran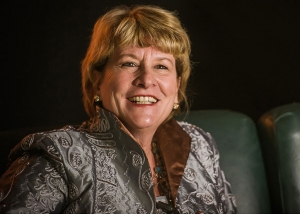 Marilyn Schlitz. Photo Credit: Andrew Holman Photography.
THOUSAND OAKS, CA - California Lutheran University is presenting a documentary and talk on the meaning of death from different perspectives at 7:30 p.m. Tuesday, Oct. 14.
"Death Makes Life Possible: Transforming the Fear of Death Into an Inspiration for Living" will be shown in the Lundring Events Center on the Thousand Oaks campus. Writer, producer and director Marilyn Schlitz will then discuss the themes of the one-hour film and answer audience questions.
Schlitz collaborated with author Dr. Deepak Chopra on the 2013 documentary, which they funded through a Kickstarter campaign. The film follows Schlitz as she explores the mysteries of life and death in a variety of world traditions.
Interviews with Chopra, mental health experts, cultural and spiritual leaders, and scientists examine how understanding our mortality influences life. Interviews and evidence are interwoven with personal stories of people facing their own death as well as those who report encounters beyond death.
Sparked by her own near-death experience as a teenager, Schlitz has been delving into the nature of consciousness and death as a cultural anthropologist and scientist for three decades. A researcher, writer and leader in the field of consciousness studies, she is president emeritus of the Institute of Noetic Sciences, a nonprofit organization founded by Apollo 14 astronaut Edgar Mitchell to conduct research into the powers of consciousness. Her extensive publications focus on personal and social transformation, cultural pluralism, extended human capacities and mind-body medicine. She holds a doctorate in anthropology from the University of Texas at Austin.
Cal Lutheran's Religion Department and the United Church of Christ of Simi Valley are sponsoring the free event in the Memorial Just Peace Lecture Series. The church established the series in 2008 in honor of the late James Henry Dekker. As a member of the United Church of Christ in Thousand Oaks and Simi Valley, Dekker was deeply involved in the work of peace and justice. After retiring from Hughes Aircraft Co., Dekker earned a teaching credential from Cal Lutheran and embarked on a second career teaching math and science at Sequoia Middle School in Newbury Park.
Lundring Events Center is located in the Gilbert Sports and Fitness Center at 130 Overton Court.
For more information, contact the Rev. June Goudey at 310-386-8021 or Julia Fogg at fogg@callutheran.edu or 805-493-3237.