CSUCI faculty art exhibit takes aim at country club golf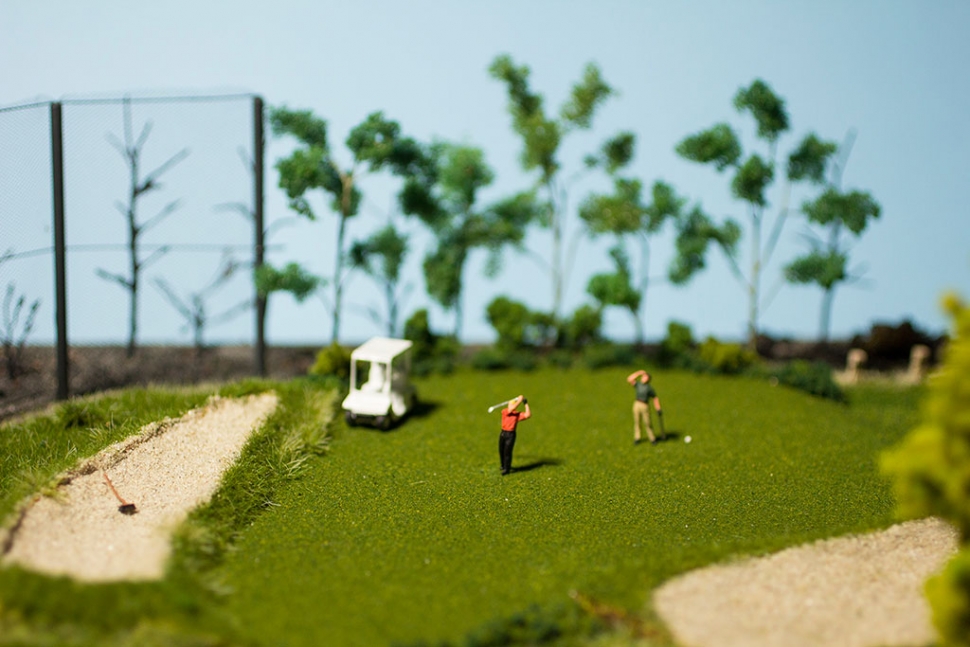 By Anonymous — Tuesday, April 23rd, 2019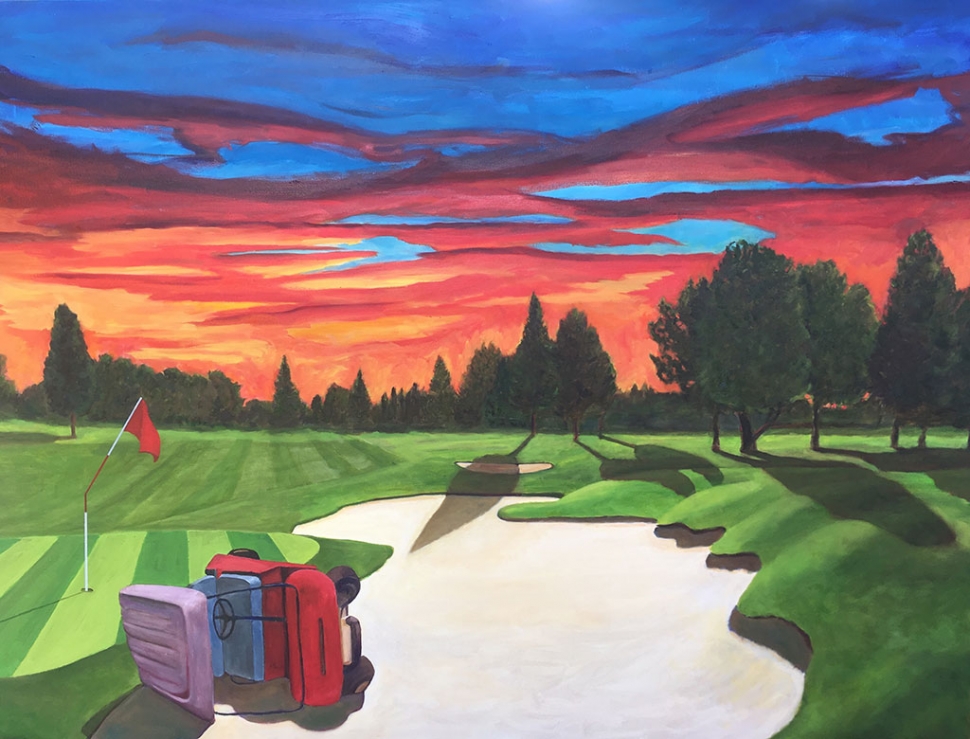 CSU Channel Islands (CSUCI) Art Lecturer Christophe Bourély drew his inspiration for this year's collaborative spring faculty art exhibit while he was driving.
"Sometimes there's a traffic jam," he said. "You look to your right and there's a golf course. You have these manicured lawns that probably consume a lot of water, and there's maybe a couple of golf carts and a couple of people on these hundreds of acres of land. And here we are stuck outside of the fences. It talks about the disparities that exist here and in other places."
Bourély and Art Lecturer Larry Lytle then got to work and created "Country's Club," a whimsical yet pointed look at America's golf culture. The exhibit is on display in the John Spoor Broome Library Gallery on the CSUCI campus from April 25 through August 24 with an opening reception from 6 to 8 p.m. on Thursday, April 25.
For their artistic social commentary, Bourély created six 36-by-48-inch oil paintings while Lytle, a photographer, constructed three-dimensional dioramas ranging in size from 18-by-18 inches to 30-by-19 inches.
"Indeed, country clubs represent some of the most (un)fairways we are facing today," Lytle wrote in their joint artists' statement. "Aside from the destruction of our planet, they embody the rising inequality and injustice between the 1% and the 99%, the haves and have-nots. Clearly, country club memberships that are upwards of $500,000 in initiation fees and $25,000 in annual dues are emblematic of our ever-increasing income-disparity issues."
For the exhibit, Lytle did a little golf research and learned the game that was a precursor to golf got its start in Scotland in the 15th Century.
"Two days after her husband was murdered, Mary Queen of Scots was on the golf course playing golf," Lytle said.
Bourély says he does not play golf, but Lytle admits he has — on municipal courses.
The public is invited to the opening, which will feature putting greens, golf balls and clubs so guests can try their hand at the game.
Limited parking is available on campus with the purchase of a $6 daily permit; follow signs to the parking permit dispensers. Free parking is available at the Camarillo Metrolink Station/Lewis Road with bus service to and from the campus. Riders should board the CSUCI Vista Bus to the campus; the cash-only fare is $1.25 each way. Buses arrive and depart from the Camarillo Metrolink Station every 30 minutes from 7 a.m. to 10 p.m. Monday through Friday. For exact times, check the schedule at www.goventura.org.
For more on the show and the artists: https://art.csuci.edu/exhibitions/,
www.christophebourely.com/, www.larrylytleart.com.
About California State University Channel Islands
CSU Channel Islands (CSUCI) is reimagining higher education for a new generation and era. We are an innovative higher education institution that enables students to succeed and thrive – serving as an engine for social and economic vitality that provides the intellectual resources necessary for a thriving democracy. With more than 7,000 students, 1,200 employees and 14,000 alumni, CSUCI is poised to grow in size and distinction, while maintaining one of the most student-focused learning environments in public higher education. Connect with and learn more by visiting www.csuci.edu or CSUCI's Social Media.