CLU gives the gift of music for Christmas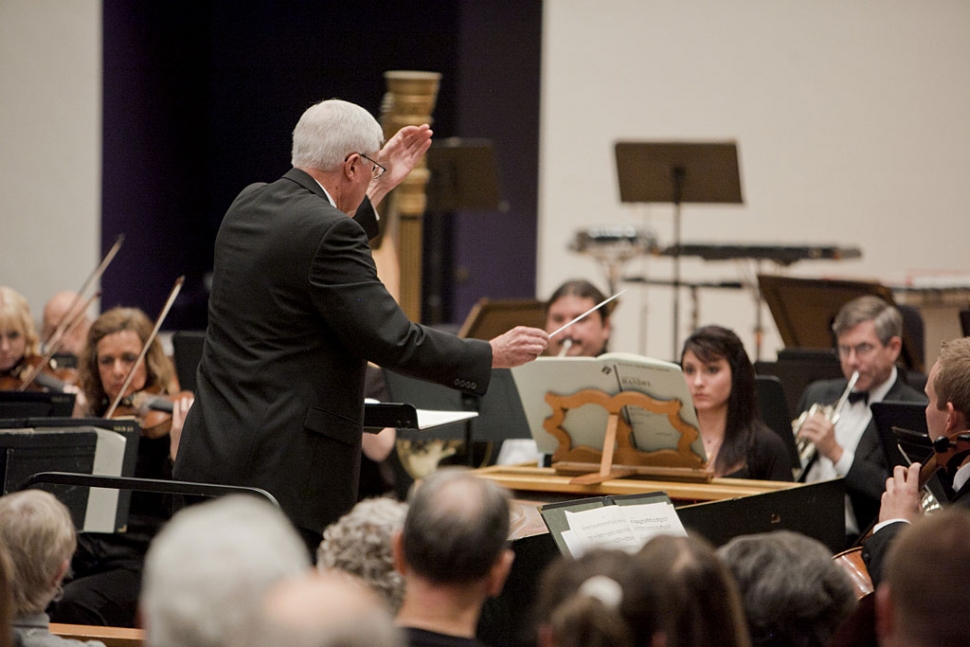 Dan Geeting conducting the University Symphony during a Christmas Festival Concert.
By Gazette Staff Writer — Thursday, November 8th, 2012
Narrated concerts feature choral groups, symphony
THOUSAND OAKS, CA - California Lutheran University in Thousand Oaks will present its annual holiday gift to the community with the free Christmas Festival Concerts slated Nov. 30 through Dec. 2.
The choral ensembles and University Symphony will perform "Let Heaven and Nature Sing" at 8 p.m. Friday, Nov. 30, and Saturday, Dec. 1, and at 4 p.m. Sunday, Dec. 2, in Samuelson Chapel.
The university's longest-running annual event will feature a narrated performance of Christmas music. The program will include delightful lesser-known carols as well as familiar favorites sung by the CLU choirs.
The University Symphony will perform Bach's "Harpsichord Concerto No. 1 BWV 1052" featuring junior music major Gillian Sanhamel from Moorpark.
The choirs and symphony will join forces on "Joy to the World" arranged by John Rutter, and three carols arranged by David Willcocks, "O Come, All Ye Faithful," "The First Nowell" and "Hark! The Herald Angels Sing."
Wyant Morton, chair of the CLU music department, and music professor Daniel Geeting will conduct.
Donations will be accepted.
The chapel is located south of Olsen Road near Campus Drive. Additional parking is available in the lots at the corner of Olsen Road and Mountclef Boulevard. This is always a popular concert so arrive early for the best seating and parking.
For more information, call the Music Department at 805-493-3306 or visit http://www.callutheran.edu.