CLU exhibit depicts self-discovery journey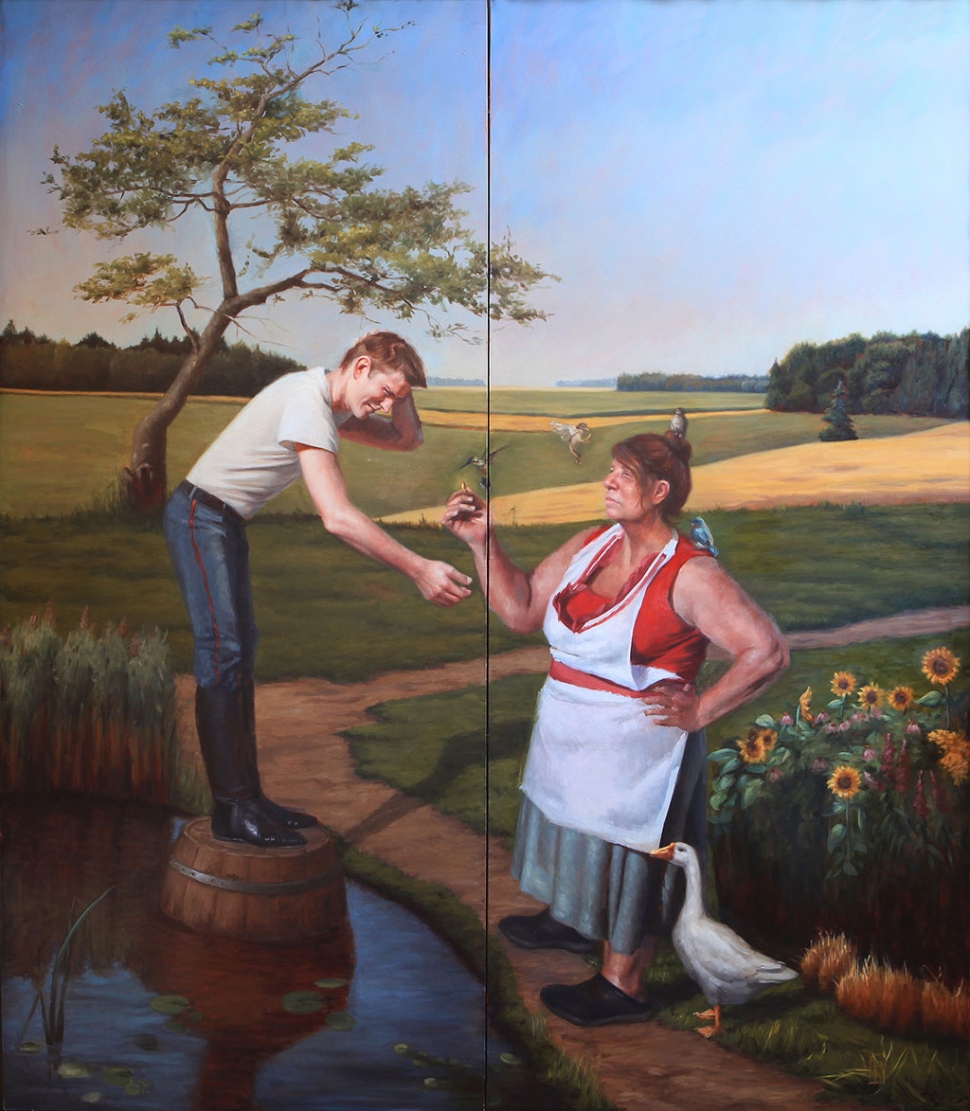 "Beginning," a 74-by-62-inch oil-on-canvas diptych by Carolin Peters
By Gazette Staff Writer — Monday, July 28th, 2014
Carolin Peters shows man's path in large oil paintings
THOUSAND OAKS, CA - A series of oil paintings following a mythical man's journey of self-discovery will be on display in the Kwan Fong Gallery of Art and Culture at California Lutheran University from Aug. 16 through Oct. 2.
An artist's reception for "The Journey," featuring the work of Carolin Peters, will be held from 7 to 9 p.m. Saturday, Sept. 6.
The medium- to large-scale paintings follow a soldierly character on his journey through a dreamlike land, telling a story of self-realization through the exploration of nature and the fantastic. The series depicts encounters with characters and places that affect his path. The works are set in open, pristine landscapes and secluded caves where animals provide guidance to the man as he seeks his true self.
"In this visually and generally overstimulated age, which is all too often laced with cynicism and defeatism, I offer up work intended to wrest away a few minutes of quiet joy, creating a mental and physical space in which to start or continue our personal journey," said Peters.
Peters, of Orange, has received numerous honors including the Best of Show Award from the Pacific Art Foundation, the 2006 Merit Award from The Art Renewal Center, and the Passport to China Scholarship from the Contemporary Chinese Fine Art Gallery. A native of a small town in southern Germany, she moved to Southern California in 2002 and earned bachelor's and master's degrees in fine art from Laguna College of Art and Design. She has participated in numerous shows throughout California.
Admission is free. The gallery is located in the Soiland Humanities Center at 120 Memorial Parkway on the Thousand Oaks campus. It is open to the public from 8 a.m. to 8 p.m. Monday through Saturday.
For more information, contact curator Michael Pearce of the CLU Art Department at 805-444-7716 or visit callutheran.edu/kwan_fong.