CLU Choir embarks on tour of Southwest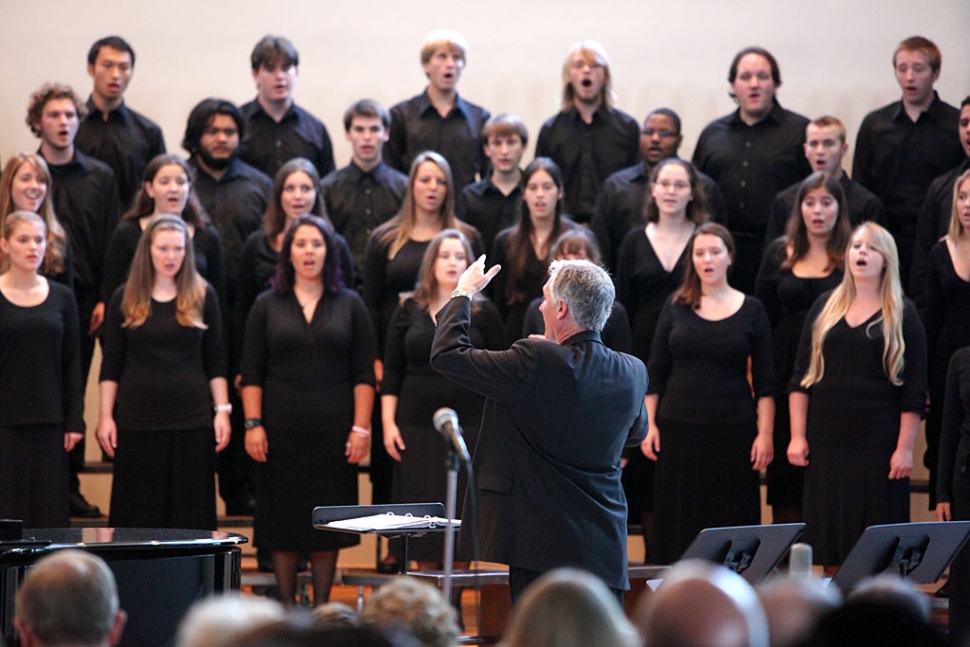 Wyant Morton directing CLU Choir
By Anonymous — Monday, March 5th, 2012
Performances begin and end in Thousand Oaks
THOUSAND OAKS, CA - The California Lutheran University Choir will open and close its 2012 Spring Concert Tour with performances in Thousand Oaks.
The choir will perform at 4 p.m. Sunday, March 18, at Ascension Lutheran Church and at 8 p.m. Tuesday, April 10, in CLU's Samuelson Chapel. From March 31 through April 5, the choir will present sixconcerts throughout California and Arizona.
The varied program will include music by 17th-century German composer Johann Pachelbel and contemporary American composers HowardHelvey, Adolphus Hailstork, Morten Lauridsen and Pulitzer Prize-winner DavidLang. CLU senior Ryan Townsend Strand, a music major from Minnetonka, Minn., will conduct the premiere performances of his composition, "A Sunrise." The program will conclude with hymns, carols, spirituals and gospel songs.
Junior theatre arts major Jessica Butenshon of Astoria, Ore., and sophomore theatre arts major Sarah de la Garrigue of Agoura Hills are the featured soloists.
Wyant Morton, chair of the music department, will conduct the 54-voice choir. Morton is entering his 20th year as the choir's conductor, a position held by only two others in the choir's 50-year history.
The CLU Choir is the university's premier choral ensemble. It has toured throughout the United States and last year performed at Carnegie Hall in New York City. International tours have included performances in England, Italy, Norway and Sweden. The choir has performed at Avery Fisher Hall at Lincoln Center, St. Peter's Basilica in Rome, and Coventry and York Minster cathedrals in England.
The choir has earned a reputation for its commitment to performing the finest in choral literature from all eras in the original languages. While dedicated to performing works that represent the university's Lutheran heritage, the choir also embraces innovative new music and songs that express a multicultural perspective.
While several choir members are music majors, the ensemble reflects the diverse interests and disciplines of the student body.
The CLU Women's Chorale will join the choir for the CLU concert.
All of the concerts are free. Donations will be accepted.
Ascension Lutheran Church is located at 1600 E. Hillcrest Drive. Samuelson Chapel is south of Olsen Road near Campus Drive.
For more information, call the Music Department at 805-493-3306 or visit http://www.callutheran.edu/choirtour.