CI's Performing Arts program will present Shakespeare's "Twelfth Night, or What You Will"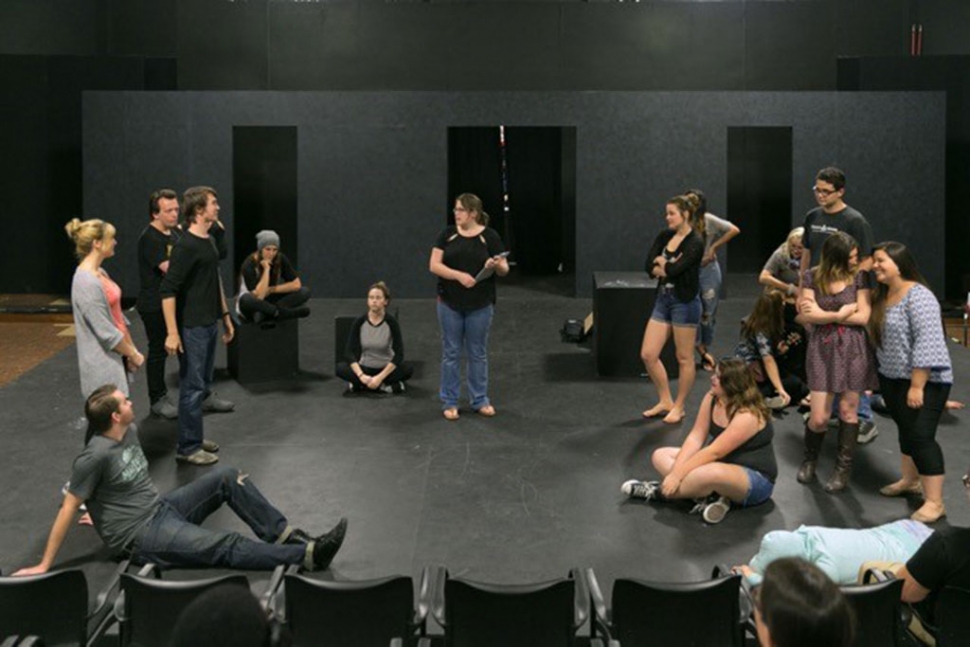 By Gazette Staff Writer — Tuesday, March 17th, 2015
Camarillo, CA - CSU Channel Islands' (CI) Performing Arts program sets this classic Shakespearian love triangle in the swinging seventies, keeping Shakespeare's language but adding a modern twist or two.
The production is staged by CI faculty and students, including direction by Catherine Scott Burriss, musical direction by Craig Bickel, choreography by Heather Castillo, and performances by CI students from several majors.
Seven performances will be held in Malibu Hall 140 at the CI campus. Evening performances will be held at 8 p.m. Thursday through Saturday, March 26-28, and Wednesday through Friday, April 1-3. One matinee performance will be held at 2 p.m. on Saturday, March 28.
Full of disguise, mistaken identity, love, folly, and music, Shakespeare's "Twelfth Night" finds a shipwrecked Viola in a strange new land, Illyria. Presuming her brother to be lost at sea, Viola seeks safety in disguise as "Cesario," a male alter ego that she assumes when she takes a job as servant to Duke Orsino, ruler of Illyria. Viola, as "Cesario," is ordered by the love-sick Duke to deliver his messages of love to the uninterested Olivia. The messages of love work, but not in the Duke's favor; Olivia falls in love with the messenger, "Cesario,"—really Viola—who in turn has secretly fallen in love with the duke. To add to the hilarity of mistaken identities, Viola's identical twin brother, Sebastian, arrives in Illyria and becomes mistaken for Cesario, before everything is finally resolved into a happy ending for (almost) everyone.
Tickets are free for CI students, $5 for all other students, $10 for CI faculty and staff, and $15 for the public. To purchase tickets, call Brown Paper Tickets at 1-800-838-3006 or visit http://performingarts.csuci.edu/events.html. Tickets may also be purchased at the door with cash. Seating is limited, so advance purchase or reservations are recommended.
Limited complimentary parking is available on campus in designated spaces only. Upon arriving at the campus, please follow event parking signs. Free parking is available at the Camarillo Metrolink Station/Lewis Road parking lot in Camarillo with bus service to and from the campus. Riders should board the VISTA Bus to the campus; the fare is $1.25 each way. Buses arrive and depart from the Camarillo Metrolink Station every 30 minutes from 7 a.m. to 10 p.m. Monday through Friday and Saturday from 7:30 a.m. to 5:30 p.m. For exact times, check the schedule at www.goventura.org.
Persons who, because of a special need or condition, would like to request an accommodation should contact Disability Resource Programs at 805-437-3331 or email accomodations@csuci.edu as soon as possible, but no later than 10 business days before the event, so that appropriate arrangements can be made.
For additional information, contact Edward Padilla, at 805-437-3517 or edward.padilla@csuci.edu.
About California State University Channel Islands
CSU Channel Islands (CI) is the only four-year, public university in Ventura County and is known for its interdisciplinary, multicultural and international perspectives, and its emphasis on experiential and service learning. CI's strong academic programs focus on business, sciences, liberal studies, teaching credentials, and innovative master's degrees. Students benefit from individual attention, up-to-date technology, and classroom instruction augmented by outstanding faculty research. CI has been designated by the U.S. Department of Education as a Hispanic-Serving Institution and is committed to serving students of all backgrounds from the region and beyond. Connect with and learn more about CI by visiting CI's Social Media.
The California State University (CSU) will reach a significant milestone of 3 million alumni during commencement in spring 2015 and has launched the world's largest yearbook. The Class of 3 Million online yearbook is an interactive platform where alumni can create a profile and connect with the millions of other alumni from the 23 CSU campuses across the state. Alumni who sign up for the yearbook will also be entered into a special contest to win one of three $10,000 scholarships for a current or future student, sponsored by Herff Jones. For more information about the yearbook and the Class of 3 Million, visit https://classof3million.calstate.edu/