Chris Botti plays at Ventura Music Festival
By Gazette Staff Writer — Wednesday, March 11th, 2009
Top-selling instrumentalist Chris Botti performs for 15th season of the Ventura Music Festival on May 3rd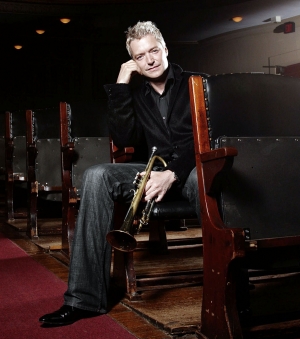 Chris Botti
Chris Botti is one of the best-known American jazz trumpeters. Bringing his upbeat fusion of pop, jazz, and classical melodies in a rare coastal performance, he will take the stage for an outdoor concert at Ventura College on May 3.
"I am very much looking forward to visiting Ventura and sharing my music with the community," Botti said. "I understand this will be an afternoon outdoor concert and that is very appealing to me as an artist since it allows people to truly relax and enjoy the entire atmosphere."
"Performing in smaller venues for hometown crowds is an amazing experience," he continued. "People are so appreciative and there is so much energy…I can feel it from the stage and it really carries the show."
Selling nearly three million albums worldwide, Botti performs to packed crowds all over the world, including concerts at The Kennedy Center, The Hollywood Bowl and New York's Carnegie Hall among others. Currently, he is on an extensive tour co-hosting PBS television telethons across the U.S. with "Chris Botti in Boston" as a featured program for this year's March pledge drive. The DVD features performances with Sting, Lucia Micarelli, John Mayer, Josh Groban, Katharine McPhee, Yo-Yo Ma, and the Boston Pops.
"My main concern is to entertain fans of my music, and to open a door for those who are new to it," Botti said. "I hope our performance during the Ventura Music Festival will bring a new appreciation of jazz."
Tickets to Botti's outdoor concert range from $15 to $45 per person. For more information, or to purchase tickets, visit online at www.venturamusicfestival.org, or call 805-648-3146.
About Chris Botti
Since the release of his first solo album in 1995, Botti has created a series of recordings which have made him one of the world's top-selling instrumental artists. Drawing from the worlds of pop, jazz, classical and other genres, he created his own signature sound, transforming the world of contemporary jazz while simultaneously finding success in the pop music sphere. Praised for the warmth and complexity of his tone and musical ideas, Botti combines a soulful ambience with naturally flowing improvisation.
He has earned both critical acclaim and mainstream appreciation for a succession of best-selling albums including "When I Fall In Love (2004, No.1 Top Jazz Album, No. 37 Billboard Top 200), "To Love Again: The Duets" (2005, No. 1 Top Jazz Album, No. 18 Billboard Top 200), and "Chris Botti Live with Orchestra & Special Guests" (2006, No. 2 Top Jazz Album).
Released in 2007, Botti's most recent studio album, "Italia," links the worlds of jazz, pop and classical music in a suite of songs and music inspired by the romance of Italy and featuring duets with Andrea Bocelli, Paula Cole and Dean Martin.
Information: www.chrisbotti.com
About the Ventura Music Festival
Celebrating its 15th anniversary season, the Ventura Music Festival will present world-renowned musicians and performers in unique historical venues throughout the City of Ventura, April 30-May 9, 2009.
Performances will include perennial favorites Tea & Trumpets with The Festival Brass, The Jerusalem String Quartet, "First Family of the Guitar" The Romero Family, David Krakauer's Acoustic Klezmer Project, award-winning Russian pianist Alexander Ghindin, Ventura resident and soprano Sophie Wingland, virtuoso violinist Jourdan Urbach, father and son Dady Mehta on piano and Nuvi Mehta on violin, and Burning River Brass.