Cal Lutheran symposium explores Iceland
By Gazette Staff Writer — Monday, January 19th, 2015
Country is a leader in genomics, energy production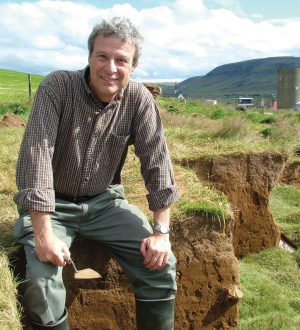 Jesse Byock
THOUSAND OAKS, CA - The 16th Annual Nordic Spirit Symposium at California Lutheran University will highlight Iceland in a scholarly program geared for the general public.
"Iceland: Land of Fire, Ice and Vikings" will be held Feb. 6 and 7 on the Thousand Oaks campus. The public is invited to join in the spirit of a symposium, which blends music, dining and the free exchange of ideas to enhance the pleasure of learning.
A millennium-old Viking settlement, the world's oldest continuous parliamentary government and volcanic eruptions are a few of the aspects of the country that will be discussed by experts from Iceland and the United States.
Multiple sessions will be presented over the two days. Highlights include Ásgeir Margeirsson, CEO of HS Orka, discussing Iceland's energy production and use of geothermal energy. The country is the world's largest producer of electricity per capita and has the lowest per capita emissions from energy production. Eiríkur Steingrímsson, a professor at the University of Iceland Biomedical Center, will talk about how Iceland, with a population of just 320,000, has become a leader in human genomics research and how this achievement may impact health care.
UCLA Professor Jesse Byock, director of the Mosfell Archaeological Project, will discuss the site in southwestern Iceland's Mosfell Valley. Elisabeth I. Ward, director of the Scandinavian Center at Pacific Lutheran University and the daughter of an American soldier and an Icelandic woman, will review Icelandic history from Viking settlement to today.
The indie folk band The Evening Guests with singer-songwriter Jokull Jonsson will lighten the mood on the afternoon of Feb. 7 with musical entertainment. Los Angeles-based singer-songwriter Anna Mjöll will provide that evening's dinner entertainment. Mjöll grew up in one of Iceland's leading musical families and represented her country in the famed Eurovision Song Contest. She later toured worldwide with the Julio Iglesias band before setting out on her own as a jazz singer.
A reception will kick off the event at 5:30 p.m. Feb. 6 at the Scandinavian Center. The symposium will conclude with dinner and entertainment at 7 p.m. Feb. 7 in the Lundring Events Center. All presentations will be in Samuelson Chapel.
California Lutheran University and the Scandinavian American Cultural and Historical Foundation are sponsoring the symposium. The Barbro Osher Pro Suecia Foundation and the Norway House Foundation in San Francisco provided grants.
For prices, schedules and registration, call Howard Rockstad at 805-497-3717. The registration deadline for the Feb. 7 lunch and dinner is Jan. 24.