Cal Lutheran presents Western art exhibit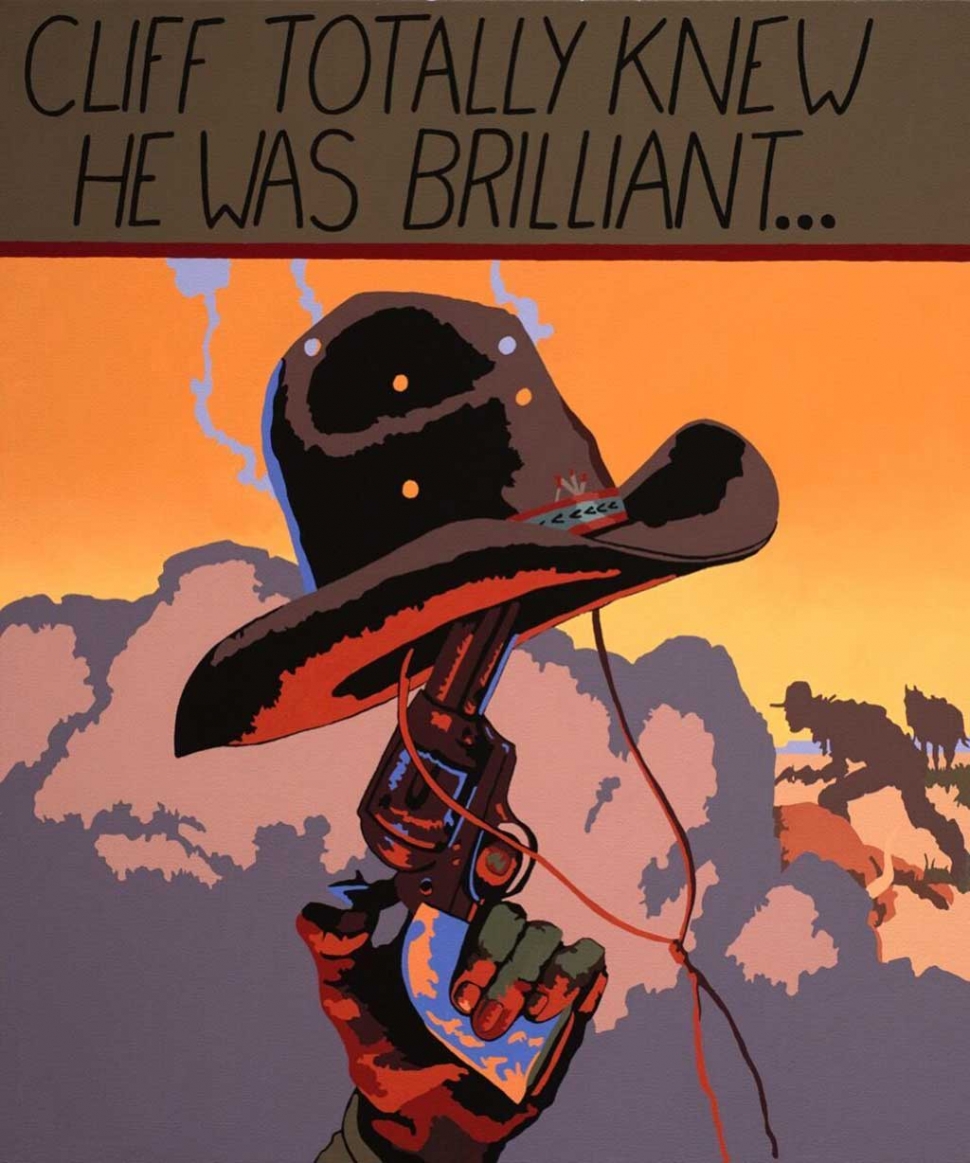 "Cliff Was Brilliant" by Billy Schenck
By Anonymous — Wednesday, June 1st, 2016
Paintings, sculptures and drawings to be featured
An exhibit of Western-themed art will open June 10 at California Lutheran University.
"Romancing the West: A Legacy of American Images" will be on display through Aug. 11 in the William Rolland Gallery of Fine Art on the Thousand Oaks campus. The free exhibit features figurative and landscape paintings, sculptures and drawings.
Two artists, Logan Maxwell Hagege and Jeremy Lipking, have studios in Agoura Hills. Hagege draws inspiration for his contemporary landscapes and figures from Southern California as well as from his travels throughout the Southwest and the Northeast Coast of the United States. Influenced by the figurative tradition of 19th century European painters, Lipking paints landscapes, still lifes and human figures.
Other featured U.S. painters are Carole Caroompas, Nicholas Coleman, Glenn Dean, Tracy Felix, Billy Schenck and Oleg Stavrowsky. Caroompas' paintings examine the intersection of pop culture and gender archetypes. Coleman works in gouache and oil. Dean recently has turned his attention to the figure within the landscape. Felix exaggerates geology and heightens color to express the drama and excitement of landscapes. Schenck, who worked in Andy Warhol's studio and sold out his first solo show in New York City at 24, incorporates techniques from photorealism and pop art. Born to Russian parents in Harlem, Stavrowsky became a technical illustrator and then expanded to fashion illustration and other types of commercial art.
The late Cyrus Edwin Dallin, Frank Tenney Johnson and Harold Shelton are other featured American-born artists. Dallin was a sculptor best known for his naturalistic portraits of horses and Native Americans, whom he lived among as a boy. Johnson popularized a style of painting cowboys known as "The Johnson Moonlight Technique." Shelton, a sculptor, started out shaping wildlife of Colorado from beeswax.
Featured painters David Grossmann and the late Roy Kerswill immigrated to the U.S. Grossman, who spent his childhood in Chile, began plein air painting as an art academy student. English-born Kerswill, who sailed a canoe from Canada to New Orleans, painted historical scenes and landscapes in oil and watercolor. The exhibit also features paintings by the late Hungarian painter István Benyovszky.
The exhibit features the William Rolland Collection in conjunction with works on loan from Maxwell Alexander Gallery and Western Project. It is partially funded by a resident fellowship from the Buffalo Bill Center of the West in Cody, Wyoming.
The gallery is located in William Rolland Stadium north of Olsen Road near Mountclef Boulevard. It is open from 10 a.m. to 4 p.m. Tuesday through Friday and 11 a.m. to 3 p.m. Saturday. For more information, contact curator Rachel Schmid at rollandgallery@callutheran.edu or 805-493-3697 or visit CalLutheran.edu/rolland.