Cal Lutheran presents Day of Dance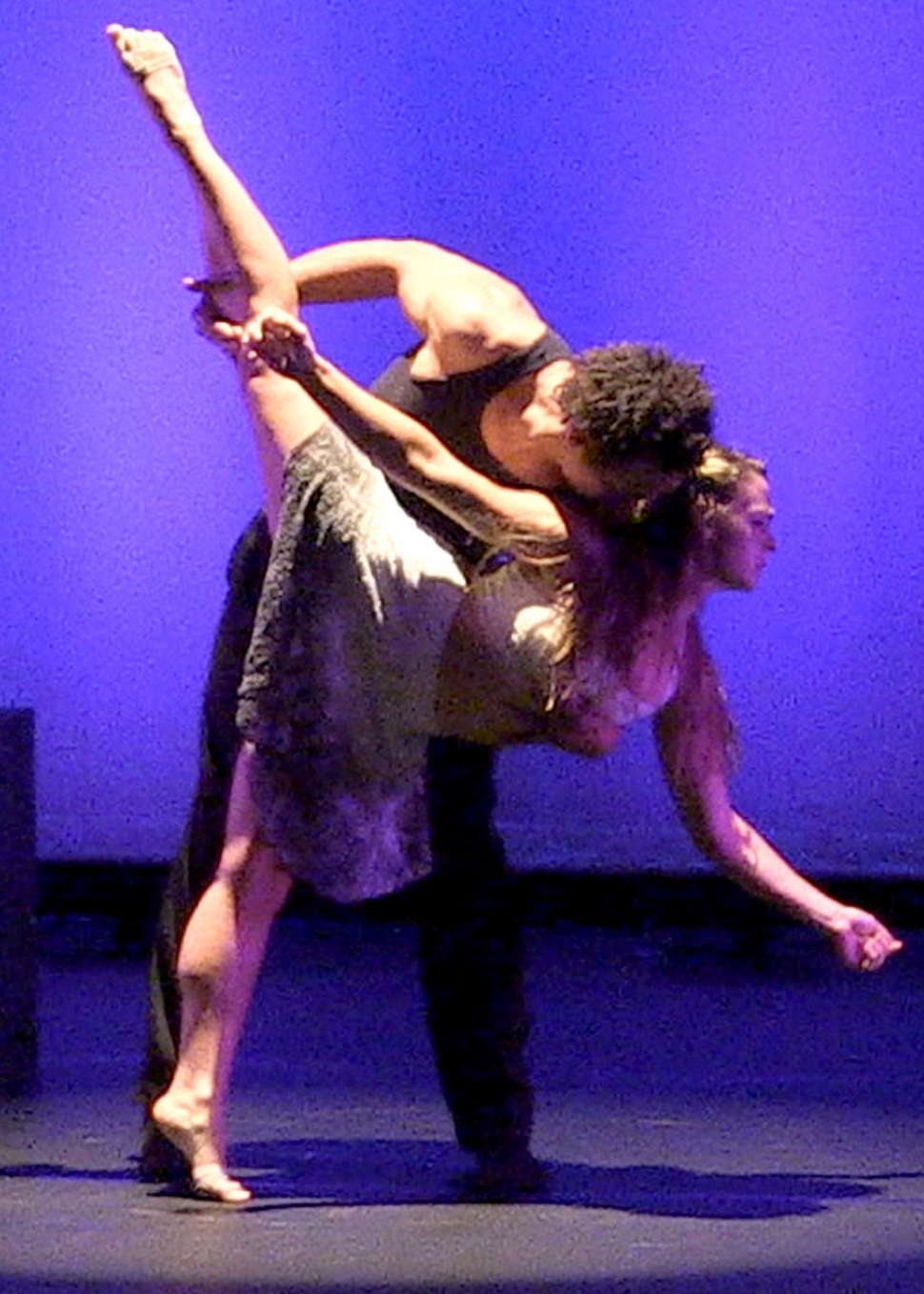 California Lutheran University alumna Essence Barton of Thousand Oaks and student Seta Wainiqolo of Moorpark performing in the spring dance concert.
By Gazette Staff Writer — Tuesday, September 9th, 2014
Public can perform 'Thriller,' take free master classes
THOUSAND OAKS, CA - California Lutheran University invites the public to participate in free master classes and a worldwide performance of Michael Jackson's "Thriller" as part of its Day of Dance on Saturday, Oct. 25.
The "Thriller" performance at 3 p.m. in Kingsmen Park on the Thousand Oaks campus is part of "Thrill The World," an annual simultaneous dance to Jackson's hit song. People are encouraged to dress as zombies. A dance party will start at 1:30 p.m.
The community is invited to learn the dance from Cal Lutheran students, alumni and faculty from 10 to 11 a.m. Saturdays on Sept. 27, Oct. 4, Oct. 11 and Oct. 18 in Gilbert Arena. Each class is open to the first 55 people who show up.
The Oct. 25 festivities will also include free master classes in the dance studio. Dana Fukagawa will teach yoga from 8 to 9 a.m., jazz from 9:15 to 10:45 a.m. and contemporary from 11 a.m. to 12:30 p.m. The Thousand Oaks High School graduate is an assistant choreographer to singer Mandy Moore and choreographer Tony Testa, and her many credits include choreography for "So You Think You Can Dance" and Kylie Minogue's Les Foiles World Tour and performances on "Wizards of Waverly Place" and in live LXD shows in Beijing, New York and Los Angeles. She is a substitute teacher at EDGE Performing Arts Center in Hollywood.
Dancer and choreographer Damian "Dmoe" Gomez will lead a hip-hop class from 1 to 2:30 p.m. Gomez has worked with many artists including Janet Jackson, Katy Perry and the Black Eyed Peas.
Registration for the master classes is required. Contact Shannon McMillan in the Theatre Arts Department at sjmcmill@callutheran.edu or 805-493-3452.
Cal Lutheran is expanding its dance program, and its first choreography class presented a concert in May. The university's Artists and Speakers Committee recently purchased a portable dance floor so that outside groups and students can now perform safely on campus. The Theatre Arts Department received a grant from the university's Community Leaders Association to present the Day of Dance event.
All the events are free, but donations will be accepted for Santa Barbara-based World Dance for Humanity's efforts to build a school in Rwanda.
Kingsmen Park is located along Memorial Parkway west of Mountclef Boulevard. Gilbert Arena and the dance studio are inside the Gilbert Sports and Fitness Center at 130 Overton Court. Parking is free.
For more information, contact Barbara Wegher-Thompson at 805-241-8515 or wegher@callutheran.edu.