Cal LuPalooza to showcase student talent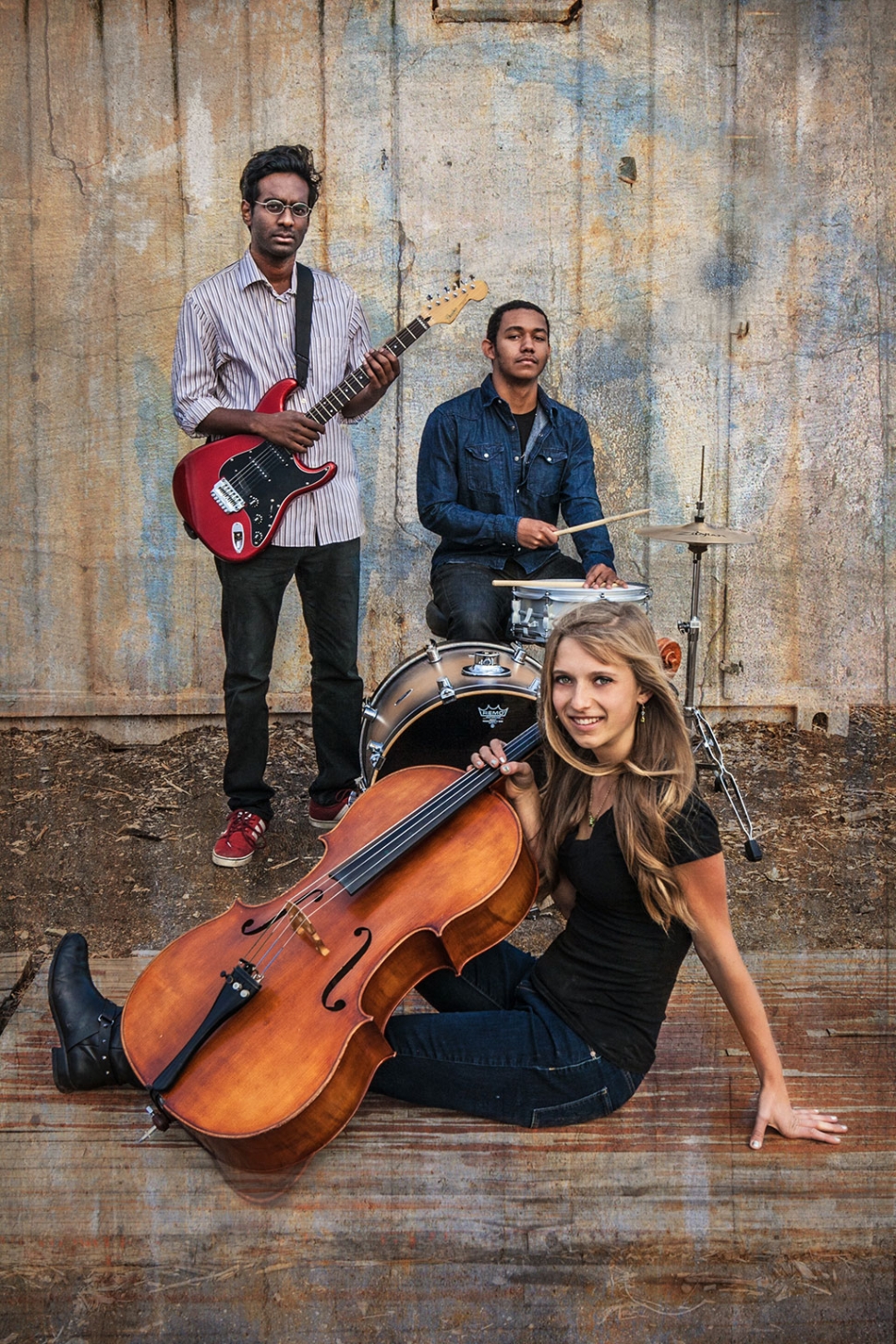 Cal LuPalooza performers Abhi Sridharan Vaidehi on guitar, Edward Hill on drums and Lauren Hesterman on cello. Photo by Brian Stethem.
By Gazette Staff Writer — Tuesday, March 31st, 2015
Free event features pop, alternative, indie and rap
THOUSAND OAKS, CA - The second annual Cal LuPalooza will showcase the talent in California Lutheran University's growing music production program.
The free public concert will be held from 7 to 10 p.m. Friday, April 10, in Kingsmen Park. The show will feature a wide variety of music including pop, alternative, indie rock, singer-songwriter music, rap, hip-hop and electronic dance music. There will be a raffle for a guitar signed by Imagine Dragons that was donated by the Fender Music Foundation.
A music management class made up of music production and business majors is organizing the festival. Evan Forster, who has experience in the music industry and currently heads the Huddle Campus business incubator located in Cal Lutheran's Westlake Center, teaches the class.
Most of the student performers, many of whom will play original songs, are music production majors. They include Caleb Arndt of Thousand Oaks, Nolan Forghani of Rohnert Park, Dylan Herrick of Westlake Village, Lauren Hesterman of Vacaville, Edward Hill of Granada Hills, Nick Isham of Hidden Hills, Natalie Kalamdaryan of Los Angeles, Torrance Klein of Thousand Oaks, Alec Chandler Mallas of Thousand Oaks, Victor Martinez of Simi Valley, Sam Morton of Thousand Oaks, Matt Paparella of Peoria, Ariz., Max Pierro of Encinitas, Patrick Reza of Los Angeles, Abhi Sridharan Vaidehi of Thousand Oaks and Shane Thompson of Langley, Wash. The featured bands are El Capitan, Glass Family, The Ladyfingers, Lancer Roscoe and Lights Please.
Food and T-shirts will be offered for sale. Representatives from local companies in the music, skateboard, and art and design industries will be on hand.
Music production students launched the festival last spring and are bringing it back on a larger scale this year. The music production program, now in its fourth year, prepares students for careers as sound engineers, mixers, editors, producers, talent scouts and performers. Students record, edit and mix projects on campus and in a newly leased studio located off campus in Thousand Oaks. On April 11, music production students will record original songs in the off-campus studio with Los Angeles session drummer Gregg Bissonette, who recently completed a world tour with Ringo Starr and his All Starr Band.
Kingsmen Park is located west of Mountclef Boulevard between Memorial Parkway and Olsen Road on the Thousand Oaks campus.
The Music Department is sponsoring the event. For more information, call 805-493-3306 or visit CalLutheran.edu.