Between Heaven and Earth: The PAC6 Paints the Sierras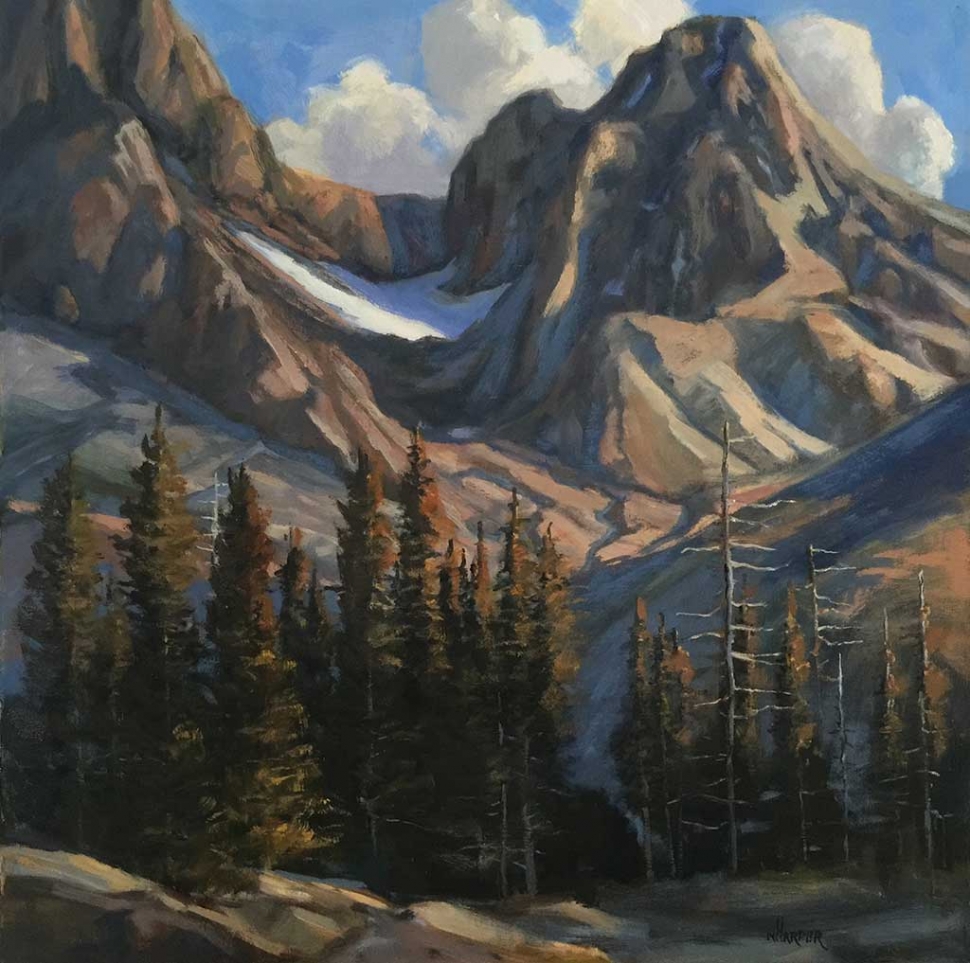 "Above Ediza Lake" by Nita Harper, oil, 24 x 24 inches, Collection of the artist.
By Gazette Staff Writer — Tuesday, February 28th, 2017
Six Artists Take Viewers on a Journey to the Sierra Nevada Mountains
March 4, 2017 through July 9, 2017 at the Santa Paula Art Museum
SANTA PAULA, CA – In August 2015, artists Linda Brown, Marian Fortunati, Nita Harper, Debra Holladay, Laura Wambsgans, and Sharon Weaver embarked on a week-long expedition to paint the Eastern Sierra Nevada Mountains. The six women call themselves the PAC6, six artists painting across the country. The product of their pilgrimage to the Sierras is an exhibition nearly two years in the making, featuring over 60 paintings that take the viewer on a journey of discovery to experience the seasons, wildness, and fierce beauty of the High Sierra. Between Heaven and Earth: The PAC6 Paints the Sierras will premiere with a reception on Saturday, March 4, 2017, from 4:00 p.m. to 6:00 p.m. Admission is $10.00 for museum members, and $15.00 for the general public.
The first images of the Sierra Nevada Mountains, with their dramatic peaks and pristine lakes, caught the imagination of a young America and helped to open the West. Following in the historic footsteps of the early California Impressionists, the PAC6 have created a body of work that provides an opportunity to see these iconic vistas from a new and contemporary perspective. While each of the six artists paints in a personally distinctive style, the pack's purpose in creating the show was identical. It is the hope of PAC6 that in seeing the exhibition, viewers will be inspired toward their own great adventure - one filled with awe at the beauty and grandeur of the American landscape. The exhibit will also include a short video documentary with film footage and commentary describing the group's Sierra trip. Between Heaven and Earth is on view from March 4, 2017 through July 9, 2017.
The Santa Paula Art Museum, Jeanette Cole Art Center is located at 117 North 10th Street in beautiful downtown Santa Paula. The Museum features rotating exhibitions of vintage and contemporary art, educational programming for children and adults, artist talks and demonstrations, a gift shop, and more. The Museum's regular hours are Wednesday through Saturday from 10:00 a.m. to 4:00 p.m., and Sundays from 12:00 p.m. to 4:00 p.m. Regular admission is $4.00 for adults, $3.00 for seniors, and is free for museum members and students. For more information, please contact the Museum at (805) 525-5554.