Awesome Experience Offered At The Ojai Museum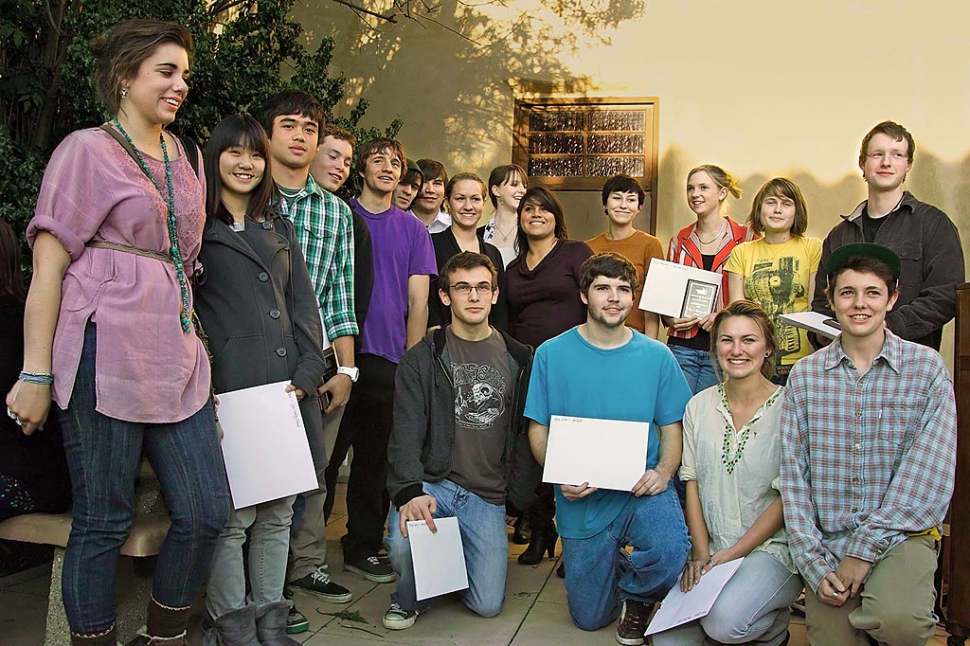 Awesome Art Winners.
By Letitia Grimes — Monday, March 22nd, 2010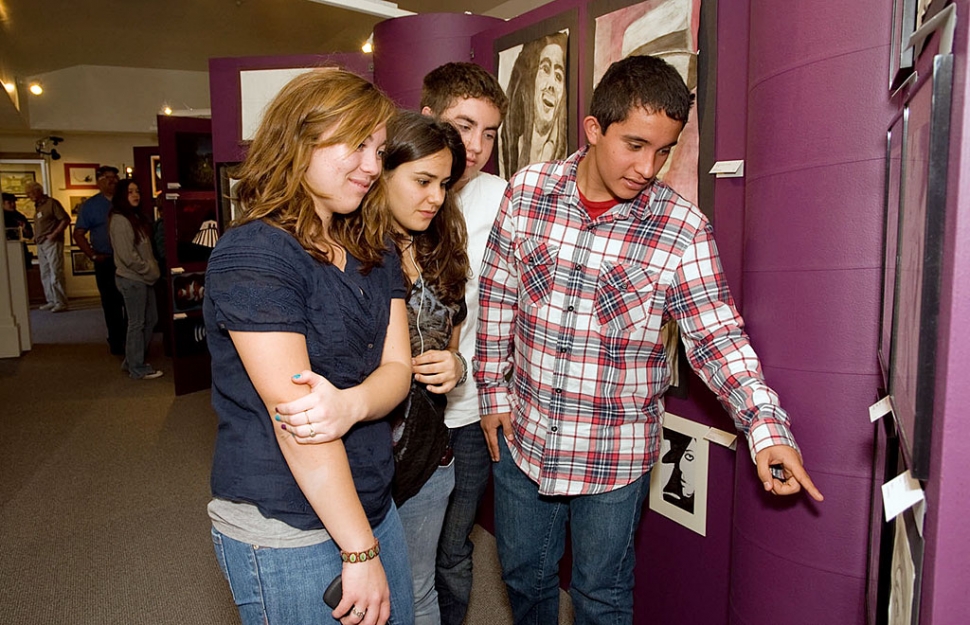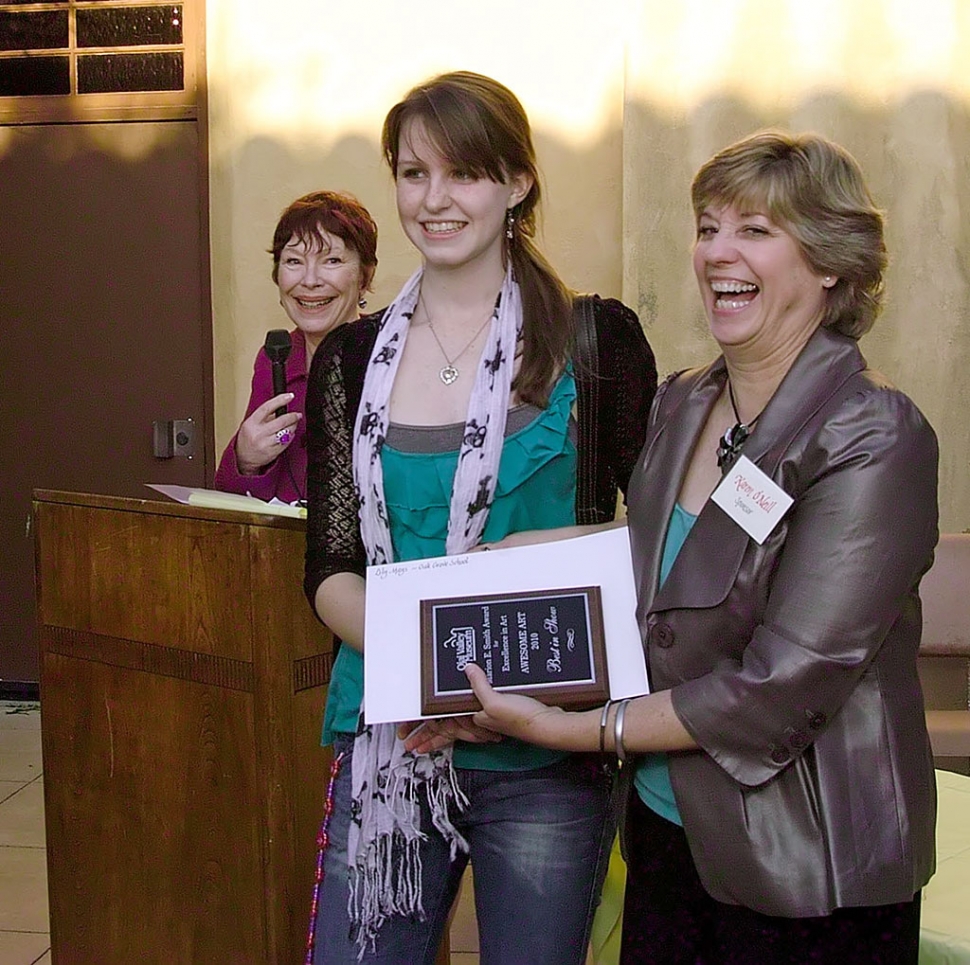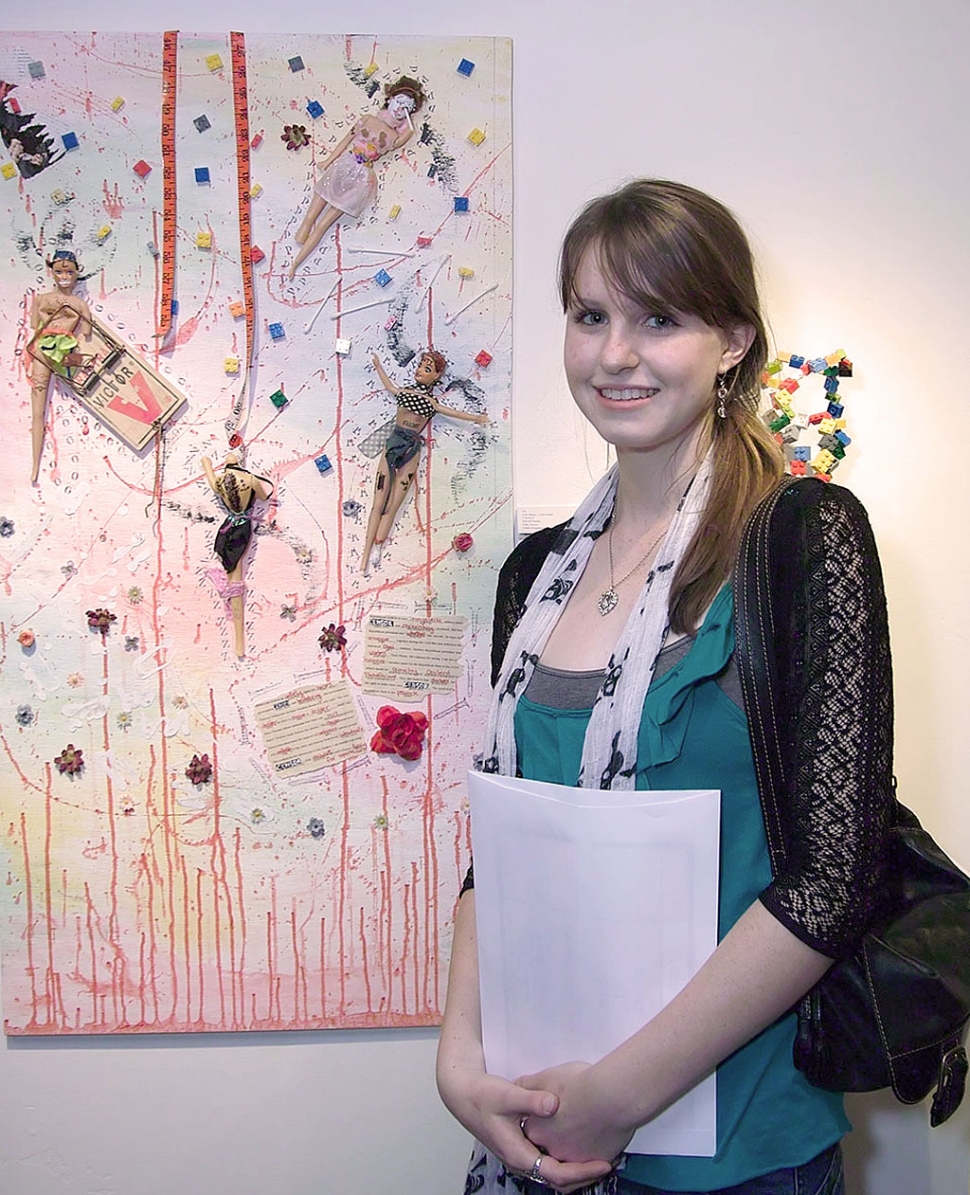 The opening of the 9th annual "Awesome Art" show last Thursday at the Ojai Valley Museum was not so much an exhibit as it was an explosion of creativity and talent. Young artists from six local high schools created 407 outstanding works for the exhibit.
Beginning at four in the afternoon, the students, with parents, friends, teachers and other art lovers, poured through the doors of the museum, filling the gallery with high energy. Museum Exhibit Designers, Fred Kidder and Roger Conrad, had organized and installed a polished professional display for the show. An upgrade to the lighting system, made possible by a grant from the Ojai Civic Association, brought out the colors and forms of each creative work. By the end of the reception, two hours later, over 400 people had visited the "Awesome Art."
After going from one work to another, chatting and admiring the students' achievements, many in the crowd eventually spilled into the museum patio, where volunteers from the Museum's Events Committee had set up a delicious display of heaped strawberries, pizza slices, and lemonade, along with mounds of cookies brought by Ojai Valley School.
In an afternoon still warm from a beautiful early spring day, Karen O'Neill presented the Marion E. Smith Awards for Excellence in Art, created jointly with her brother, Michael Burgos, and named in memory of their mother, whose love and support for young people in the arts continues in this Ojai tradition. As the awards were announced and gratefully accepted by each young artist, the entire gathering applauded with appreciation, not just for their own school or family, but also for the spirit of the exhibit as a whole.
The sheer volume and high quality of the art made it an overwhelming job to select award winners. According to Shahastra, a local painter who was one of the three judges of the show, the awards went to works combining rich imagination with excellent craftsmanship, a fusion of qualities that would be needed by the students to take their art out into the world.
The Best in Show award went to Lily Mays, Oak Grove School, for a stunning assemblage. Her large-scale, mixed media piece featured Barbie dolls, a mouse trap, text, a tape measure, and other surprising elements, all working synergistically to send a powerful message about the treatment of women's bodies in our society.
First Place winners were: Ceramics, Dustin Jones, Nordhoff, for "Tree Beard," a sculptural and very whimsical use of clay combining two different glazes; Digital Art, Pat McCarthy, Nordhoff, for "Armageddon," an intense and brooding image of destruction with a single flower of hope; Drawing, Sloane Tribble, Nordhoff, for "Abstract," an intricate web of morphing organic forms; Graphic Design, Kai Littlefield, Ojai Valley, for "Peace," a meticulously unified CD case design with a contemporary use of Asian brush strokes; Mixed Media, Isabel Hong, Besant Hill, for "Untitled," an ink collage showing a mastery of drawing combined with well-crafted collage elements; Painting, Laurel Tisserand and Luke Jackson, Oak Grove, for "Old Soul," a collaborative creation making a contemporary urban social statement with layered graffiti and a mysterious central icon; Photography, Ryley Swanner, Oak Grove, for "Untitled," a close-up image of a horse with a ray of light at the exact moment of illuminating the eye and burnished strand of hair; Sculpture, Melissa Carlson, Nordhoff, for "Untitled," a tour-de-force of woven ceramic bands using the luster glaze made famous by Beatrice Wood.
Second Place winners were:
Ceramics Dylan Rodarte Nordhoff "Untitled"
Digital Art Evan Hardman Nordhoff "Untitled Surrealism"
Drawing Allyn Sattler Nordhoff "Apples"
Graphic Design Devin Curry Nordhoff "Poster Promoting the Arts"
Mixed Media Deana Morton Oak Grove "Untitled"
Painting Michaela McEttrick Nordhoff "Untitled"
Photography Kili Behlman Ojai Valley "Elizabeth"
Sculpture Khalil Lennon Oak Grove "Untitled"
Honorable Mention awards went to Taylor Wolfe, Villanova, for "Patton Picture Biography"; Betty Chen, Ojai Valley School, for "Beyond"; Michael Stenovec, Thatcher, for "Untitled"; Tohanah Bui, Besant Hill, for "Fitting In"; Isabel Becerril, Nordhoff, for "Box"; and Freya Randle-Helgesson, Oak Grove, for "Untitled."
The judges were Bruce Tomkinson, Ceramicist; Shahastra, Painter; and Valerie Freeman, Photographer/Digital Artist. All are members of the Ojai Studio Artists.
A number of the works are available for purchase, providing a great opportunity to collect "new" art made in Ojai that supports both aspiring young artists and the museum programs.
The exhibit runs through April 11, 2010, and support from the Karen O'Neill and Michael Burgos grant extends to free admission for all students. Adult admission is $4.00. The Ojai Valley Museum is located at 130 West Ojai Avenue and is open Thursday and Friday from 1 to 4 p.m., Saturday from 10 a.m. to 4 p.m., and Sunday from noon to 4 p.m. Special tours can be arranged for Wednesdays.
The "Sunday Gathering" event at the museum will be geared to the "Awesome Art" show student exhibitors. Michele Pracy, Ojai Valley Museum Director, will present "The Business of Being an Artist" this coming Sunday, March 28, 2010, from 2 to 4 p.m. in the museum's back courtyard. Admission is free for 2010 museum members, $8.00 for non-members, and $5.00 for students. Seating is limited for this presentation, and reservations are required.
For additional information about the museum and the exhibit, and for reservations to "The Business of Being an Artist," please call (805) 640-1390.