ArtWalk Ventura announces Paul Lindhard as 2014 Artist of Distinction
By Gazette Staff Writer — Tuesday, May 20th, 2014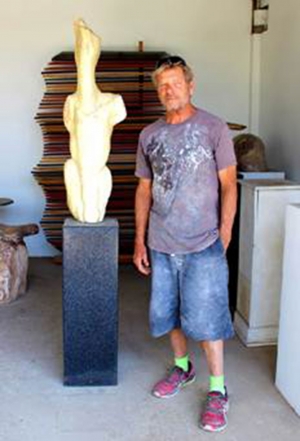 Paul Lindhard at ArtCity Studios
VENTURA COUNTY, CA - ArtWalk Ventura, an annual two-day tradition of Ventura's thriving arts community, which returns for its 21st year July 19-20, has announced renowned sculptor, Paul Lindhard, as this year's Artist of Distinction.
Lindhard'scareer as a working sculptor spans more than 40 years and has evolved through woodcarving and bronze casting into a reverence for and fascination with stone, his principal medium for the past 25 years. He creates large and monumental sculptures, many of which that have been showcased in museums and galleries throughout the United States.
The scultpor's leadership has helped cultivate greater visibility and understanding of the value of the arts in Ventura. Lindhard—who also teaches as a fine arts instructor at Santa Barbara City College—founded Ventura's Art City Studiosalmost 30 years ago, a place that has launched the careers of scores of sculptors and new patrons for the arts.Lindhard isalso a former board member of the San Buenaventura Artists' Union and co-founded the annual Fire & Light festival. He was a recipient of a 2007 Ventura Mayor's Arts Award.
"I never imagined how much Art City Studios would evolve the way it has over the past three decades," said Lindhard. "I love that this studio offers a platform for local artists to develop their craft and see them create remarkable works of art that is shared throughout the world."
This is the fourth consecutive year ArtWalk Ventura's panel of event organizers has appointed an Artist of Distinction Award. The honor recognizes an established individual artist for artistic excellence and efforts in contributing to Ventura's art community.
"We are pleased to appoint Paul with this year's honor as Artist of Distinction," said Kevin Clerici, director of Downtown Ventura Partners. "Lindhardis one of the region's most prolific artists and an avid supporter of fellow local artists. He has been a driving force of Ventura's growth as a cultural community."
About ArtWalk Ventura
ArtWalk Ventura is a free, self-guided tour of dozens of galleries, studios and pop-up venues in Ventura's historic Downtown and Westside Cultural District that features the work of the finest regional artists, drawing cultural tourists from all over. The event is now run by an all-volunteer group which has added new life to the event. For more information about ArtWalk Ventura, visit http://artwalkventura.org/, or email ArtWalk Ventura event organizer and owner of Vita Art Center Mary Perez at maryperez@vitaartcenter.com. Find us on Facebook at http://www.facebook.com/VenturaArtWalk.