Art Celebrates Life: Portraits Of Survival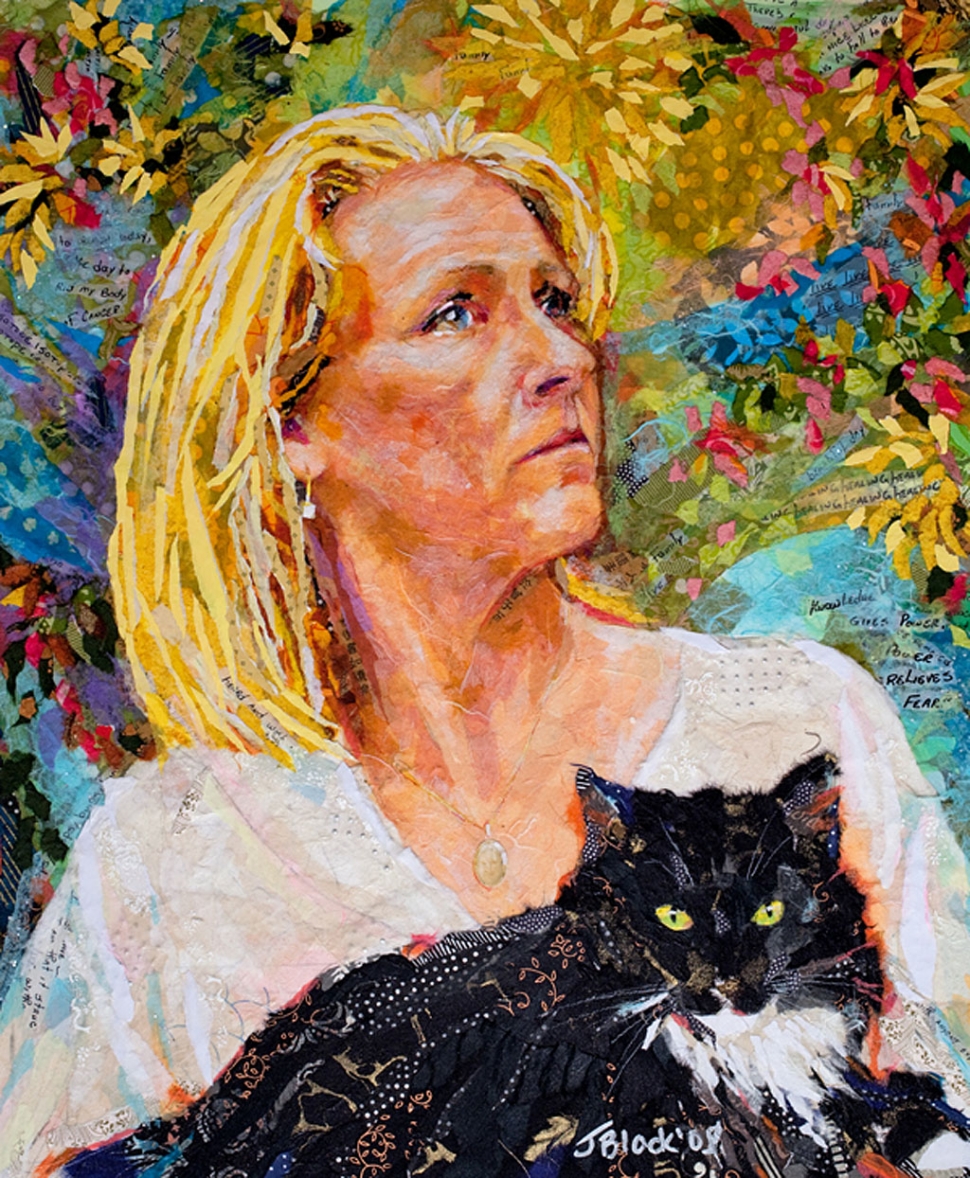 "In Tamilyn's Garden" collage by Janet Black (2009)
By Anonymous — Monday, April 6th, 2009
One year ago, the Breast Center at Community Memorial Hospital joined with the Buenaventura Art Association to kick-off "A Celebration of Life." Co-sponsored by Ribbons of Life Breast Cancer Foundation, local breast cancer survivors were partnered with eleven Buenaventura Art Association artists who were commissioned to create unique and personal artistic impressions associated with the cancer survivors' experiences. One pairing consisted of survivor Tamilyn Taylor and artist Janet Black. They found common ground, first, over their love of cats and coffee, and later met to talk about Tamilyn's experiences with breast cancer.
Black, who does portraiture in collage, took the lead from Taylor's story and has created a portrait of Taylor with, of course, her cat. "The most fascinating thing about this partnering," said Black, "is that Tamilyn kept a journal during her diagnosis and treatment, and I was able to use pieces of that journal in the collage itself, surrounding her with her own words and memories, in her own handwriting."
The eleven local artists participating in this program are Janet Black, Susan Cook, Lois Freeman-Fox, Jack Halbert, Debi Nowak-Hawkes, Dorothea Heger, Kathy Ikerd, Judy Klement, Lisa Skyheart Marshall, Sarah Willey and Kay Zetlmaier. They will be debuting their work at this year's Gold Dust Gala, sponsored by CMH at Seaside Park on April 18. The entire exhibit will then be shown at the Buenaventura Art Association's Harbor Village Gallery from April 29 thru May 18, with an opening reception on Mothers Day, May 10 from 12-2 pm.
The Harbor Village Gallery and Artisan Store is located at 1591 Spinnaker Drive in Ventura's Harbor Village shopping complex. Hours are noon-5 pm Wednesday thru Monday (closed Tuesdays). Please call (805) 644-2750 or visit the Buenaventura Art Association's website at www.BuenaventuraGallery.org.
To learn more about The Ribbons of Life Breast Cancer Foundation and the upcoming Gold Dust Gala, contact Karen Brown at karen.brown@ribbonsventura.org and visit www.golddustgala.org.