Afternoon Tea to Benefit Museum's Strings Music Program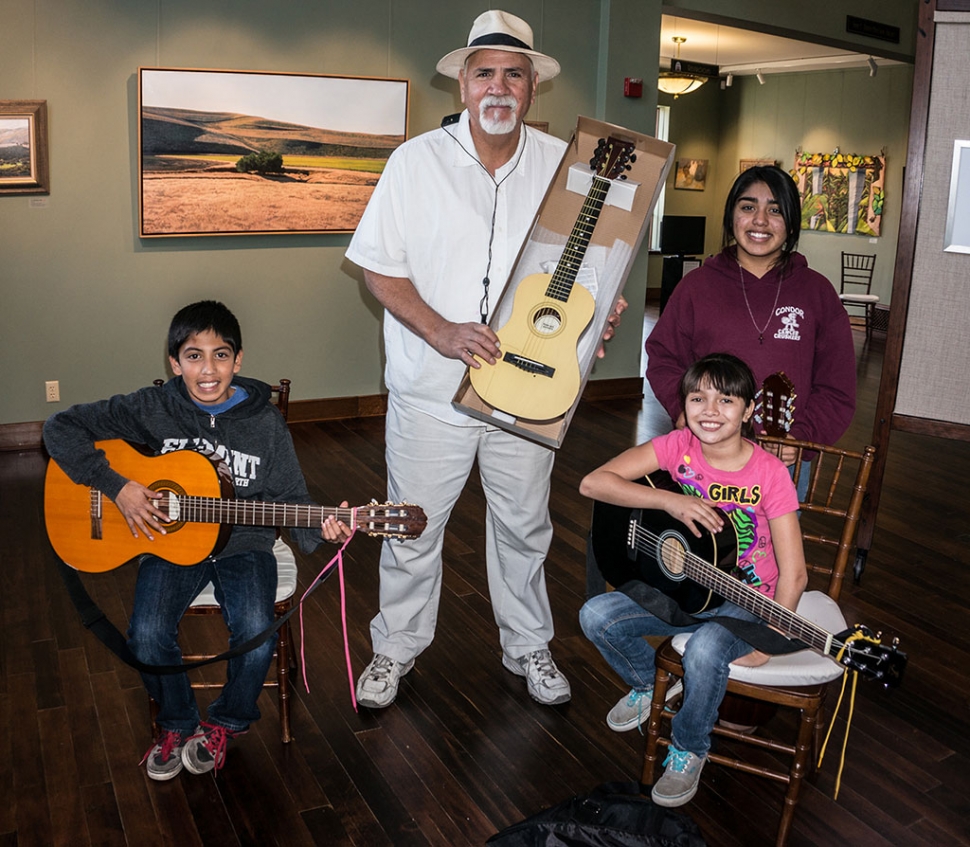 Program Director Xavier Montes with three of his talented Strings Program students.
By Gazette Staff Writer — Wednesday, April 16th, 2014
SANTA PAULA, CA – Celebrate Mother's Day early with a traditional afternoon tea at the Santa Paula Art Museum. Tea will be served on Sunday, May 4, 2014 from 2:00 to 4:00 p.m., and all proceeds will benefit the Museum's Strings Music Program. Guests will enjoy a delicious variety of teas, tea sandwiches, spring salad and scones, plus a performance by Strings Program students led by accomplished artist and musician Xavier Montes. Admission to the tea is $15.00.
The Strings Program, established at the Museum in 2012, offers free weekly music lessons to local youth, encourages music appreciation and self-expression, and provides a creative outlet in an inspiring environment. Program Director Xavier Montes, a Santa Paula native, has always had a deep interest and commitment to local youth and the benefits they can derive through art and musical expression.
Guests are invited to dress for tea, and ladies are encouraged to wear their favorite dress hat. Door prizes will be awarded for best traditional hat, best silly hat, and most flamboyant hat. Reservations for tea are helpful, but are not required. This event is graciously sponsored by Loose Caboose, Trader Joe's and Vons.
The Santa Paula Art Museum is located at 117 North 10th Street in downtown Santa Paula. Contact us by calling (805) 525-5554 or email info@SantaPaulaArtMuseum.org. The Museum's regular hours are Wednesday through Saturday 10:00 a.m. to 4:00 p.m. and Sunday 12:00 to 4:00 p.m.